"Red Ryder"
by Boyd Magers
"From out of the west comes America's famous fight-ing cowboy—Red Ryder." Created by artist Fred Harman, the newspaper strip debuted in 1938 in the L.A. TIMES. That led to national syndication in some 600 newspapers with a readership of an estimated 13 million.
Produced, written and directed by pulp Western writer Paul Franklin, the 30 minute radio version debuted February 3, 1942, on the NBC Blue network's West Coast stations. For a time Red was heard three days a week (Mon/Wed/Fri) at 7:30pm (Pacific Time). The show was released by the network soon after the Blue wrestled "The Lone Ranger" away from Mutual in May '42. Mutual, stung by the loss of their top western show, promptly picked up "Red Ryder" and programmed it in direct competition with "The Lone Ranger". According to early Hooper ratings, Red gunned down "The Lone Ranger" and established enough of a following to hold his own.
"Red Ryder" might have become a potent national force had the program not been sold to a regional sponsor, Langendorf Bread, which caused the series to disappear from the East Coast after less than four months in '42. Red ran on Mutual's West Coast Don Lee network Tuesdays, Thursdays and Saturdays at 7:30pm for the rest of the decade.
As in the comics, Red lived with his Aunt, The Duchess, and Little Beaver in Painted Valley. The primary heavy in the comics, Ace Hanlon, was involved with early radio episodes.
Actor Reed Hadley (1911-1974) played the role of Red from '42 to '44 and Tommy

Cook was Little Beaver during the same time period. Cook also played the role opposite Don Barry in Republic's film serial adaptation in '40. Carlton Kadell (1904-1975) took over the role of Red in '45 followed by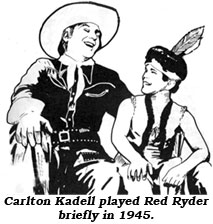 Brooke Temple from '46-'51. Temple, born in Niagara Falls, NY, in 1906 also worked briefly in B-Westerns ("Six Gun Man" w/Bob Steele, "Riders of the Dawn" w/Jimmy Wakely). He died in Ridgecrest, CA, in 1982. Henry Blair took over the role of Little Beaver from '44-'47. Blair also played Ricky Nelson on radio's "Ozzie and Harriett" from '44-'49 until Ricky could actually play himself. Johnny McGovern (1936- ) became Little Beaver from '47-'50 replaced by Sammy Ogg from '50-'51. (Both these child actors also worked extensively in films.) Franklin Bresee was an alternate Little Beaver from '42-'46 when either McGovern or Ogg were unavailable. B-western movie sidekick and character player Horace Murphy was Buckskin Blodgett, Red's sidekick in later episodes. Red's horse was Thunder and Beaver's was Papoose. The announcers were the well known Art Gilmore and Ben Alexander (later of "Dragnet" fame).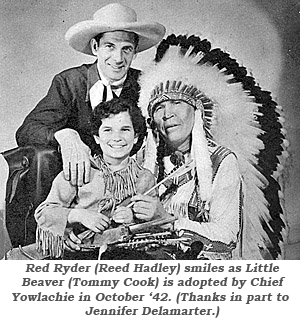 An organization derived entirely from the radio show was the Red Ryder Victory Patrol, a club founded in '42 to encourage patriotic young boys and girls in conservation practices that would aid the war effort.
The show often used the slogan, "The West that lives forever." We agree—"You betchum, Red Ryder!" (Art spots by Bobb Lynes.)