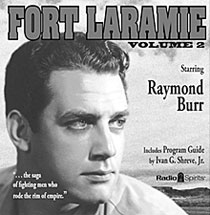 "Fort Laramie"
by Boyd Magers
By the mid '50s public interest and radio advertising dollars were quickly moving to television, but Norman Macdonnell, who had four years of "Gunsmoke" experience behind him, brought "Fort Laramie" to CBS radio on January 22, 1956.
The series was lower key and less intense—and far less known—than "Gunsmoke", focusing more on atmosphere and mood than on action. Macdonnell intended "Fort Laramie" to be "a monument to ordinary men who lived in extraordinary times." Only 40 episodes aired over 10 months through October 28, 1956, on Sundays at 5:30pm (EST).
Raymond Burr, who went from virtual obscurity to national prominence a year later on TV's "Perry Mason", starred as Lee Quince, Captain of Cavalry at Wyoming Territory's Fort Laramie. Vic Perrin was Sgt. Gorce, Harry Bartell was Lt. Seiberts and Jack Moyles played commanding officer Major Daggett.
Besides creator Macdonnell, "Fort Laramie" shared the same writers, sound effects men and character actors as CBS' "Gunsmoke". But unlike "Gunsmoke", Macdonnell

insisted on strict historical accuracy for "Fort Laramie" in terms of correct geographical names, Indian practices, military terminology and actual names of the buildings at the real Fort Laramie.
Incidentally, the real Fort Laramie was abandoned in 1890 and fell into decay. In 1937 the National Park Service restored several of the buildings. Open year round, some 57,000 tourists visit the famous post annually.
At the time in the '50s when "Fort Laramie" aired, most of the actors were doing television work in the daytime so the radio episodes were rehearsed and taped for transcription during the evening. Once a week the cast and crew gathered at CBS Studio One in Hollywood to tape the show.