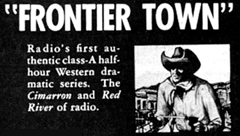 "Frontier Town"
by Boyd Magers
"Frontier Town! The saga of the roaring west! Frontier Town! El Paso, Cheyenne, Calgary, Tombstone! Frontier Town! Here is the adventurous story of the early west! The tamed and the untamed. From the Pecos to Powder River, Dodge City to Poker Flats. These are the towns they fought to live in and lived to fight for, teeming crucibles of pioneer freedom. Frontier Town!" The rousing syndicated half hour weekly series first offered to radio stations as of March 5, 1949 was one of the first Westerns to move away from a juvenile Western format.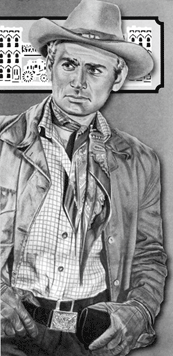 The regular cast starred Jeff "Tex" Chandler (right) as young lawyer Chad Remington who wanted to replace the lawlessness of his hometown of Dos Rios with a legal justice system. In his quest to do so he used not only the legal system but backed it up with his fists and gunplay.
As the series wore on Remington ventured into other parts of New Mexico Territory and Colorado where he dealt with claim jumpers, jail breakers, land grabbers, rustlers, bank robbers, swindlers and lynch mobs.
Remington's saddle partner was livery stable owner Cherokee O'Bannon, played by Wade Crosby (left) using a W. C. Fields-like voice peppered by startled reactions such as "Billy Blue Blazes", "Well slice me thin and call me Jerky" and utterances to badmen like, "Nefarious, nickel nursing no-good," "You pusillanimous, pussy-footing polecat" and "You broken down bundle of buzzard bait."
Produced in Hollywood, Paul Franklin directed and wrote the scripts with Joel Murcott. Franklin also wrote for "Red Ryder" and radio's "Zane Grey Theatre". Murcott (1915-1978) went on to write for TV from '55-'75 including episodes of "Bonanza", "Laredo" and "Tales of Wells Fargo". He produced "Sheena, Queen of the Jungle" with Irish McCalla.
The series ran initially on San Francisco's KQW from March 5 to April 9, 1949. KCBS picked up the show from April 16 til August 8, 1949. Then "Frontier Town" returned on the CBS network from May 6, 1952 until March 26, 1953.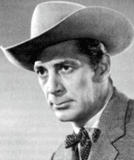 Jeff Chandler—always referred to by the announcer as Tex Chandler—played Remington in the KQW/KCBS series and the first 23 CBS episodes. Reed Hadley (right) took over for a remaining 24 episodes on CBS. Wade Crosby was Cherokee in all the shows, a total of 47 broadcasts. Other well respected actors fleshing out the casts were Earle Ross as Judge Fillmore in eight episodes along with Howard McNear, John Dehner, Gerald Mohr, Sam Edwards, Virginia Gregg, Parley Baer, Tony Barrett, Ralph Moody and Barton Yarbrough. A good series that should be better remembered than it is.

In the earliest Western radio dramas gunshots were made by slapping a wooden lathe on a leather pillow or snapping a rat trap on a snare drum. Eventually, 'starter pistols' were used. By 1950 a trio of talented CBS sound men obtained a variety of weapons and recorded shotguns, rifles and pistols of various calibers indoors and outdoors. With all these gunshots on audio tape they could replicate whatever a Western script called for. .