"Hopalong Cassidy"
by Boyd Magers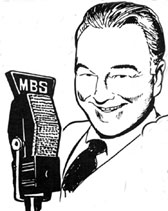 "The ring of the silver spurs heralds the most amazing man ever to ride the prairies of the early West: Hopalong Cassidy, the same Hoppy you cheer in motion pictures," intoned the announcer as we heard "Hopalong Cassidy" clank down the boardwalk for the opening of Hoppy's half hour radio series.
Andy Clyde was Hoppy's sidekick as he had been in the

Hoppy films from '40-'48. "The same California you've laughed at a million times," the announcer reminded us.
From '35-'44 William Boyd portrayed Hopalong Cassidy on screen. When producer Harry Sherman ended the series, Boyd hocked everything he owned to acquire all rights to the films and the character. His acquisition was finalized for $300,000 in 1948, but it soon became one of the wisest investments anyone ever made as Hoppy Mania swept the country in 1949. Television was booming and Hoppy's old films filled the airwaves. There were comic books, a comic strip, novels, hundreds of product endorsements, a half hour TV series as of 1952 and—a radio show which began as a syndicated program recorded on transcription discs in 1949.
It caught on quickly with excellent ratings in markets all over the country. Mutual bought the program and began airing "Hopalong Cassidy" on January 1, 1950, on Sundays at 4pm, sponsored by General Mills. Bear in mind these were the same episodes simply being rebroadcast but on a national network. Hoppy remained on Mutual til September 24, 1950, at which time it became a CBS program for Saturday evening at 8:30pm til December 27, 1952. 104 adventures in all.
Like in the movies, Hoppy rode Topper and was foreman of the Bar 20. Andy Clyde began the show as California Carlson but after 26 episodes he left the show—in what some say was a salary dispute with the always money conscious Boyd—and was replaced by Joe du Val. Eventually Clyde returned to the radio show, although Edgar Buchanan was Cassidy's sidekick Red Connors when the TV series began filming new episodes.
Five radio programs were abridged versions of Hoppy's later U.A. adventures. For radio "The Marauders" became "The Coltsville Terror"; "Unexpected Guest" became "Voice of the Dead"; "Silent Conflict" was reworked as "Medicine Man"; "Borrowed Trouble" aired as "Hoppy and the Schoolmarm"; and "Sinister Journey" on radio was "Hoppy and the Iron Horse". Hoppy waved goodbye to radio with "The Santa Claus Rustlers" during Christmas week 1952. Thankfully, all 104 programs are still available for exciting listening. (All three art spots by Bobb Lynes.)