"Tales of the Texas Rangers"
by Boyd Magers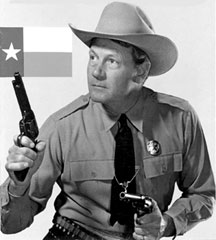 Accompanied by the stirring strains of "The Eyes of Texas Are Upon You" announcer Hal Gibney excitedly proclaimed, "Texas. More than 260,000 square miles! And 50 men who make up the most famous and oldest law enforcement body in North America!"
Joel McCrea starred as Ranger Jace Pearson in what was often referred to as 'Dragnet in the saddle.' The overall concept was presented as a crime dramatization of actual Texas Ranger case files from 1928-1948. The program's attention to historical fact and detail distinguished it from other radio Westerns of the time—plus the fact it was set in a more modern West. The idea was developed by producer/director Stacy Keach who obtained the cooperation of the Texas Rangers then traveled to Texas for research with writer Joel Murcott. There they met Capt. M. T. "Lone Wolf" Gonzaullas, a 30 year Ranger veteran, and travelled around the state watching Rangers in actual case investigations to get a sense of working Rangers.
Each of the 96 half hour dramatized episodes began with the assignment of a case by Captain Simpson (played by Tony Barrett (left), the only other semi-regular character on the show), to Ranger Jace Pearson who traveled Texas' 260,000 square miles by car pulling a horse trailer with his horse Charcoal who came in handy when Jace had to go after suspects on horseback. Although Pearson relied on step by step tracking of criminals by modern methods of crime detection, the show never strayed far from traditional Western action.
The series aired on NBC from July 8, 1950 to September 14, 1952. "Tales…" was first heard on Saturday at 9:30pm until September 30, 1950, then Sundays at various times through September '51 when it settled on Sundays at 6. Frequently heard in the supporting cast were Peggy Webber, Parley Baer, Ken Christy, Herb Vigran, Richard Beals, William Conrad, Sam Edwards, Jeanette Nolan, Virginia Gregg, Barney Phillips, Harry Bartell, Ed Begley and Lurene Tuttle. (Art spot by Bob Lynes.)
Joel's grandson, Wyatt McCrea, tells WC that Joel was approached to star in the TV version of "Tales…" but turned it down as monetarily he was still in demand for movies in '55. The part of Jace Pearson went to Willard Parker on TV from '55-'58.