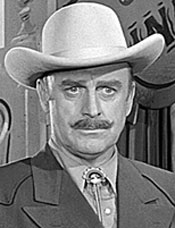 "Have Gun Will Travel"


by Boyd Magers
"Have Gun Will Travel" was most unusual in that it was a radio series that originated on TV rather than the other way around. Starring John Dehner as Paladin (left) it debuted on CBS November 23, 1958—13 months after the CBS TV debut with Richard Boone on Sept. 14, 1957—and ran for 106 shows until November 27, 1960. (The TV version lasted til August '63.)
Paladin (no first name ever mentioned) was a cultured, educated man but a gun for hire who had studied at West Point and emerged from the Civil War to settle in San Francisco's fashionable Carlton Hotel where he wined and dined beautiful women while announcing his services with a simple business card emblazoned with a chess knight that read, "Have Gun Will Travel—Wire Paladin, San Francisco". John Dehner approached the radio role as if Boone had never existed, "I don't imitate," he said, "I didn't pay any attention to Boone at all. It was whatever came out of me. I knew it would be deadly if I were to imitate him or do anything that was vaguely similar to him. So I just did it the way I felt it." Dehner added, "The atmosphere surrounding Norman Macdonnell's radio shows was so warm and friendly you couldn't imagine. If there ever was a family, this was it. I remember them all with great affection."
Unlike many gunmen of the West Paladin relied on his brains as much as his gun…but, besides his six-gun, he did have the good sense to conceal a derringer under his belt. The same smooth and slightly menacing voice that made Dehner such an effective heavy on "Escape", "Phillip Marlowe", "Gunsmoke", "Yours, Truly Johnny Dollar" and others made him equally effective as Paladin.
Although Dehner made the role uniquely his own there were many similarities between the TV and radio series, particularly the fact the first 30 or so radio scripts were based on first or second season TV episodes. Both programs used the same musical themes and opened with a small piece of Paladin dialogue. In time director/producer Norman


Macdonnell (left) came to realize adapting TV scripts into radio was totally inappropriate as many of the TV scripts included strictly visual items. "(They) were forced to write new and original radio shows," Dehner explained. Macdonnell left the show and his associate producer, Fred Paris, took over the production and direction reins until the program concluded. It was under Paris' guidance as of episode 37 that original scripts began to be written.
Hey Boy, the bellhop at the Hotel Carlton was played by "dialectician" Ben Wright (1915-1989), a talented British born radio actor. He and Paladin had a discussion at the beginning and end of nearly every 30 minute program. A few months after the radio series premiered Virginia Gregg (1916-1986) began playing the role of Missy Wong. (Later the TV version introduced Hey Girl, played by Lisa Lu, but not until after the radio series ended in '60.)
Although Richard Boone was originally asked to play Paladin on radio as well as on TV, it simply boiled down to "money and time" according to Johnny Western whose themesong was used on TV but not on radio. Johnny told us, "Boone was doing 39 TV episodes a year and when he had the 13 weeks off he did something else, a movie or The Lincoln/Douglas debate 'The Rivalry' on Broadway (in '59). He always had something going during his 13 week hiatus." As to the themesong, "CBS said we don't have the money to pay weekly royalties on the radio show, we'll just use a piece of canned music. TV was taking over so much that radio budgets were going on the cheap."
"Have Gun…" was one of the last continuing radio dramas to leave the airwaves, but during its two year run Dehner and cast demonstrated that even with TV capturing the largest audience and most advertising dollars, a radio program could hold its own with solid, quality programming.