Just a heads-up to let you know as of October 25 new columns have been added to An Interview With..., Will "Sugarfoot" Hutchins, Do You Remember, Comic Book Cowboys, The Heavies and Serial Report. Additional columns are added monthly. There's a new gallery (87) of Western Treasures.
We've just added hundreds of laser copies of B-Western 11x14" lobby cards to our 'Laser Copies of Lobby Cards' in our 'For Sale' section. Many stars not previously listed are now available. Also many Big Little Books are now online for sale under Miscellaneous Collectibles.
We also now have a page of Sunday and Daily comic strips dating from 1904 on up for sale. Please take a look! More will be added continually.

10-23-16—Kathryn Adams, 96, leading lady to Johnny Mack Brown in three B-Westerns in 1941, died October 14 in Mankato, MN.
10-15-16—Actress Patricia Barry, 93, died October 11 at her L.A. home. Started in films in '46 with The Durango Kid and Hoosier Hot Shots. Also in dozens of TV Westerns.
10-5-16—It is with heavy heart we report the passing of writer/researcher Bobby Copeland, 81, who went to be with all the B-Western cowboys he so dearly loved on October 5. Bobby began writing a column for the print edition of WESTERN CLIPPINGS with issue #1 (Sept./Oct. 1994), 22 years ago.
9-16-16—James Stacy, 80, star of "Lancer" who also guested on "Gunsmoke" and other TV Westerns, died September 15 in Ventura, CA. He had possibly suffered an alergic reaction after being admitted to the hospital.
Early reports of a "total loss" during a fire at the Hopalong Cassidy Museum in Cambridge, OH, on September 3 are exaggerated. Hoppy Festival organizer Laura Bates will report the actual events in the print edition of WESTERN CLIPPINGS #134 (November).
9-6-16—Prolific director Leslie Martinson, 101, died September 3 of natural causes at his L.A. home. Helmed "Roy Rogers Show", "Cheyenne", "Maverick", "Lawman", "Bronco", "Tales of Wells Fargo", "Outcasts", many others.
9-5-16—Hugh O'Brian, 91, star of "Life and Legend of Wyatt Earp", died Monday, September 5. "Long live his fame and long live his glory and long may his story be told."
Be sure to check out our new Western Artifacts section including a new 2016 radio interview with Will "Sugarfoot" Hutchins. More artifacts added frequently.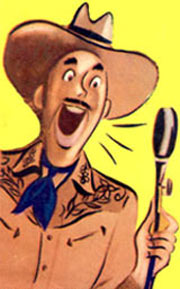 Welcome to Western Clippings, an online supplement to our print version of WESTERN CLIPPINGS which is now in its 20th year. (Click on "Subscribe to WESTERN CLIPPINGS" in our menu.)
For current subscribers of our magazine, this website in no way changes our print edition six times a year.
This website will be a constantly updated, evolving site, with new articles, reviews and sales items added continually. Look for new articles and photos in the "Do You Remember…", "Comic Book Cowboys", "Will Hutchins—A Touch of Hutch", "Serial Report", "Characters and Heavies", "An Interview With…", "Best and Worst of the Silent Westerns", "Western Treasures" and "Film Festival Fotos" sections to be added regularly, with already posted articles always available in our archives for each section.
Sales material—original movie posters (western and non-western), lobby cards, and much more will all be available for purchase as well as superb high quality laser copies made from our extensive collection of over 5,000 western lobby cards. We'll also have thousands of toys, books, magazines, collectibles and miscellaneous other memorabilia for sale. We hope you'll keep coming back to this site as new material will be added to all categories continually.
We also have a section enabling you to order direct from us several of our books devoted to westerns. You may also subscribe to our print edition of WESTERN CLIPPINGS and purchase available back issues of WC and SERIAL REPORT.
This "home page" will be devoted to news and information about upcoming western film festivals, western star obits, movie news and other immediate information that will be covered in more detail in subsequent print issues of WC.
We hope you'll put www.westernclippings.com into your "Favorites" and visit us often.
Thanx and enjoy—
Boyd Magers
© Entire contents of this website and all pages copyright by Boyd Magers 2008-2013.