JULY 2023
Howdy! Here's what funny guy Albert Brooks says: "'I'm sort of sad the campaign's over,' said no one who ever lived."
One thing I don't miss about L.A. is going to Hollywood shebangs, suffering, ugh! Air kisses. Here's a Haiku I wrote about the experience: "Hollywood kisses—Lips? Cheeks? No! Air? Yes! Wrench! Call—the chiropractor." First week on Long Island, I weaned myself off smoggy air kisses onto full frontal smacka our lips—in a local Greek diner, the waitress planted a wet one on my kisser. Yummers. I gave her a nice tip: Gum Legs in the third at Hialeah. On Senior Tuesdays at our super market (5% off), the lady manager waits for me in the main aisle and with gusto hugs and kisses me, 100%. At the drug store, I strrretch-across-the-counter for pills and thrills. As Babs and I enter Joe Ann Palumbo's Hair Salon, January, in Locust Valley. She greets us with kisses, and I ain't talkin' candy. We've been guests at her house for scrumptious Italian din dins. On my birthday, she knew we were coming, so she baked a cake. My signed 8x10" glossy hanging on her shop's wall reads: "Salon? I thought you said saloon!" Why all the Besame Smoochos? Maybe, 'cause we're just a hop across the pod from Spain, Italy, and Paris with all those ooo la la eyefuls.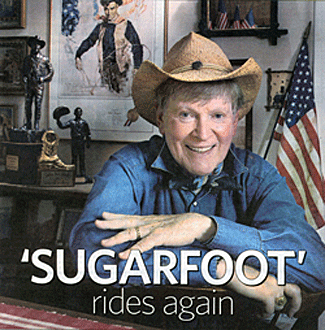 And speaking of hot dogs, John Buttram called again t'other night. Strictly LOH (laff out heartily). I wrote about him a few issues ago. "Hutch, I want to thank you for your support. I think of you every time I wear it. I spent three happy years in fourth grade. So did lots of us kids—our teacher was a large lady—every time she turned around she erased the blackboard."
When Babs was a little girl, seven of her family lived in this house. Now, we are eight: Babs, me, our six cats. She had the smallest of the upstairs bedrooms, the pink room. Now, we share the big cowboy bedroom. I have a desk in the pink room. Writing a check, I noticed four of Babs' boxes on the floor, each containing a pair of beaded moccasins from Minnetonka's in the big Minnesota Mall. The turquoise puppies are my favorites. They are hand-made by Masszi Mama in Kenya. For a lark, I whipped out my black magic marker and wrote on a box next to 'Minne Tonka,' 'Willie Wonka'! Heh, heh—weird, eh? Agreed. And Bela Lugosi should have won a supporting Oscar for Igor in "Son of Frankenstein". Oft' times, more weird things happen around here. One a-yawn in bed, I told Babs about my dream featuring The Beach Boys, for Beatles' sake! Later that day, I turned on the car radio to Ghosty Wills' show in New Jersey. He was celebrating the fourth anniversary of his Beach Boys Tribute Show! I had no prior knowledge. Weird, not to mention eerie, creepy and plum scary. Hello, Spirit World. Are you trying to tell me something?
Here's Babs to tell you something. You go, gal! What's that? You've got other fish to fry? Ok, I'll tell it—Babs is horse crazy. When she was a wee lass she'd come downstairs on Christmas and look for a pony. Older, she'd go out into the snow and look in the backyard. She spent a goodly amount of time astraddle a saddle. Her uncle, an expert jumper, coached her. I noted, years ago, when I went to a Burbank stable to rent a horse, there were gals galore! Not nearly so many guys. So, gents, if you want to meet babes, I suggest you get work as stable hands, rather than sign-up for ballet class.
Driving 'round Long Island is a treat. You can see the season changes along winding roads lined with beautiful trees, flowers, walls and fenced-in horses. Carol and Bernie have three horses. They live 'bout a mile up the road. When we visit, Babs takes 'em apples and hand feeds 'em, the horses, that is. On Carol and Bernie's spread, indoor cats dwell along with barnyard cats, a nifty shaggy dog, goats, chickens, and the horses, Dude, Molly and Albert. Albert, offbeat name for a hoss, what? His real name is Bucko. Carol and Bernie had tough times getting him into the proper stall at night. He always headed for Molly's stall. "No! No!" Bernie'd yell. "This way Einstein!" For awhile, Bucko was Einstein, and then good ol' Albert. At night, Carol and Bernie march their chickens and goats into their stalls in the barn across from Dude, Molly and Albert. First time I visited, I saw the goats in the barn. Heard 'em clucking—clucking? Goats clucking! Hot dang! What an act we could conjure, just like old-time vaudeville! I saw it all in a flash! We'd debut on David Letterman's Stupid Animal Tricks. From there, the sky's the limit! I blurted out my grand scheme to make us all rich and famous! "Ah, Hutch," said Carol calmly, "The chickens are housed behind the goats. That's not goats cluckin', that's chickens." Red-faced, yes, but mostly disheartened. With a stifled sob I said adios to the Big Ka-ching.
—Adios