Howdy! All I know is what I read in the obits. In the morning I look in the papers—if I'm not there, I get up, and it's once more into the breach, dear friends.
I looked in an issue of WESTERN CLIPPINGS and sadly read of the death of Grady Sutton—who could ever forget him in W.C. Field's masterpiece, "The Bank Dick"? Grady played Og Oggilby (sounds like a bubble in a bathtub).
I worked with Grady on a "Sugarfoot." He played a flustered hotel desk clerk. After he completed his big scene (in one take) he received the only standing ovation from cast and crew ever granted a performer during the four year run of the show.
Heck, it just about had to be a standing ovation, there were never enough chairs to go around. Col. J.L. Warner thought sitting butts were idle butts. Consequently, during my five year visit at WB I became a maestro in the art of musical chairs.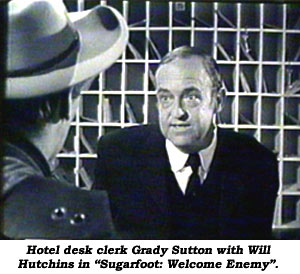 Grady was a grand fellow—I loved hearing him talk about one of my all-time favorite philosophers, W.C. Fields. Grady worked with W.C. on that early sound two-reeler, "The Pharmacist". The actors had to speak up to be recorded properly. During takes W.C. had the disconcerting habit of mumbling ad-libs that would break up his fellow actors but go unheard by the sound engineer. During one scene two little dears entered the pharmacy to use the ladies room. W.C. uttered a few bawdy remarks under his breath sending Grady into a laughing jag. "Cut!" yelled the director, proceeding to bawl out Sutton. "Leave the boy alone," drawled W.C., "He's alright..."
Ah, there'll never be another W.C. His use of the English language was exhilarating. I love the way he skirted the censors with his subtle double entendres. In "The Bank Dick" W.C., as Egbert Sousè, is conducting the suspicious bank examiner, J. Pinkerton Snoopington (portrayed brilliantly by Franklin Pangborn), on a guided tour of the fair burg of Lompoc. As they walk, a lady extra approaches—Sousè tips his boater and says, "Afternoon, Fancy." That's delicious. I'll bet W.C. surprised everybody with that one, especially the lady known as Fancy.
Years later I tried it on "Sugarfoot". I was walking down the boardwalk of town, and Valley Keene sauntered by. Valley was an especially attractive stuntwoman working atmosphere that day. I tipped my cowboy hat and said, "Afternoon Fancy." "Cut!" The shaky 3rd assistant director summoned me to the shadows. "You can't do that," he whispered. "We'd have to pay her extra!" And that, ladies and gentlemen, is why any resemblance between actors on TV and actual human beings is purely coincidental.
I got my start in showbiz in a W.C. Fields' vehicle, "Never Give A Sucker An Even Break." I grew up in Atwater (between the L.A. river and the Glendale train tracks). Griffith Park was my back yard. Movies were shot in our neighborhood all the time. One Saturday, the word spread a film crew was setting up in front of Beach's Market on Glendale Blvd. I hopped aboard my trusty Schwinn and pedaled on to all the fun. In those days movie locations in L.A. were like shrines to us movie crazies. Nowadays, they are like outhouses to harried commuters.
The "Sucker" crew welcomed us gawkers as if we were part of the team. They were getting ready to shoot an action scene. W.C.'s rattletrap had somehow become attached to a fire engine in W.C.'s mad race to the maternity hospital. Engine and car made a wide U-turn at full speed down Glendale Blvd. When you see that shot in the movie, a crowd has gathered on the corner. I'm in that crowd! Yep, my film debut. I hung around all day. I was fascinated by how slowly and methodically they worked.
Later, they set up a gag in which W.C. is driving wildly down the street. For some reason the stunt driver wasn't giving the director what he wanted. Suddenly (and I swear what I tell you is true), a motorcyclist came barreling down the boulevard. He hit an oil slick and his cycle turned onto its side and slid out from under him and down the road. The cyclist flipped into the air and landed on his feet, unharmed. Well! The director hired him on the spot. The cyclist replaced the stunt driver. In a sort of ceremony a replica of W.C.'s famed proboscis changed noses. A star was born and I was there. I knew that was the life for me. It could happen only in Hollywood. Adios, Grady. Adios, W.C. Adios, better times.