Howdy! It was a dark and stormy night. A '57 Volvo quietly rolled onto the driveway of the inviting Mitchum homestead on Mandeville Canyon Rd., just up from Sunset Blvd., hard by the Will Rogers spread. Even quieter, four emerged from that black car. They tiptoed to the front porch and, quieter still, slowly opened the door. They were greeted by a roomful of rollicking, roistering gents, feeling no pain. Bob Mitchum was holding forth with his cronies from a flick-in-progress, "The Last Time I Saw Archie". He was midway through a long Irish tale, brogue and all. With his GI haircut he could have been presiding over a convention of burly leprechauns. His wife Dorothy was snug as a bug in a back bedroom, collecting ZZZZ's. Bob reeled-in his yarn and welcomed us heartily, inviting us to imbibe libations of our choice. That's why we were there: Jim Mitchum, two sparkling starlets, and me, fresh from a night on the town. We wanted to hold back the dawn. Later, Bob walked us out to the sedan in the rain. "Good night, chillun," he bade us, and like a good father, "Drive carefully."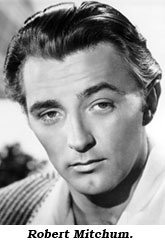 Years later at the Fest O' the West in Scottsdale, AZ, Jim's brother Chris invited Babs and me down to the hotel lobby for a chat with his mom and dad. I told Bob that I'd remember the long ago rainy night always, and the classy way he escorted us to our car. His response: "It wasn't far."
Poetry—you don't have to understand it—poetry just is. Bob Mitchum was a poet—also an actor—he had to eat. Don Marquis says, "Publishing a volume of poetry is like dropping a rose-petal down the Grand Canyon and waiting for the echo." David Frost asked Bob if he wrote many poems. Bob replied, "I am sure I did. You can find them in the men's rooms in filling stations all over the country." He wrote a poem to his mother when he was 15 on a penny postcard. He was a member of a chain gang at the time. It goes like this—
"Trouble lies in sullen pools along the road I've taken
Sightless windows stare the empty street
No love beckons me save that which I've forsaken
The anguish of my solitude is sweet."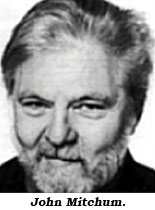 Gosh! When I was 15 my mom wouldn't even allow me to ride my bike to the L.A. coliseum. John Mitchum, Bob's bro, poet laureate of cowboys. Ever hear Duke recite John's lyrics on "America, Why I Love Her?" I taped two of John's poems for a CD being put together. Here's part of one, "Ode to Montie Montana".
"He traveled the world with his ropes and horses,
Meeting kings and queens, and presidents too—
The Tournament of Roses never really got started
Until Montie Montana passed in review.
Rodeos, movies, TV screens—
Montie's been ridin' and ropin' for seventy years
And even now will shed a few tears
As he rides his old pony out of the gate
and hears a child whisper
'Montie Montana! Isn't he great!'"
—John Mitchum © 1996
Budding buckaroo bards walk our nation's school yards even as we speak. Ain't all space cadets. Here's perky pony poesy from one Jason Martinez of San Jose Street School in Mission Hills, CA:
"When two cowboys have a showdown,
They have it in a ghost town.
And mostly at sundown
where they cannot be found—
They walk back to back, ten paces
And shoot at each other's faces,
And other body places
So if you see a cowboy
Remember he's not a toy—
Don't play around with him
Or you'll be hangin' from a tree limb!"
A tip o' the Stetson to Jason Martinez.
My ol' pen pal Will 'Cherokee Slim' Lacey is gone but far from forgotten. Here are examples of dogie doggerel from his pen:
"Clem spits tabaccy
Hits his dog a lot
Never Cleans him up
Jist named him Spot"
"Pecos walks funny
Guess that's how it goes
Got in a fast draw contest
Done shot off all his toes"
"Good westerns these days
The caliber of Wayne, Mix, and Hoot
Are scarce as a tongue
on a cowboy boot."
During the 10th anniversary of The Williamsburg Film Festival most of this really big hoohaw took place in the Holiday Inn, but one morn we were all whisked away to one of the best breakfasts on earth at the Chickahominy. Smacka my lips! Grits to die for! Husbands beware! Next to the big dining room is a gift shop. Biggest banquet ever that year. Ray Smith read his original poem in honor of Jan Merlin. Beautiful. Jan fights back tears—he loses. But he beats the Oscar speeches to heck and back with his simple, heart-felt 'Thank you.'
Earlier, 'twas just Bill Smith and me for a panel discussion. A lady artist presented Bill a wonderful portrait of him and a hoss. The audience was wild, and we were woolly. Heavy mitts, huge gaffaws. Ever so once in a while emcee Bill Sasser with perfect timing invites Bill to recite one of his cowboy poems. Bill's written 150 or so of these puppies. Here's one o' my special favorites: "Do the Best You Can":
"My dad shared these thoughts with me many years ago
He said it isn't much but it's all I really know
Don't ever shoot pool with a guy called Stick
And never play cards with a gent named Slick
Don't play the fool's game with someone who's not a fool
Don't court hate or envy cause they're much too cruel
Always remember no man's better than thee
But never forget you're no better than he
Sometimes it's hard to live in a house made of glass
Best to throw a smile not a stone, that's class
Don't give your love to a girl who's been a cheater
It doesn't make her bad but she'll be a repeater
Never teepee creep or lie in another man's bed
You're better off lonely live than satisfied dead
Don't run your race too slow or too fast
Who knows when the winner might finish dead last
And don't forget life's humble peckin' order
Don't stand too tall or you may wind up the shorter
And never lie to that fellow who is you
Cause it's only to him you gotta be true
I'm telling you these things so you'll become a man
But what I really mean is do the best you can."
—William Smith © 1987
Adios—