Howdy! Ah, time you thief! The years run away like wild horses. Here's what Will Rogers says about goin' down the trail: "We could certainly slow the aging process down, if it had to work its way through congress." Here's Phyllis Diller: "Maybe it's true life begins at 50, but everything else starts to wear out, fall out, or spread out!" Bob Hope: "I don't feel old. I don't feel anything until noon. Then it's time for my nap." Woody Allen adds: "There is no advantage in getting older. You don't get wiser, you don't get more mellow. Nothing good happens. Your back hurts more. Your eyesight isn't so good. You need a hearing aid. It's a bad business getting older, and I would advise not doing it." Penelope Cruz: "It's a good thing to be old because that means you haven't died yet, right?"
Ah, it's a lovely Sunday morning. Care to join me on a day's outing? I'll do the outing. Years ago, a Hollywood agent called my Mom and asked my age. She lopped off two years. Shame on you Mom! You should have lopped off four! I've kept our secret. Now, it's time for my outing. I mean, folks keep asking if Babs is my daughter. Here goes.

(Drum roll) I am no longer old…I am now ollld. I'm…I'm…icarumba! I – can't – say – it—I'm…I'm…The Snowman. THERE! Round head. Round torso, only moreso. Rounder bottom. THE SNOWMAN! Yahoo! Clean at last! Yes, folks, nowadaze my Dorian Grayish picture in the attic looks better than I do.
Phil Loy wrote a fine article in CLASSIC IMAGES, praising the Memphest, A Gathering of Guns—Ay Chihuahua! I cringe when I look at the photo of Clint Walker, Ty Hardin and me, the three Hearsemen of the Archescollapse. Actually, Big Clint and Texas Ty look finer than froghair. I, on the other hand, remind myself of one of my favorite country songs, "I'm My Own Grandpa".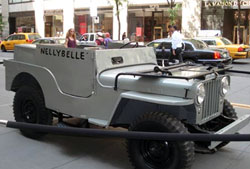 Back in July 2010 Christie's Auction House and High Noon Western Americana presented the Roy Rogers and Dale Evans Museum collection. The sale of the century, mementos of magical lives before your very eyes—going, going, GONE, to the highest bidders. On the eve of the auctions Babs and I visited Christie's for a browsing with Boyd and Donna Magers. A jolly jaunt back, along happier trails. Nearing the building, I expected to see a rearing Trigger out front, acting as sentinel. Instead, a squat Nellybelle (above) stood guard. Inside we found Trigger (below) , Trigger Jr., Buttermilk and Bullet. The story goes, when Champion died, Gene Autry asked Roy Rogers what it cost to stuff Trigger. 'Twas in the thousands. Ever the businessman, genial Gene blurted, "The hell with him. Bury the sonovabitch!"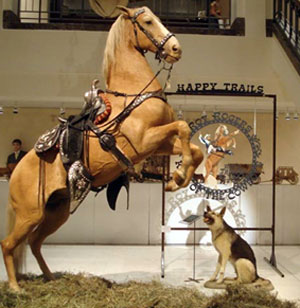 At first, I felt guilty, as though I were eavesdropping on private lives and their precious possessions. Then I got with the program. I felt I was in Oz, in Wonderland. I felt the thrill of my daughter Jenny, when I took her to Playland for the first time. "Daddy," she shouted from the Ferris Wheel, "This is wonderful! I'm so happy, I don't know what to do!" We were greeted by Dusty Rogers and his handsome son Dustin. Dusty gave me a big hug. I felt guilty again. Outside, it was in the 90s. I was all asweat. The eyes of Dusty and Dustin widened as they explained the marvels of the jailhouse shooting gallery. Dusty designed it for the Branson Museum. Built in England, the guns run on air and lasers with no projectiles. Targets abound. You can shoot a buffalo head. You can shoot the prisoner and watch him jiggle the bars. You can shoot Gabby and watch him spin around in his chair. You can shoot Roy, but who'd want to do that?
"Dazzling!" said Long Island's Babs Hutchins. When she was a kid, she was horse crazy. She wanted a pony. Every Christmas, 'round dawn, she'd rush downstairs, hoping to find her pony by the tree. Christmas after Christmas. Finally, she wrote to Roy and Dale, asking them to adopt her. They sent her a beautiful autographed photograph of the whole family. It hangs in our cowboy bedroom. Dusty told me Roy was signed by Republic in the '30s for $150 a week. On payday the check was for $75. Roy went to his boss, Y. Frank Freeman. "Why Y?" "Take it or leave it!" Roy took it. Times were tough. Then, came the fan mail…hundreds of thousands of cards and letters! "Mr. Freeman, I can't afford to answer my mail!" "That's your problem." "What about all the kids in America spending their pennies and dimes to see our movies and to write for pictures?" "That's their problem." Roy rented a truck, filled it with a ton of fan mail, and dumped it all in the parking lot, in Y. Frank Freeman's space.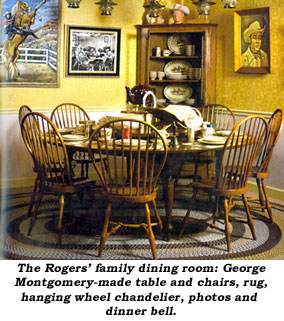 What a panorama was at Christie's showroom, my friends! Guitars, snazzy duds, saddles, furniture by George Montgomery (Dean Martin said that once he and Ewell Gibbons went over to George Montgomery's house for lunch and ate a table), sports memorabilia, framed pictures, (my favorite: Roy and Dale playin' kissy lips behind Roy's Stetson), awards and trophies, guns and spurs, watches, badges, movie posters, scripts, a rocking horse, boots, boots, boots, on a far well, a miracle—A huge, gorgeous butterfly? No! A spreading Spanish dress in Cinecolor, fit for fancy dancin'—Bet Dale wore it in a flick. Wow! Wouldn't Babs knock some sox off at a Western convention in that lovely
creation? Lookee there! Roy's Bonneville, the brainchild of Nudie, the Rodeo Tailor. Steer horns on the grille. Guns for door handles. On the front seat, 'twixt driver and passenger, sits a swanky saddle. Imagine! Callin' up a gal for a first date. You pull up at her house. And you honk! Just about everything sold, big time. Two bolo ties by Ed Bohlin, one in the shape of a calf's head, one a silver horseshow with the RR brand and Trigger, overlaid in gold. Family estimated $1,500-$2,500. Sold for $10,625. Hi Ho and so it went. Leonard Slye, the boy from Ohio, went to Hollywood to seek his fortune. New York, 2010. For two enchanted days, everyone was rich, beautiful, in love…Dusty and Dustin had cast their bread upon the water. Folks from all over the world had a touch of Roy and Dale in their lives. Pat Buttram would say, "Westerns will live in their hearts forever, and pay no rent."