Howdy! How 'bout them Oscars? Babs and I watched the whole shebang couchside. We followed the long red carpet to the land of Awes. Babs flounced around the house in her nightgown, hand on hip. 'Who are you wearing?' 'Jacques Peignoir, and I'm incredibly excited!' 'You look excitedly incredible!'
Flashback to 1956. I'd just signed a contract with Warner Bros. In lieu of a screen test, I performed in a scene from "No Time for Sergeants", directed by Richard Whorf, for a small gathering. I was Will Stockdale, and Jim Garner was the loony psychiatrist. I was ok, I guess. Director David Butler caught my act and thought I might just be able to cut the mustard as rookie Stockdale. "Good idea," said the suits. (I worked cheap.) Mr. Butler directed Will Rogers in "A Connecticut Yankee in King Arthur's Court" and "In Old Kentucky" in which Will tap danced with Bill "Bojangles" Robinson, and, folks, Will was every bit as good as Shirley Temple. Reckon Mr. Butler saw a tiny bit of Mr. Rogers in me. Cooler heads prevailed, including producer-director Mervyn Leroy. Andy Griffith rightly re-created his role as Will Stockdale in the smasheroo Broadway version of "No Time for Sergeants!" and wasn't Andy terrific? Yes! I was given a small part in the flick. (Hutch, there are no small parts, only small dressing rooms.) I played the pilot with a hangover who gets his bomber lost in the night. "You think I'm lost? Ha! Look down there! The lights of an airfield! I knew I'd find it! We dive!" "Er, Sir, that's a drive-in movie. It's a western." "Ooops! Heh, heh." We flew deeper into the night. We found ourselves somewhere above Los Alamos, New Mexico, just before the A-bomb's bursting in air. A feller named Jameel Farah played my co-pilot. Y'all know him as Jamie Farr in TV's "M.A.S.H."
They cut-out what I thought was a pretty nifty scene. Early a-yawn at a military airfield. A group of scruffy airmen, whacked out of their gourds, one-by-one, stumble aboard our huge craft. Andy Griffith looks straight into the camera with his famous wide grin and proudly proclaims, "That's my crew!"
Like Stockdale, I was a raw recruit. Up close and personal, I got a rare glimpse of movie magic. Director Elia Kazan appeared on our set one morning to get a pick-up shot for "A Face in the Crowd," also starring Andy Griffith. It was an over-the-shoulder shot on Andy, Patricia Neal's double provided the shoulder. Kazan shot the brief scene over and over, looking for an elusive something. Kazan whispered to the double—"Action!" Andy and the double spouted their dialogue for the umpteenth time. We all knew it by heart. Andy shot the double a line. She shot back a line that wasn't in the script. Andy was jolted out of his acting shoes. He was bemused and confused. "Cut! Print!" Just the screwy look Kazan hoped for. "Andy, how'd that feel?" "Gosh, Mr. Kazan, I don't know. Right now, I feel kinda foggy." "Andy, you were perfect!"
P.S. "No Time for Sergeants" was Warner Bros.' top grosser in 1958. So, I didn't get to play Will Stockdale, but one Marshall Hutchason got to be Will Hutchins.
The pilot of "Sugarfoot" was based on the flick, "The Boy from Oklahoma" starring Will Rogers Jr. Ah, it's a small world, but I wouldn't want to paint it.
And, now ladies and gents, here's my beautiful bride Babs. She wants to tell y'all about a recent saga that took place at our household, Limberlost. Babs, you go, girl! Way back in the Dark Ages when TV's "Sugarfoot" was not even an idea on a drawing board, Marshall Hutchason was about to graduate from Pomona College. His beautiful mother, Jane, had a gold ring of her own design made for him. On the top was St. Genesius, the patron saint of actors, and the masques of Comedy and Tragedy. On each side of the shank was a Bull's head for the astrological sign of Taurus…a one-of-a-kind treasure. Marshall, aka Will, wore his ring proudly throughout his entire life and career in Hollywood and beyond, all the way to little Glen Head, NY. One day, while throwing pears from our old trees into the backyard jungle, the ring went sailing off his finger…never to be seen again. Oh, we looked, alright. We looked for years…on hands and knees…with a friend's metal detector…pulling out clumps of weeds. Nothing! We finally gave up hope thinking that one of our local squirrels had carried it off to some hidden nest. Fast forward to last Fall when the gutters on the house had to be replaced. Our wonderful roofer, Mark Doherty, came by for an estimate. He had a metal detector in his trunk and insisted on hunting for the ring, now 10 years after the fact. He and I looked, and dug up holes, and spent hours finding old rusty nails. I gave up…Mark didn't. Another day, he and his terrific young son Michael stopped by when we weren't home and tried again. Nothing. The gutters were done and Mark appeared for the big payday, again with Michael in tow. Michael says to Will, "We were digging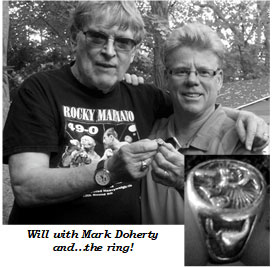 around in your yard and I found this old silver coin." Will holds out his hand and there it is… the ring! Well, our mouths dropped open to our chests and you'd have thought that they had found Blackbeard's treasure! What a miracle! How can we ever thank Mark and Michael for their perseverance and true belief that they could do this!? We know that Jane is smiling down on us; she may have even had a hand in directing Mark's metal detector to the right spot. The ring is now on my hand…Will just can't be trusted again, and his pear-throwing days are over.
—Adios