Howdy! I title this column "How We Spent A Summer Vacation." One early July found Babs and me aboard the great silver bird in the sky enroute to the Magers' digs in Albuquerque. Had a shaky landing, and I was doing most of the shaking. Boyd and Donna welcomed us and whisked us to their foot o' the mountain Shangri-La. Bet you'd love to be snowbound there for a year—I sure would—I see myself ensconced on their soft leather couch, feet resting on a faithful, prone sheepdog, sarsaparilla with a dash o' cherry in one hand, remote control in t'other, goin' snow-blind, dazzled by their collection of 9,000 classic-flick video tapes. Their house reverberates with echoes from long ago. It's a monument to the love of westerns. Wow! Whip Wilson's whip—Gene Autry's shirt, hat 'n' saddle—Ken Maynard's bottle o' whiskey. Brightly colored circus, rodeo, and Wild West posters featuring Tom Mix, Hoot Gibson and Col. Tim McCoy dot the walls along with masterful painted portraits of Buck Jones, Cesar Romero, and Boyd's beautiful Mom. On a mantle a sculptured bust of John Ford in his navy cap. Your fearless photog snapped away like a cranky croc. "Hold it, Boyd!" Snap—good 'un! Boyd in William S. Hart's hat standing next to the barber chair from "My Darling Clementine". Get a load of the life-size cardboard cut-out of Duke Wayne. At Warner Bros., they had one of ol' Sugarfoot—one day I took sick, and they shot a scene with my cut-out, and no one knew the difference. Oh, Oh! Babs has discovered the "Wagon Train" jacket worn by her heart throb Robert Horton. Babs, I don't mind your tryin' it on. I don't mind your fondlin' it—it's the sniffin' I object to!
On July 4th Earl and Gail Bellamy fell by—grand folks. If Earl had directed "Sugarfoot", we'd still be on the air. A bunch of us gabbed, grubbed, and grogged 'round the swimmin' pool that night. Boyd and son Alan set off fireworks atop a small, makeshift raft, shoving the conflagration out to pool center. The Roman candles' red glare lit up the mountainside. Match that, New York harbor!
Babs and I took a side jaunt to visit her aunt and uncle in Santa Fe. Babs is a devout shopper, and she was reborn in her Mecca, the Plaza. She oughta wear a sign, "Help! Stop me before I shop again!" Finally, she was all spent, and seems to me the town should be called Santa Fee. Took some nifty snaps of a feller holdin' a beer bottle and a dog on a leash. On the dog's back sat a cat, and on the cat's back scurried a white mouse. They all got along fine. The feller laid a hat on the tiled walkway—"For cat food," he said.
What Ho! for the open highway—in a two car caravan the Bellamys, the Magers, and the Hutchins tooled down the road apiece to the second annual Western Film Festival in Tombstone, AZ, "The Town Too Tough to Die". Tombstone! One of the seven wonders of the cowboy western world. Legend hath it that in 1877 a prospector name of Ed Sheffelin spotted silver shinin' in them thar Apache hills. Cavalrymen advised Ed not to go diggin' there. "All you'll find is your own Tombstone." They were keerect. 125 years later Tombstone is alive and well, population 1,500, plus herds o' happy tourists. Like the Grand Canyon, Tombstone is even more fun than you think it's gonna be. First thing you notice upon alighting from your trusty air-conditioned SUV is the smash-mouth heat—dry heat, the natives call it. Here on scorching Long Island we call it dry heaves. Next, you can't help notice the plum friendly nature of the townfolks. They have smiles brighter than Miss America. Gents step right up and call you pardner, offerin' hearty handclaps—ladies dressed as dance hall gals are all touchy-feely-kissy lips. Heh, heh—ain't this fun Babs?
I ambled along the boardwalk. Everyone shouted, "Howdy, Sugarfoot! Welcome, Will!" I blubbered, "They remember! I thought I was long-forgotten. They know me—they really know me!" Babs pointed out I was wearin' a huge ID badge on my shirt. Tombstone! Breathe in that good southwest air. The sky's clean and clear, and so are the streets and walls. Note how all the good people are duded up, taking extra care to wear authentic-looking 19th century garb 'n' gear. Babs thought my purple suede Levis a tad much. Shoulda worn the official tourist uniform: short pants, long socks, white knees, dark specs, Hawaiian shirt, straw hat, lei, camera—took a lotta shots of the shops and saloons: Shady Ladies, Bronco Trading Co., the Crystal Palace, the Crazy Horse, Tombstone Mercantile, Big Nose Kate's, the Birdcage ("She's only a bird in a gilded cage.")
As I sauntered, city marshal Ralph Spencer upped to me. Told me we were standin' on the corner where Virgil Earp got shot and wounded. Sometimes, late at night, you can see Virgil's ghost leanin' on a post at that very corner—they say! Marshal Spencer made me his deputy. "The badge seems a mite tiny, don't it?" I observed. "Well," he said, "We don't have much crime here." Fact, Tombstone's rated America's safest town. Main thing you have to watch for are the wild boars, the Javelinas, who can rampage like cowboys of a Saturday night. "What makes Tombstone so safe, Marshal? Wyatt Earp?" Near as Marshal Spencer could reckon it's because a Tombstoner drinks. A Tombstoner packs.
We stayed at Curly Bill's B&B. Babs and I rate it Five Smiles. Curly and Mrs. Curly make you feel right to home. They don't lock the doors at night. Can't say the same for the fridge. Curly Bill packs. He conducts Jeep tours around the territory exploring mines, ghost towns, Johnny Ringo's gravesite at Turkey Creek, Cochise's stronghold in the Dragoon Mountains, Fort Bowie, Boot Hill. Ever so once-in-a-while Curly Bill and his Jeepsters encounter coyotes out in the desert—not the four-legged variety, but those of the two-legged persuasion. Then ornery varmints escort illegals across the border. After relieving them of their life savings, El Coyote gives them a plastic bottle of water (if they're lucky) and points to a far hill. "Amigos, Phoenix is yonder, just on the other side," he says, and he vanishes with the wind. Illegals start hikin'. Ain't no Phoenix on the other side—only miles and miles of more desert. Some make it, some don't. Los Coyotes are also Jeep jackers. Curly Bill packs…
First day, all of us TV ceelebs congregate at the O.K. Corral for a shoot-out—a photo shoot-out. Great seein' the ol' gang again. Two of my favorites Kelo and Gail Henderson—Kelo taught me the fast draw and lassoin'. Roydon Clark—he performed my first "Sugarfoot" stunt. A Pony Express mount. Jack Williams—in '61 we engaged in a rickshaw race in Hong Kong. Pete Brown of "Lawman". Sinatra's dead—long live the Voice, Don Collier. There's good buddy William Smith claimin' he could whup Clint Eastwood in a fair fight. Dale Robertson—in a TV GUIDE interview years back he rated TV cowboy's horsemanship. He didn't have me at

the top—I wasn't at the bottom neither, thanks to my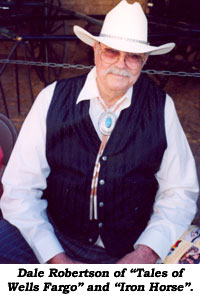 hoss, Penny. New pals Dirk London, an expert on the Earp legend, and his wonderful wife Jan Shepard. I tell Dobe Carey that his book, COMPANY OF HEROES, is like a Bible to me. Best durn book ever on the wonder and adventure of makin' westerns on location. Ti-Ye, Neil Summers. I autographed a passel o' copies of his new book. Good seein' Whitey Hughes and Dean Smith one mo' time. Ditto Gregg Palmer, that funny devil. There's my ol' saddlemate Clint Walker. Hey, Clint, they want to take our picture. Mind if I stand on this bale o' hay? Yes, folks, you too can be taller than Cheyenne.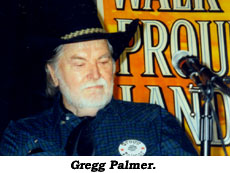 The fest went fast—too fast. Coupla terrific shows at the high school gym. Despite a gut-wrenching virus, Johnny Western performed, as always, in top form. On the last night Joe Sullivan movingly kicked-off the proceedings with Hopalong Cassidy's Creed. We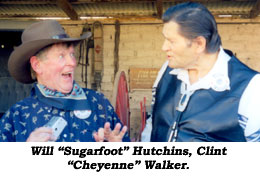 all recited the Pledge of Allegiance—"Under God" was extra loud. Way I figure, the Constitution guarantees us the right of free speech—also the right to remain silent. One memorable moment after another.
Babs and I love cowboy music. On that last
style
night it came out hot 'n' heavy. One of America's greatest gifts to the world is our music, and nothing captures our spirit better than cowboy music. Jes' turn your ears toward Pioneer Pepper and the Sunset Pioneers—Yee Haw! Beautiful Belinda Gail—shades of Patsy Cline. The fantastic LeGarde Twins—we have something in common, we all worked for Ashton's Circus in Australia. Two sweet patooties known as Double Action confide it's tough for them to sing "Texas Plains". When they get to the lyrics, "I want to feel a saddle horse between my legs," they always break up! They sang "Texas Plains"—everybody broke up. Cowboy poet Jeff Hildebrandt read his stirring "Cowboy Up America!" All our nape hairs stood up when he intoned, "Cowboy up. Now listen tight. The world had better do what's right. Cowboys' through with playin' games—we're kickin' butt and takin' names—Cowboy up!"
Yessireebobs, 'twas one of the best concarned nights of a lifetime. Babs and I felt sorry for the rest o' the world—they missed it. Take a bow dear ol' Jim Clark, Larry Jensen and Boyd...you and your pards put on quite a show. You Tombstoners sure make it hard to say adios. Oh, yeah, jes' remember, folks—All roads lead to Tombstone—
—Adios!