Who lost the most shoot-outs in TV Western history? Answer: Arvo Ojala—Matt Dillon shot him daid at the beginning of each episode of "Gunsmoke". To me Arvo was the father of full-tilt forty-five firepower. The man was fast! Consarn, you'd think he woulda outdrawed Marshal Matt at least once in all those years, wouldn'tcha? But no…
The late great Steve Allen featured a funny running gag when he hosted "The Tonight Show" during TV's black and white infancy. He'd give you the answer to a question before he gave you the question. Shades of Johnny Carson's Karnac the Magnificent. Here's one of my favorites. Answer: Washington Irving. Question: Who's the Father of Our Country, Sam? (pause for laff).
I attended Washington Irving Jr. Hi in La La Land. We were called the Knickerbockers. An awkward time of life for me. My homeroom teacher was Paul S. Paulson. Back then, I was a frivolous fellow. He was dead serious. Closest he ever came to a smile was a sneer. One morning I stood at the back of homeroom joshin' with my pals. Paulson was writing on the blackboard. He called for silence. Didn't get it. He whirled like a gunfighter. In a flash he hurled his chalk, fast as a bullet. It shattered on the back wall, inches from my head. Was he trying to hit me or scare me? I didn't ask. Ever faint standing up? Paulson was also our gym teacher. He was a tough sonuva big fella—compared to him, army basic training was a snap. Once a week I was subjected to the humiliation of dance class! Co-ed! Scanty outfits! One rainy day we were introduced to the rapture of the Lindy Hop. Paulson put Artie Shaw on the turntable and announced in his low, deadly, southern drawl, "I notice some of you young ladies are sitting this one out. Mary Ellen Butler, unglue yourself. You are about to Lindy with the worst dancer here." Guess who. He was right. My Lindy Hop looked more like an Earhart Plop. Well, I served three years and moved on from a Knickerbocker to a John Marshall Hi Barrister.
We had a pretty good gymnastics team. In fact, we had the world's champion rope climber. (Do they still climb rope?) My pals and I were in the stands one day for a meet with arch rival Belmont Hi. As usual, we were noisy and goofy to the max. Suddenly, my pal Richard Hill pointed to one of the judges, Mr. Paulson! He was looking at us, judging us, finding us guilty. Time had softened him. His sneer had a tinge of sadness. I have to credit Paul S. Paulson for saving me a passel of money. Thanks to my Jr. Hi twinkletoes trauma, thenceforth, I didn't have to shell out for sock hops, proms, corsages.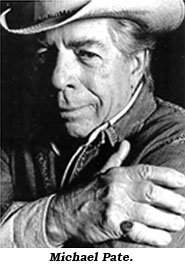 Michael Pate once sent me a Christmas card in July. Why not? Down under in Sydney, Australia, it was snowing. Pretty card. An illustration of a scene from "A Christmas Carol". One of the ghosts, like Superman, is flying Old Scrooge through the London snow, hovering over Bob Cratchit's house. Inside is Michael's message, ending, "Amazingly, this is the first xmas card we've sent in 60 years. P.S. Be sure to find the stamps." He sent a few bucks worth of uncancelled U.S. stamps. I affixed 'em all, Michael. The jolly wanderer also included a brochure on the Aussie government's national continence helpline. Why not? We're all incontinent. Michael's from the Australian continent. I'm in the North American continent.
Michael and I worked together on a "Sweet Toes" half a century ago. Great man, great life, great talent. Great honor to have kept in touch. Felippa and Kit, Babs and I send all our love. Until that time, Mr. Pate, until that time.
I'd love to send ya'll Christmas cards. In lieu of that, my beautiful bride Barbara sends you her own private recipe for what she calls the best rum cake ever. Follow me as I bake what I call Barbara a Rum. Here are the ingredients. 1 cup butter. 1 tsp. sugar. 2 large eggs. 1 cup dried fruit. 1 tsp. baking powder. 1 tsp. soda. Juice of 1 lemon. Dash of brown sugar, and nuts to you (If I may be permitted a measure of levity). What, Babs? Oh, yes, 1 qt. of rum. Aw, make it 2. First, check the rum for quality—glug, glug—Mmmm! Tasty devil. Now, select a large mixing bowl and measuring cup. Better check the rum one more time. Must be of the highest quality. Pour one level cup into a

glass and drink 'er down, faster than you can say Jack Robinson—or Ted Williams—Ahhhh! Smacka my lips! Oh kay! With an electric mixer beat your cuppa butter in your large fluffy bowl. Add 1 seaspoon of thugar. Heh, heh—that's 1 teaspoon of sugar! Beat it all to heck and back starring Audie Murphy. And make sure the ol' rum's of the quiest holity. Er, highest quality. So, test run another cup, cowpokes and cowpokesses. Slurrrp. Okie dokie. Add your basic 2 large eggs. Hmmm! Better get that other bottle while we're at it. Open sez me. Where was I, all ya gourmet cooksters? Oh, yeah. Add the eggs plus two cupsa fried droot—ooops. Dried fruit, and beat it all over the place until it gets as high as a kite. Wheee! If the fried droot gets stuck in the ol' beater, pry it loose with a drewscriver. Uno momento. Jes' checkin' the rum again for tow-skiss-tassy (Baaa-rooom!). Now sift. What's sift? Anyhow, sift three cupsa pepper—or salt—who cares? Thru siffftin' yet? I'll wait. Ah ha! Now comes the best part. Sample the rum again. Arghhh! Makes a good gargle. Avast there, matey, on the port side. Wassail at dawn. Har! What now! Oh! More sifftin's called for—so siffft for the love of siffftin'. Siffft ½ pint of lemon juice and fold in chopped butter and strained nuts, and if ya ain't got jacks or better, fold your cards. Ti ye kemosabes! Now, wix mell, er, Tom Mix, ah, Max Schnell, er Maximilian Schell. And greeze the ol' oven and turn cake to 350 gree-deeze. Put the whole mess into the boven and ache. Oh, yeah! Better check that rum again. Smoooth! Don't know about you—I'm headin' for the last round-up. Happy Holly Daze from Hurricane Hutch.
Adios—