Howdy! Yo amo, la comida Mexicana. That's Spanish for I love you, Mexican food—or not. My Spanish teacher Mrs. Brockelhurst was from Brooklyn; I called her Mrs. Brockelhoist. Every day she showed up dressed to the nines, sporting lots of sparkly jewelry; I kept looking for her battery. So we all learned Spanish with a Brooklyn accent. 'Tengo calor en mi cabezer,' we'd say. Later on, the army shipped me off to Europe. I toured Spain and tried out my Español a la Brooklynese—they couldn't understand me and vice versa.
I love John Marshall high school. In 1998 I flew out to L.A. for my class' 50th reunion (Ouch!) at the Sportsmen's Lodge. We'd all passed comfortably into the third age of man: Youth to Middle Age to 'You're looking good'. Next day, I revisited John Marshall High with two of my life-long pals. Upon entering the administration building we encountered a hanging banner proclaiming, "United States Academic Decathlon National Champions—1995". In the boys' gym we admired a mural of alum Mike Haynes, recently inducted into pro football's Hall of Fame. (In my day, we were very dangerous at tennis.)
Other notable grads: classmate Larry Kert, Broadway's' original Tony in "Westside Story"; Julie Newmar (nee Neumeir)—My, my! She blossomed high. My heart gave a start every time I saw her lovely head bobbing above the rest of us in the hallway like a lotus blossom on a pond. Dr. Woo, TIME magazine's Man of 1995 for his quantum leap in science's battle against AIDS. Other former Marshall High Barristers: Heidi Fleiss, Judge Ito and Caryl Chessman, the notorious Red Light Bandit executed at San Quentin. Hi Ho and so it goes.
Before I flew homeward, my chums and I drove out to the Roy Rogers-Dale Evans Museum in Victorville, CA. I loved the statue of Trigger out front on his hind legs—saddleless, Royless.
Down memory lane we went to our old grammar school. On the surrounding iron fence a sign warned, "No guns on campus"—in my day we feared our teachers more than each other. So, it's adios, pards. See ya at our 100th reunion, providing I'm not working. Si! Yo amo, la comida Mexicana.
Back in '96, after we made our Eastward Ho!, Babs and I discovered a Mexican restaurant up the road apiece in Huntington, Long Island. Pancho Villa's the name; food and margaritas and merry making's the game. We rate it five smiles—Smacka our lips! The decor features photos of Señores Villa and Zapata plus assorted mustachioed and sombreroed hombres clad in white shirts and pants. As we say in French, the place has a certain ambulance. The place has a rousing Mariachi band that plays my favorite Mexican song, "Clases del Cha Cha Cha". One night I slipped the gents a fast peso, music filled the air and Babs danced with the fiddle player.
Ah, shades of my bachelor boulevardier days back in the '50s—I frequented a Mexican night spot, Club Granada in downtown L. A. hard by Olivera Street. Una noche I escorted the enchanting Ina Balin there. Fortified by tumblers of Tequila—neat—aided and abetted by a squirt of lime juice and a sniff of salt at the base of the thumb, we sweated up a storm, dancin' fools. Cha Cha'ed out, we sat. I asked Ina, "(Gasp) How'd I do? (chuff chuff)" She replied, "You remind me of José Greco's secretary."
Across the street from Pancho Villa's is a gift shop where I buy greeting cards. One caught my eye the other day. A color photo of seven cowboys striding down a dusty western street to their destiny, guns a'blazin'. Inside, the message reads, "Shoot! I forgot your birthday." Double takeum! Who are these galoots? They evoke memories of long ago. Are they the magnificent seven? No. The seven dwarfs in high heels? No. Ay, dogies! That's me in my Sweet Toes costume along with Colt .45, the Mavericks, Bronco, Lawman and deputy McKay. Where's Cheyenne? Oh, I remember—he stayed in the saloon telling us, "If I'm not there by sundown, start without me." Wayde Preston is all spiffed up. Pete Brown's in a crouch—crouch?! Hey, Pete! Ever see Duke in a crouch? John Russell looks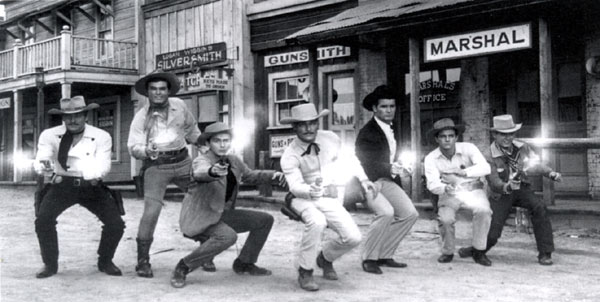 mighty serious. Hey, John! Don't you reckon that's a mite overkill for double parking a horse? Garner's disgruntled. Tainted chili from Bud's Good Eats across the street? Jack Kelly's pistola is in the throes of firing off a full load next to Ty Hardin. Me? I look uncomfortable. The wardrobe mistress mistakenly issued me Peter Lorre's underwear. A question rears it's ugly head. We know in putting this quaint card into the marketplace money changed hands. But who got it? Certainly not the cowpunchers from the Bar WB ranch. Several years ago the California Assembly overwhelmingly approved legislation to protect heirs of deceased showbiz personalities from unauthorized commercial exploitation of their relatives' names or likenesses. Fine and dandy. But what about us'n who number ourselves among the living? Who protects us? Babs and I called a lawyer representing the Screen Actor's Guild. His secretary said he'd get back to us—maybe take a meeting, maybe do lunch. That was a while ago. We're still waiting. Meantime…Babs! Oh honey chile! Why don't you thaw out the tacos?
—Adios!