When I watch my old "Sugarfoot" video tapes I'm like an old duffer proudly watching his grandson cavort. I'm reminded of what Doug McClure told me, "When I was young I had yellow hair and white teeth. Nowadaze, I've got white hair and yellow teeth." Oh, oh! Veda Ann Borg's got me in her clutches. Do I escape or suffer a fate worse than death? I forget the plots. We're talkin' 50 years ago. The shows pleasure me. Some I never saw. They worked us late. Oh, oh! Chris Alcaide sucker punches me. I want a re-match, right after the commercial.
Once upon a time I went to work for kindly uncle Jack Warner. First off, he put me into a TV production, "The Magic Brew" starring Jim Backus as a snake oil salesman. Freddy deCordova of "Bedtime For Bonzo" fame handled the megaphone. A charming elderly gent working extra drew an admiring crowd, he was silent screen star Creighton Hale, never-to-be-forgotten in Paul Leni's classic chiller "The Cat and the Canary". The feller who wrote our story also acted in it. Kept forgetting his lines, lines he wrote! In '52 he played a coroner in Bogie's "The Enforcer". As the camera rolled he sat in a car and recited his lines while consulting his script lying next to him on the seat. Director Bretaigne Windust (dig the crazy name!) caught him in the act and bawled him out. Here's the corker! No re-take! Catch the flick on TV. The scene's still in. It could happen only in Hollywood. Who was this absent-minded screen writer? Montgomery Pittman, Monte for short (below).
As READER'S DIGEST would put it, Monte was the most unforgettable character I ever met. Arguably, the biggest talent at Warner Bros. back then. Confidentially, I suspect he was a genius. He looked not unlike a Florida swamp salesman or a riverboat gambler in the last touring company of "Show Boat". Wherever he ambled he lit up the sky with his flamboyant threads, his undying cigar atilt, projecting from his eternal smile, partially camouflaged by a debonair moustache, all crowned by his curly black mane. I have long maintained our country's best tale spinners come from the South.
Monte brought his soft southern drawl all the way from Louisiana and teamed-up with buddy Steve Cochran for some wild and woolly wifeless wingdings. One night at Steve's digs it was party time. Monte fancied a sparkling starlet. She fancied Steve. Using all his wiles Monte somehow convinced said starlet in a darkened den that he was Steve, and the sofa smooching began. Their impassioned clinch was interrupted when Steve lurched into the room. Not missing a heated beat, Monte shoved Steve out with his free hand, kicking the door shut. "Who was that?" she panted. "Oh, that was only naughty Monte, he wheezed.
Steve was best man when Monte married lovely Maurita. The honeymoon was soon over. Mrs. Pittman told Mr. Pittman, "Go to work young man—or else!" Steve gave him a job writing his production of "Come Next Spring", also starring Ann Sheridan and Monte's step-daughter Sherry Jackson. The critics were kind: "Charming, unpretentious slice of Americana set in 1920's Arkansas. D. W. Griffith-type pastoral melodrama leaves one with the intended warm glow."
My next assignment at Warners: "Stranger On the Road". I played a rube on a ranch. I mounted a horse facing tailward. The big climax was Rex Reason Vs. me in the mother of all fistfights. Pittman penned that puppy, and it's success led to the birth of another hayseed of the hinterland, "Sugarfoot". Monte asked me if I had any suggestions for future projects. Hmmm! How about a re-make of one of my boyhood favorites, "The Quarterback?" Wayne Morris played college twins, only everyone thought they were one guy. The smart twin kept up the grade point average. The quarterback twin just played football, leading his team to the championship game. Gamblers got wise and kidnapped the quarterback. The nerdy brother was forced to don a uniform, and by sheer goofy luck and pluck won the big game and the pretty pom-pom girl.
Brainstorm! From this germ of an idea Monte created the Canary Kid episodes, my favorite "Sugarfeet". The Dr. Jekyll and Mr. Hyde of westerns. I got to wear the white hat and the black hat. By now Monte was a writer-director. Amazing chap. He could write a script in one week and shoot it the next. Working with him was glorious fun. He was a natural. He knew where to put the camera. Looking through the viewfinder he'd announce, "I got this shot from a Greta Garbo movie!"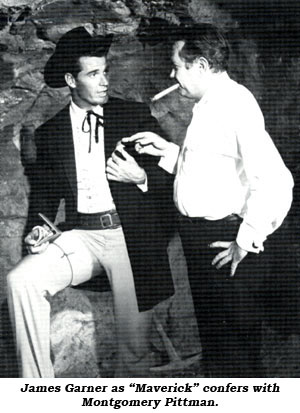 Monte directed my all-time favorite love scene. Took place in a kitchen. The gal was washing dishes, I was drying. Monte shot the scene from one angle at a respectful distance. The gal and I had our backs to the camera with occasional shy side glances. Years later, my wife Babs and I re-created this scene at a radio convention in Brockton, MA. Guess where we rehearsed? Yup, in the kitchen, doin' the dishes.
I was very lucky to work with Monte. He raised the bar high for all the shows at Warners TV. I was luckier to have him as a friend. One early a-yawn on the set, slurpin' mocha java, Monte told me to look up. "See all those grips in sneakers on the catwalks?" Yup. "Well, no one on a sound stage ever thinks about them. They go about their business as if they were invisible. And yet, they see all! Actresses go behind screens to adjust their costumes or to change. They think they have privacy. But the grips look down silently. They see all! Monte kept looking up and sighed, "Ah! If they could only speak!"
After the brothers Warner discarded me like a squeezed lemon, Monte called and asked me to play a small-town doctor in a TV pilot he created. His voice sounded strange, like Babe Ruth's farewell speech at Yankee Stadium. Sadly, I had to decline. I was under contract for another pilot. I wish I could have worked with Monte—one more time. He completed his pilot, then he died. George Burns could smoke cigars—Monte couldn't. I attended his beautiful funeral. Efrem Zimbalist Jr. delivered the eulogy. Monte was decked out in white tie and tails. I leaned close. "You're not putting us on are you, Monte?" I expected him to sit up and tell us all a joke. He's buried high on a hill overlooking Warner Bros. How would he do today in this hi-tech age? I reckon his profound imagination, humor, and humanity would prevail. Maurita Pittman called and said Monte loved me. I sure loved him. Still do. Still miss him. Still lookin' for his equal.
Adios folks—