Howdy! I'll never forget my favorite shoe shine. Back in the '80s I was a warehouseman at NBC, Burbank. My steel-toed boots needed TLC—I upped to Floyd's Stand, sat, and offered-up my feet. Floyd was probably the world's most famous shiner of shoes. He shined it on for celebs just before they went on stage to sit next to Johnny Carson. A tradition, don't you know? Sinatra was Floyd's biggest tipper, Nixon the chintziest. Me? Somewhere in between. Floyd applied black polish, took out his well-worn rag, and made it go snap, crackle, pop. Along came Mr. and Mrs. Robert Goulet. They hopped aboard, filling the two remaining chairs. Charming…bloody charming. Goulet was spiffied up. I sported a faded blue smock. Like a shot, Floyd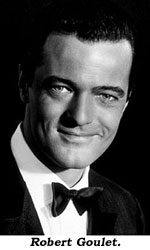 switched allegiance to Goulet's fancy footwear. Next to the stand was a wall of fame, a vast collection of framed 8x10s, autographed by Floyd's clientele. I was on that wall! I penned, "Howdy, Floyd! Shine! Away your bluesies. Shine! Start with your shoesies!" We were a frolicsome foursome. I suggested forming an ad hoc barbershop quartet for a rousing rendition of "The Star Spangled Banner". Heh Heh.
Mr. Goulet is renowned for singing it a tad off Francis Scott Key. When he belted it, the crowd cringed with crossed fingers and silent prayers. He made it a song of suspense.
Back in the '70s I was ringmaster for the ever-popular American Continental Circus. I led the audience in our National Anthem. "Come on! Everybody sing!" I lip-synched the high notes. When our circus crossed the border into Canada, Presto! We became the Canadian International Circus! I managed "O Canada" okay. I didn't Goulet it up.
In grammar school each a-yawn we sang "My Country Tis of Thee" (stolen from the Brits' "God Save the Queen/King") then recited The Pledge of Allegiance to the Flag. We didn't salute—too Heil Hitlerish. I asked our teacher, "Mrs. Lovell, who is Richard Stands?" "Who is Who?" "You know, And the Republic for Richard Stands?" "That's for which it stands." "Oh!"
Happy echoes from childhood: seeing "The Adventures of Tom Sawyer" and hearing for the first time "Columbia the Gem of the Ocean." "Mrs. Lovell, could our class take a whack at it?" Boy, what a jolly National Anthem that would be, accompanied by a snappy Military brass band. Hi Ho. The one we have is just fine, if you happen to be an opera singer. The melody comes from an ancient English drinking song, the lyrics from a poem about war. My three favorite singers of our National Anthem: (1) Bing Crosby—simply, quietly, directly. Just for you. (2) Johnny Crawford. At a horse show at the Pickwick Stables in Burbank, Johnny in cowboy duds meandered out to a fence, pulled out his pitch pipe, and sang it a capella. Babs and I don't recall the horse show, but we remember the thrill of Johnny's pure perfection. (3) 1991—Super Bowl XXV—Whitney Houston. Utilizing her three octave range, she sang it as we've never heard before, and never will again. She stopped the world. At Yankee Stadium, Kate Smith sings "God Bless America" before the 7th inning strrretch. Why not Whitney Houston and her "Star Spangled Banner" before every Super Bowl from now on? Oh, fly away, Sweet Song bird, fly away home.
Boyd! Donna! 'Preciate your recollectin' "MacBrewster The Bold" "Sugarfoot" episode. Three kilted relatives from Scotland come to America. They dude me up in kilts. They want me to go home with them. I reckon I'd better stay, so what do they do? Why, they take Ruta Lee back with them. In real life, I'm a Scot on my dad's side. We were MacHutchason in the Old Country, part of The Stewart Clan. So, lad, I'll be forever plaid. Les Goodwins of "Mexican Spitfire" fame directed. He was a jolly cockney, a huggable joy. Real easy goin'. Roscoe Ates, the stuttering comic relief, made Goodwins, the three Scots, and the lady-on-the-set-ABC-censor a mite edgy. While the camera rolled, Roscoe picked up a stick and lifted one of the Scot's kilts to see what he could see. "Cut!" Don't know about the Scots, I was wearing skivvies.
Roscoe told me about working with Wallace Beery in "The Champ". Boy, you had to stir your imagination on that puppy. Beery played heavyweight champ of the World! On screen, Beery was one of the most beloved performers in flick history. Off screen, he was a bastard. During the fight scenes, Roscoe was in Beery's corner. At the end of each round, Beery'd come back to his stool and greet Roscoe with an achy-breaky kick to the shin. But don't get me wrong. I love Hollywood.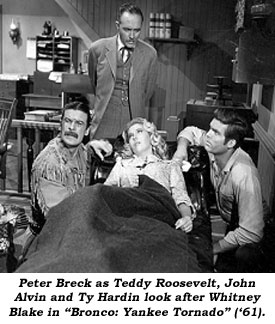 Then there is mi amigo Peter Breck. I'm so lucky to have known him. He played Teddy Roosevelt on one of our epics, "Man From Medora." Terrific on screen, terrificker off it. One of my favorite compadres at Col. Warner's honor ranch. Never saw him in a snit. Always a good word, always a big grin. Bully! And was he a jokester? Yes! One of our fellow contractees was rather diminutive in stature, not in ego. Ol' Peter felt he had to go into action. He rounded-up some cronies one evening after work. They snuck into said contractee's posh dressing quarters, removed the furniture, and replaced it with kiddies' toy tables, chairs, beds and the like.
—Adios