In 1964 I complimented Robert Preston on his 1939 performance in "Beau Geste". We were on competing teams in the Thursday late-night Broadway Show Bowling League. I told him when we kids saw his Foreign Legion flick at a Saturday matinee, we figured if the sniper's bullet hadn't killed him, then his long roll down the sand dune into eternity would have done him in for sure. He smiled. He said the original villain was French, but they were on our side, so Brian Donlevy played him as a Russian. We didn't know whose side they were on.
Well, folks, our show "Never Too Late" won the tournament. Confidentially, we stunk. But I was captain. I ran a tight ship. Oh, we had fun, but it was serious fun. We'd huddle, and I'd command, "Win, Win! Win for the love of winning!" And, whaddaya know! Every week we took turns opening up to mystic inspiration, sort of bolts from the blue. By some miracle one of us would roll the ball as never before—and never since. We were drug free, and so was the booze. Every week Sammy Davis Jr. would announce to all, "My shout! Drinks on me!" Yes, Virginia, there is a free lunch. At the season's end party we marched to the dais to gather our trophies. No heavy mitts nor huge huzzahs. No, you could hear a bowling pin drop. I didn't give a rat's rear. I was proud of my little mounted statuette of a bowler in the throes of a 200 game. I kept it in my front room, illuminated. Not too blatant—just a baby spot. As time passed it gradually fell apart. Years later I received a letter from one of my ol' team mates. On the envelope he wrote, "To the world's most competitive 135 average bowler."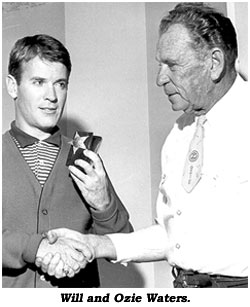 Recently, Boyd Magers sent me an 8x10" glossy of Captain Ozie Waters, "The Singing Marshal of Central City, Colorado" (the richest square mile on earth!) In the photo Ozie is handing me a deputy marshal badge. The date: 8/9/63. Ah, yes! We were performing "Never Too Late" at the town's opera house. (We broke the box office record.) Ozie was a grand fellow, but he was frustrated. No crime. So he made me his deputy. He needed someone to play gin rummy with. Boyd asks, "Where is that badge now?" Durned if I know. While I was out of the country for three years my ex-gal pal must have headed up one nifty garage sale. You know, when you're in show biz the happy lettuce may not roll in, but you sure collect a wide range of doodads, geegaws, and gimcrackery. It goes with the territory. Part of the job description. So, ex-gal pal, you may have cleaned me outta house and medals, plates, scrolls, certificates, plaques, statuettes, 8x10s, steer skulls, cowboy hats, scrapbooks, but you sure can't erase all those wonderful memories of journeys 'round the globe, party times, jobs o' work, and pals, pardners, and paesanos. You can't stop me from listenin' to all those beautiful echoes.
—Adios!