My ol' Warner Bros. ramrod Hugh Benson reached the end of the trail at 82 back in 1999.
Hugh was the first guy I met at Warner Bros. In '55, a fellow future filmmaker at UCLA and I drove to the Burbank Studio on a class project to interview Natalie 'be-still-my-heart' Wood. Hugh Benson was chaperone in charge. He dressed very natty. My pal and I were very gnatty. Natalie was very Natalie. As we were leaving, Hugh asked if I rode a horse, 'Yes,' I lied. Fate plays funny tricks, and a year later I was back, a hired hand at the Bar–WB Ranch, down in the back lot on the western street, astride a skittish steed, fakin' it.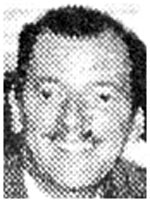 In our chain-of-command, Hugh (right) was number 3 behind number 1, our boss-of-bosses Colonel J. L. Warner, and number 2, J. L.'s son-in-law William T. Orr, commander-in-chief of the TV department. Hugh was Bill's right hand man. I called him Lefty. Ah, yes! The three suits—I was forever trying to trump the suits. Usually, I got grand-slammed.
The suits were hirsute. When Zanuck left Warners he bequeathed his mustache to the Colonel—J. L. looked not unlike a cross between Jack Holt and Fearless Fosdick. Bill Orr sported a stylish soup strainer giving him the look of a Southern used riverboat salesman. Hugh maintained a rather mysterioso mustachio. You couldn't tell if he was smiling or sneering—still, he did resemble William Powell, sans toupee. All three beezer bushes were trim and dapper—very regimental.
I never really got to know Hugh and vice versa. We pretty much had a one-way line of communication: Inter-office memos bawling me out. You can find them to this day in the Library of Congress. No kidding! One fine day I exited the Tablehop Tavern, the private dining room where actors and execs did lunch. Hugh yelled after me, 'I just saw your rushes, you look fat!' Ha! I showed him—from then on I lunched in the commissary.
Oh, I tried to reach out. I tried to improve the EQ of Sugarfoot (Entertainment Quotient). One afternoon, Hugh and I took a meeting in his inner sanctum. I suggested exciting story lines such as Sugarfoot Meets the Sundance Kid; Sugarfoot Meets Jeremiah 'Liver Eating' Johnson, the Crow Killer; Sugarfoot Meets Levi Strauss—Huh, Hugh? A well manicured thumb down. He'd written a couple of Sugarfeet himself, and he shot an acceptable plotline at me. I shot back, 'Buck Jones, 1933!' End of meeting.
I'll never forget the time we WB cowpokes appeared on Pat Boone's TV show in New York. Hugh divided us and flew us out in two planes. Good thinkin'—one of our crates was sure to make it. The show went well. Next morning, Pete Brown and I hailed a cab in front of our hotel—'To F. A. O. Schwartz Toy Store, driver.' Took him about 15 minutes—a rather circuitous route, I thought. As I was paying for my electric yo-yo, I asked the clerk directions to our hotel—we'd decided to rough it and walk back. Right around the corner and half-way up the block, she said. Hmmmm! City slickered.
That night Wayde Preston and I sauntered over to a telethon hosted by marvelous Martha Raye. Dick 'South Philly' Clark introduced us. First, Wayde ambled out—then as I moseyed out, Dick proclaimed, 'He doesn't look so tough!' Hmmm! I reckon the ol' Side Saddle Kid failed to scare him. I kept on moseyin'. What I shoulda done was challenge him to an Indian leg wrestle. I was champ in the army—what could he say? It was all for a good cause. Shucks, I'da flipped that dude clear back to the cheap seats.
Speaking of constructive criticism…Dick, you dropped the ball again on New Year's Eve in Times Square. The ball should go up, up, and awayyyy like Superman, then explode into a million pieces like Mount Vesuvius. You know, Dickie, baby, show biz glitz? …but I digress.
After serving five of my eight year sentence, Hugh told me they were letting me out on parole. In lieu of a gold watch he gave me a hearty handclasp. He was the last guy I saw at Warner Bros. Jump cut to NBC 30 something years later. Hugh was producing shows there, and I was a warehouseman there. We chanced upon one another in a hallway. 'Small world,' said Hugh. 'Yeah, but I wouldn't want to paint it,' said I. He ushered me into his office, fixed me a drink and we went down memory lane. We reminisced about the good ol' daze, and, all in all, my stay at WB was mostly good ol' daze. On my way out he gave me a big bearhug. Felt good. His hug was better than his hearty handclasp. Like I said, Hugh passed on back in 1999. Until we cross paths again somewhere down the trail. Until that time, Mr. Benson, until that time…
—Adios!