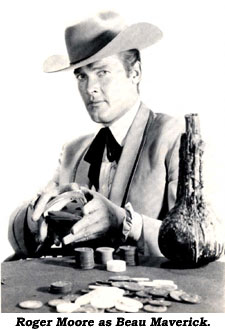 All I know is what I read in VARIETY. Seems Queen Liz II pulled out her sword and dubbed Secret Agent 007 'Sir Roger Moore'. Shucks, that ain't such a much. Dames have been calling me sir for years. Worked with ol' Rog back in '60. He played Beau Maverick. I played my transistor radio. I was more interested in the World Series than the business at hand. When Pittsburgh Pirate Mazerowski hit the series-winning four-bagger, thrashing the Yankees, I let out a whoop so loud I woke up a grip on a catwalk. Roger chided me. I called him a limey—and ducked! He just smiled. Not so director Altman. He lambasted me for what seemed hours in front of cast and crew. I had it coming. When sweet old Bob finished venting his spleen all was silent, except for snoring on high. The grip had resumed his nap. I felt unclean. There I stood, alone in the middle of the sound stage. No one talked to me, except wonderful character actor Percy Helton. He needed a ride home.
I asked Percy how he got his squeaky voice. Here's the story. Back in the '20s he played head cheerleader in a long-run Broadway play. All his 'Sis-Boom-Bahing!' wreaked havoc on his vocal cords, giving him the permanent bray of an Andy Devine sound-alike.
To all this I say: Here's looking at you, Sir Roger. Guess you could call me a codger—but it's not with spite, when I say 'Good Knight!' I'd much rather be a Dodger!
One time I took a train to ditch New York rain only to be greeted by Virginia rain, and sweet Cindy Peery, Robert Livingston's number one fan. For over 15 years Cindy has opened her beautiful home to fellow worshipers of western movies. I pitched in on pitching a tent to cover the outdoor chow table—(shades of my circus daze). Good eats, you bet, courtesy of Chef Ray Smith. We all gathered in Cindy's living room for a day and evening of westerns. My train rides took 7½ hours each way—Wow! A powerful lot of sitting. That's okay. I'm a dead end kid. Sorta reminds me of Columbia's Czar Harry Cohn. If he started fidgeting while he was watching rushes, that was bad news for someone—one wag observed many a career was made or crushed by Harry Cohn's butt. Me? I was totally enrapt. The hours whizzed by. Buck Jones in "California Trail". Whatta hero, on screen and off! Johnny Mack Brown in "Gambling Terror".
Will Rogers Jr. was terrific in "Boy From Oklahoma". We swiped the story and a lot of stock footage for our "Sugarfoot" pilot. I wish we'd swiped the haunting beginning: Will's riding his horse across the plains singing, quietly to himself and horse, "I'm a Poor Lonesome Cowboy." Cindy followed with a good "Sweet Toes" episode. Chief Glenn Strange beseeched the U.S. government for return of his tribe's land. Did the Sioux sue? Si. Rained all day down our way. Good time to be cooped up watching westerns.
Cindy had some rip-snorter surprises for us! Two "Lucy" shows guest starring Clint Walker. Whatta revelation! We all know Clint's a stalwart leading man. Well, he's a fine visual comic as well. In one hilarious highlight Lucy and Clint got entwined like two mixed up wrestlers. They reared and pitched, but couldn't make a break. Quick somebody, a bucket of cold water. Bravo, buffoons!
Then, Cindy's piece de resistance! "Range Rider" with that daring duo Jocko Mahoney and Dick Jones. Gorgeous scenery, a well-acted, well-directed story, but mostly the genius of Jocko and Dick. Best horsemanship I've ever witnessed in a TV western. Their synchronized mounts have to be seen to be believed, and I still don't believe 'em.
Cindy and all your kindred spirits, a tip of my cowboy hat for a wondrous weekend. I hope you'll keep me in mind someday down the trail when you have an empty chair.
Bob Hope was a man of the people. He seemed to have time for everyone. Not a whole lot of time, for he had miles to go before he slept. Back in the late '40s my mom and I had aisle seats for the New Year's Day Rose Bowl game. About half-way through the second quarter Bob Hope walked up the stairs toward his seat, a tad tardy. My mom and I said, "Hi, Bob!" He looked at us with his merry, crinkley Santa Claus eyes and said, "I took a short cut!" He once dubbed NBC "Nothing but cowboys." He claimed the NBC Peacock was hatched from one of the eggs he laid.
Met a charming chap awhile back. Looked like Bob Hope. In fact, he worked for Bob Hope. Good way to get a job. He told us a story about Hope and Crosby. Back in the '60s the lads went out on a toot one night in Washington, D.C. The evening grew late. They hailed a cab. "Where to?" asked the driver. "Where are we staying?" Bob asked Bing. "Search me. Don't you have the hotel key?" They didn't have a key. They didn't have a clue. They told the cabbie to drive them to the White House. They knocked on the front door, and President Lyndon Johnson invited them in to spend the rest of the night. How sweet, how simple, how long ago.
Once there was a Bob Hope flick fest in New York City. I tooled in to see "Son of Paleface" one more time along with a packed, howling audience. My favorite scene: Bob and Trigger in bed, side-by-side. Every time Bob tosses off the blankets, Trigger pulls them back in place with his teeth. Comics live long lives—ever notice? They give all that joy to the world. What goes 'round comes 'round. Bob's just a drive and a chip shot from heaven. LOOK who's waiting at the 19th hole. Bob, Bing, Dottie. Time to go on another road trip.
Adios