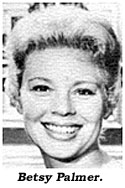 Betsy Palmer and I once returned to the scene of her crimes in Blairstown, New Jersey, where Betsy hacked her way to immortality as the mother from Hell, Mrs. Voorhees, dispatching unhappy campers in that camp classic, "Friday the 13th". She gave 'em the ax, the ax, the ax—Mrs. Voorhees figured she was the perfect mother. She was willing to kill for her son, willing to die for her son. This time we went in peace, performing "Love Letters" at the former Little Red Theatre on the main drag.
Betsy's one of my all-time favorite actresses. She's also a terrific director. I have perpetual stage fright. I hear tell Red Skelton suffered from the same malady. Before each performance he upchucked. Betsy gets me through "Love Letters" using a less graphic technique. Before we go on stage we hold hands, and her bright, cheery eyes gaze deeply into mine. Then we recite a blessing taught her many years ago: "I am the place where God shines through. He and I are one, not two. He wants me here and as I am. I need not fear, nor fret, nor plan. If I will be relaxed and free, He'll carry out his plan through me."
Buoyant Betsy worked mainly with Jack Lemmon on a WWII cargo ship in "Mr. Roberts" ('55) under John Ford's rollicking direction. She was superb. She remembers very little of Henry Fonda aboard. He was sort of a faraway fellow. Imagine her surprise when he asked for her in "The Tin Star" ('57), a solid western. More surprising, their off-set relationship was pretty much confined to "Good mornings" and "Good nights." Hank was a private person. Betsy never crossed his threshold. Here's the biggest surprise of all. Not long after Fonda's death, Betsy met his widow at a luncheon. Mrs. Fonda said, "Oh, I'm so happy to meet you. Not long before Hank died he was sorting through a collection of 8x10's—suddenly, he stopped when he came to your picture. With a wistful smile he said, "Ah, Betsy. What a gal! I loved working with her!" One never knows, do one?
Babs collects antiques and seldom throws anything away. This explains my presence in our household. One day in a local antique shop a miracle occurred. Babs didn't buy anything. A bigger miracle: I did! A heavy cast metal art deco statuette of a snappy couple now stands in our hallway next to Babs' knickknack cabinet. The gent wears a snap brim Fedora and a long, copper colored raincoat, collar pulled up. The lady wears a cloche hat and a long, gray raincoat with a wraparound scarf and a small purse with a low slung strap. They sport dark glasses. They're on high alert. His right hand is inside his coat. Maybe he has a gun! I call them Nick and Nora.
Years ago in San Diego I stood beside the Thin Man, Nick Charles aka William Powell. It was Happy Hour. Bill Powell and I clinked glasses, posing for photos, toasting the opening of a ballpark. I got to hear his wondrous voice up close and personal. "You know, when I was at MGM the publicity people would have made me hide this glass behind my back." Why, I wondered? Nick Charles always had a gat in one hand, gin in the other. When I was a kid I wanted to be Sam Spade and live in a Frisco fleabag, Hotel Deluxe lights flashing on and off all night through. Unshaved and rumpled, I'd treat bad guys and dames rough, taking no guff. I'd walk down foggy mean streets in search of The Black Bird.
Years and years later, I took Babs to a private eyes' convention in hopes of hooking-up with an agency. No dice. They missed the boat. They should have hired Babs. Don't mess with Babs. She took stunt work classes from Jocko Mahoney. At a ladies wear store in Century City she was chief shoplifter catcher. Krishnamurti, the great East Indian spiritual leader, said that meditation is not the answer. Awareness is—Babs is the most aware creature in my life. I can't get away with anything. Her aware nature has saved her life more than once.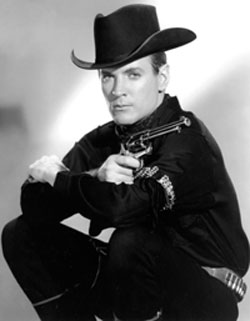 A few months ago we entrained to Penn Station in NYC. As always, we had to transfer at the Jamaica Station—we can put a man on the moon, but we still have to transfer at Jamaica. Babs said, "See that fellow over there? I think he's the one who continually beats up Alan Kalter on 'The Letterman Show'." Babs is not only aware, she's a New Yorker. She promptly upped to him, and the fellow's broad smile told me that she got her man. I warily approached. He put out his paw—I flinched. He was on his way to an audition. He gave us his demo DVD. That night we played it. Big fella's name is Brian Donahue. He's a stuntman cum actor, and his DVD features a cavalcade of clips from his career. It begins with his debut on "The Letterman Show", displaying his versatility in falling down a series of stairways. I love falls down stairs. The stuntperson does his/her stuff, taking care not to show his/her face at the bottom. Quick cut to actor emerging from fetal position. The funniest play I've ever seen is "Noises Off". An actor makes a funny-scary fall downstairs in every performance! I'd say that calls for the Dave Sharpe Award.
Adios—