Howdy! Pat Buttram once told me Gene Autry worked as a telegrapher in Texas when he was a young feller. One day a world famous gent walked into Gene's office. Autry was on a coffee break, strummin' his guitar. The famous gent listened for a spell, then said, "Son, my name's Ty Cobb. Why don't you throw away that guitar and get into baseball?" One year Buttram wound up a Golden Boots show by sayin', "In conclusion, I'd like to say the Anaheim Angels had one of their best years ever. Boy, would I like to say that!"
Folks, you really had to be there. Babs and I were. The Golden Boots weekend. I was an honoree. Cal and Nancy Beauregard warmly greeted us at LAX. I think our luggage took the bus. We waited. Cal and Nancy kept smilin'. On the flight we saw "Spiderman". My arachnophobia took my mind off my fear o' flyin'. Only one thing scares me more than spiders: giving a speech. We kept on waitin'—Cal and Nancy kept on smilin', but their lips quavered. I recollected ol' Charley Bronson's Boots speech. All he said was "Thank you." Maybe I could make my speech shorter. I could say, "Thanks" and walk off to thunderous applause. We waited. I imagined we all were in a Hitchcock thriller. Instead of a suitcase, a corpse comes tumblin' out of the chute and onto the revolving carousel, a name tag on a naked toe. The corpse keeps goin' round 'n' round, unclaimed. Ah! Our luggage!
Cal and Nancy drove us down La Cienega. We pulled up to the Sportsmen's Lodge. Jim Roberts' fabulous Pre-Boot party was in full boom. Ay dogies! 'Twas great crossin' trails one more time with all our pards from the past. Our first Boots weekend since '95.
Cal and Nancy drove us to the Boots bash at the Merv Griffin hotel. Babs and I sat with the Clint Walkers. Clint could see I was getting nervouser and nervouser. To calm me down he said, "You know, Will, when I got the Boot I could barely touch my dinner." I replied, "What dinner?" After three hours or so the Warner Bros. stable was herded into a corral backstage to await our turn. I sat next to Roy Huggins' son. He's an ecological scientist, and was accepting for his dad. I told him I'd sweated out this night for eight months. How'd he feel? Was he afeared? No, he said, Just a few days before, out in the Mojave desert, he almost drowned in a flash flood. That, he said, was scary. I was the next-to-last speaker—What an honor! When I was a kid my grandmother often took me to the Orpheum Theatre in downtown L.A. for afternoons of vaudeville. The headliner was always the next-to-last act. Babs gently pointed out that maybe—just maybe, they figured everybody'd either be asleep or gone by the time I got out there.
Oops! My turn. Clint Walker introduced me. As I skittered to the mike I prayed under my breath, "Okay, Lord, you've shown me the agony—Now let's see some ecstasy!" Big Clint gave me a bear hug. (Not to worry, says the doc, My ribs are healing nicely.) Clint handed me my Boot. I exclaimed, "This is heavier than an Oscar!" Someone out front blurted, "How would you know?" (Babs, was that you?) Anyhow, I kissed my Boot. Yummers! Tasted a mite sweet. Fittin' for a Sugarfoot, wouldn't you say? Truth to tell, I got the boot years ago, but now it's Golden. It could happen only in Hollywood! I peered into the darkened room. "Babs, where will we put this puppy? On the mantle? Baby spot? Magenta? Nothin' too ostentatious, you understand." (At Warner Bros. the great cameraman Ted ["Treasure of Sierra Madre"] McCord used to give me a magenta spotlight for my eyes. When I worked on "Gunsmoke" Arness got that honor. My magenta days were over.) I peered deeper into the dark. "Howdy, folks! Good to see y'all hunkered down around the campfire all duded up." Pointin' to my new denim jacket (made in Sri Lanka with 1932 Navajo rug trim) I added, "Dig these drover duds!" I spun around drawin' a smatterin' of applause. (What 'smatter 'bout that?) I told 'em, "Don't worry, folks. They'll come back in style again some day." Once more, a voice, "Yeah, how about you?" (Now, cut that our, Babs!) I continued unruffled. "I'd like to dedicate this beauty of a booty to my dad. Like me, he was enchanted by the wide open spaces. He was a dentist. And every Christmas eve he'd recite 'Boots, Boots, Boots' with gestures. He just loved Kipling. Even more, he loved to kipple." I raised my Boot on high and said, "Dad, this must the Boot!" I went on "I'd also like to dedicate this beautiful piece of guilded footwear to my best pal while I served time under Warden Warner out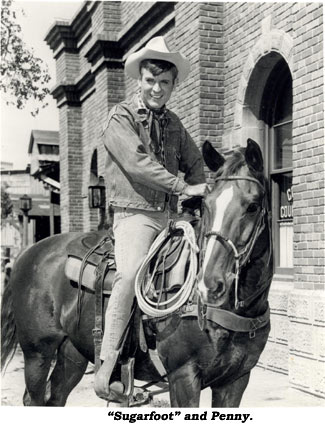 thar at the Bar WB Honor Ranch. I speak of my hoss Penny. Best gol durned hoss I ever did know. Penny made me look a whole lot better than I was, along with those stunt fellers, Ace, Acey, and Bear Hudkins and Roydon Clark. They all sure made me look brave. Penny was the real star o' 'Sugarfoot', and I jes' went along for the ride. So Penny, up thar in horsey heaven, I raise this here stirrup cup full o' sarsaparilla with a dash o' horse feathers in your honor! And, while I'm at it, here's to you Pat Buttram. Ya done good. Jes' lookie here." I pointed 'round the room, and we all applauded ourselves. "Pat's the good buddy who originated the Golden Boots. He was the first MC to boot. One night he said, "I grew up in the small town of Snake's Navel. It was a poor town. The doc had no x-ray machine. He just held you up to the light. But I can't forget my upbringing. When I go to the bathroom I still put on my overcoat." Windin' up, Boot still on high, I toasted, "And here's to all the great folks who put on this great show each year. Here's to all the great folks who work at the Motion Picture Home and Hospital. My favorite cause. Here's to all you great folks assembled here tonight. Here's looking at you, kids. Remember, the west shall rise again! And so shall the yeast! And, oh yeah, (in my best shnozola voice), good night, Ty Hardin, wherever you are! Adios, amigos!" And with a raucous yeee-Haww!, I exited pronto doin' the Sugarfoot stomp back to my table to disguise my shakin' chaps.
Eight months of frettin', two minutes on stage. Was it worth it? I took five rolls of film that weekend. All this non-stop honky tonkin' finally caught up to ol' dad. A couple of nights later at a gathering of pals at my favorite L. A. Mexican restaurant, El Cholo: green corn tamales, pitchers of margaritas, singin', jokin', reminiscin'—my sainted ex, Chris, and her hubba, hubba, hubby Joe were in our party hearty. Babs and I danced wildly as the mariachi played "Clases del cha cha cha". I sat down and put my head on the wet table. I mumbled, "I ain't comin' back up til the bartender stops spinnin' the room!" Hi Ho—and so it went. Heady goin's on for a retired country feller.
My grammar school chum, Richard Hill, gave me his version of the Golden Boot from Dot's Trophy Shop in Oregon. On a wooden base stands a golden eagle, wings spread. Next to the eagle is a golden pedestal with a fancy golden boot with spur on top. The plaque attached to the base is inscribed, "Hutch—Golden Boot Award. You always were a kick in the ass." This, too, is on proud display at home. I call it my Hill Boot.
Not to be confused with Boot Hill. Was it all worth it? Your durn tootin'! I sent both local papers info and pictures on our hoot of a Boot weekend. The local editions didn't see fit to print it. How strange. Long Island is famous for its hundreds and hundreds of gray beards with golden parachutes. I bet I'm the only golden-ager hereabouts with a Golden Boot.
—Adios!