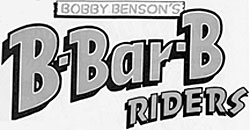 by Boyd Magers
Over the thunderous hoofbeats opening, the announcer reveled, "Here they come! They're riding fast and they're riding hard! It's time for action and adventure in the modern West with Bobby Benson and the B-Bar-B Riders! And out in front, astride his golden palomino Amigo, it's the cowboy kid himself, Bobby Benson! BEEE-BAR-BEEEE!"

Beginning on September 26, 1932, "Bobby Benson's Adventures", also known as "The H-Bar-O Rangers" because of its sponsorship by Hecker's Oats Cereal, was one of the first juvenile shows on radio, predating "The Lone Ranger", "Tom Mix" and "Jack Armstrong". Credit for creating the series goes to Herbert C. Rice who left his native England to seek his fortune in U.S. radio broadcasting in 1928. In '32 the Hecker H-O company of Buffalo approached Rice to sponsor a kids' radio program. In Rice's scenario, Bobby inherited a ranch in the Big Bend area of Texas called the H-Bar-O whose foreman was Buck Mason (soon changed to Tex Mason).

Eleven year old Richard Wanamaker, an actor and son of a Buffalo attorney, was chosen to portray Bobby. In addition to writing and directing the series which was sold to CBS, Rice also voiced the role of Buck (Tex) Mason and Wong Lee, the Asian cook. Although it has been reported Tex Ritter played Tex Mason, there is no hard evidence to support this. Ritter may have filled-in for Rice at times.
The show was an immediate hit and spawned premiums like cereal bowls, code books, drinking tumblers, badges, neckerchiefs, a give-away comic book, "…In the Tunnel of Gold", cap guns, card games, H-O Rangers in Africa 19x25" map, cast photos, bracelets and, of course, several variations of the "H-Bar-O News".
The show was broadcast three times a week at 5pm. After the first season of 78 episodes ended in March '33, for technical reasons CBS moved production of the show to New York City and it was now on five times a week at 6 or 6:15pm. The cast now featured Billy Halop (later of the Dead End Kids) as Bobby. Halop's younger sister Florence played Polly Armstead. Tex Mason was now voiced by Neil O'Malley. Sidekick humor was provided by Windy Wales (played by various actors). Craig McDonnell played Harka, an Indian ranch hand. An 18 year old Bert Parks was also in the cast.
A modern-day Western, Bobby and his cowhands certainly rode horses and had encounters with rustlers and badmen, but the show also employed cars and airplanes (not unlike Gene Autry in the movies). Halop as Bobby was one of the headliners in the World Championship Rodeo at Madison Square Garden in 1935. Halop won a role on Broadway in the Fall of '35 for "Dead End" and left the series.
Bobby's radio adventures continued for another 16 months until it was cancelled on December 11, 1936. It's unknown who played Bobby during that time.
By 1949 Herbert Rice was now VP in charge of programming at Mutual. When the network needed an afternoon kids' show, Rice revived Bobby as a half hour three to five times a week series that began on June 21, 1949, with a slight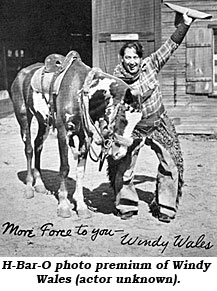 name change to "Bobby Benson and the B-Bar-B Riders". It was "sustained" for most of its run through June 17, 1955, except for a brief sponsorship by Kraft Caramels in 1951. 12 year old Ivan Curry became the new Bobby Benson. Tex Mason was played by Charles Irving and Craig McDonnell returned as Harka. Comedian Don Knotts, then in his mid 20s, portrayed tall tale teller Windy Wales. In the Summer of '51 Bob Haag took over the role of Tex through '55. "Benson" was again successful and Mutual alternated it weekdays with "Straight Arrow". At times it aired on Saturdays or Sundays. New premiums included a Decca record ("Golden Palomino"), decals and a B-Bar-B Riders Club Kit as well as an ME comic book series (with art by Bob Powell or Dick Ayers).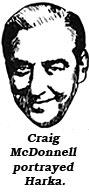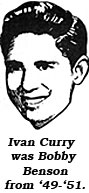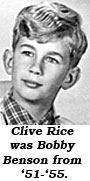 In early '51 Curry left "Benson" for "Portia Faces Life" and Robert J. McKnight briefly became the next Bobby Benson. Herb Rice's nephew, 10 year old Clive Rice under the professional name Clyde Campbell, became the Cowboy Kid through the end of the series run on June 17, 1955. Rice/Campbell, Don Knotts as Windy and Tex Fletcher (who had starred in one B-Western film, "Six Gun Rhythm" in '39) as Tex Mason appeared in person at various state fairs in the '50s. A good show that entertained radio audiences over three decades. (Some art spots by Bobb Lynes.)