KENNE DUNCAN
Gene Autry called Kenne Duncan "the meanest man in the movies" for Dell publication WHO'S WHO IN WESTERN MOVIES #3 in '53. "For my money," Gene continued, "He's the most convincing of all the badmen. Off screen, Kenne is a close personal friend of mine and nothing at all like the villain he's played in 14 of my pictures."
Veteran heavy Pierce Lyden stated, "Kenne was white-haired and handsome; the pictures did not do his looks justice. He was an expert marksman and in demand making personal appearances throughout the south. They would show one of his pictures, and then a music group would perform. Next, would be Kenne and his shooting exhibition." Incidentally, that trick shooting act was filmed and released circa 1949 as "The Face", a 10 minute color short directed by the notorious Ed Wood, for whom Duncan did many films late in his career.
Kenne's best friend over the years was Roy Barcroft. "Kenne Duncan is my pal—friends on and off the set for more years than I care to remember. We used to gang up on the hero in the serials. Kenne is a hardened bachelor. He doesn't change much—to give you an idea of this, he's lived at the same place for over 30 years."
Kenneth Duncan MacLachlan was born February 17, 1902, in Chatham, Ontario, Canada, of Scottish parents Duncan MacLachlan and Jane Elder (whose nickname was Duchess), both Canadian natives. Kenne later became a U. S. citizen. Prior to entering films Duncan was a successful gentleman jockey who won races at Canada's Bluebonnet tracks and rode with the hounds in England. He later owned a brood farm "somewhere near where the Equestrian Center in Los Angeles is now." according to actor Dale Berry who recalls it being named the Silver D. "As I recall, Dale thought, "Kenne had around 11 thoroughbreds. He loved horses but hated to ride." Between pictures, Kenne often trained horses at the Riviera Country Club. Duncan was well educated, attending both St. Andrews College in Toronto and the Royal School of Infantry at Wolseley Barracks, London, Ontario. However there is no evidence Duncan ever served in the Armed Forces for either Canada or the U.S.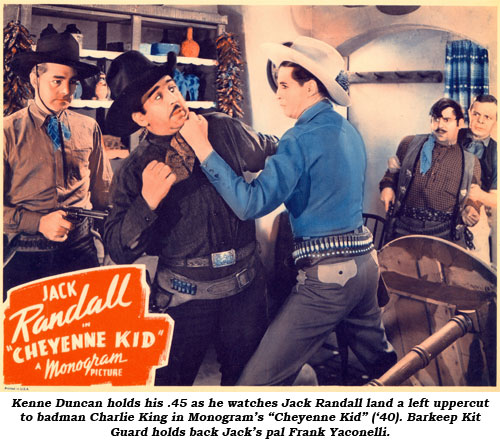 Duncan reportedly made his stage debut shortly after he finished school. Although the play closed after a week, acting was in Kenne's blood and, after a brief fling as an accountant, he found his way to Hollywood at the end of the silent era in 1927, managing to work in two Universal two-reelers with George Chandler and Bob Curwood and a Jack Hoxie feature "Man From Wyoming" ('30).
Possessed of a solid, husky voice, Kenne moved easily into talkies with several uncredited bit parts. In 1934 he co-starred opposite Charles Starrett in the Canadian made "Undercover Man" for which he also contributed the original story. From then until the late '50s Duncan worked continually, and often—some 225 westerns and serials—through 1959, primarily at Monogram, Republic and, later, with Gene Autry at Columbia and for his various Flying A TV series as well as essaying sheriffs, military officers and businessmen on "Cisco Kid", "Kit Carson" and "Lone Ranger". His last work was on a "Rawhide" in '60 and in Bill Williams' "Oklahoma Territory".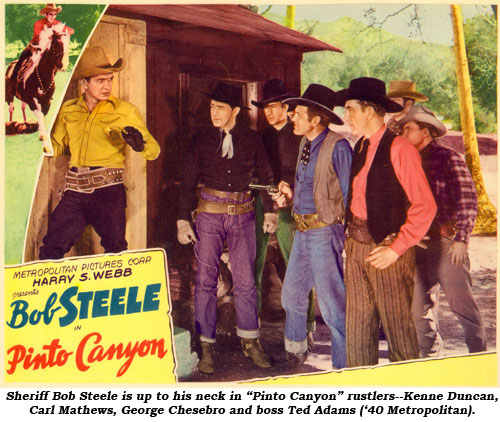 In 1948 Kenne even got the chance to star in a western. "Powder River Gunfire" was a 25 minute short released by Universal-International who was also experimenting with short westerns starring Tex Williams. Sadly, a series did not materialize and the film seems lost to the ages. Kenne did take this film on tour with him in the '50s for showing along with his trick shooting exhibition.
In 1954 Duncan made a tour of Japan where he was quite popular and even starred in a Japanese "western" titled "Onna Jariocha Wachu Wachu Dochu" ("Tokaida Road" in English). Kenne spoke phonetic Japanese in the Oriental version and had to be cued by hand signals. The story had Keene in Japan's feudal days battling the evil Samurai villains. So popular was Kenne in Japan, he rode Emperor Hirohito's white horse down the Ginza in Tokyo.
Serials were always a strong part of Kenne's career and he made an even two dozen beginning with "Flash Gordon's Trip To Mars" ('38 Universal). He was chief aide to the nefarious Scorpion in Republic's "Adventures of Captain Marvel" in '41. Becoming one of Republic's main henchmen he teamed with Bud Geary and Roy Barcroft in "Haunted Harbor" in '44 and was the right hand man of Captain Mephisto in "Manhunt On Mystery Island" in '45. He made a few departures in serials (and several westerns) from the usual henchman role such as when he played Ram Singh in Columbia's two Spider serials ('38 and '41).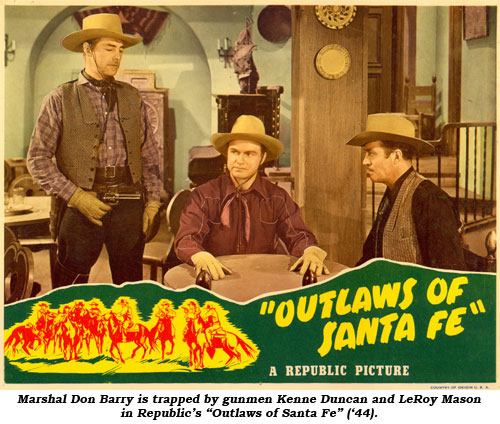 Musician/actor Dale Berry first met Kenne Duncan in 1947 at the Ervay Theatre on Ervay St. in Dallas, Texas. "I went to see his personal appearance show. I had a five piece band, went backstage, told him about my band. Said we'd do a show the next night for him and if he liked us, we'd like to tour with him. He did and we toured with him on up into the '50s. And I stayed in touch with him practically every week after that. Personality wise, he was grumpy and grouchy. Not with me, but he was constantly being mistaken for Hopalong Cassidy, because of his white hair, and that irritated him! He wasn't grouchy with everybody…if it was a good lookin' girl he was the friendliest, nicest, sweetest person that ever was. If it was some guy he really didn't want to be bothered with…he was kind of a Pat Buttram type. He could be nice in one breath and testy the next. Later, we made the movie 'Natchez Trace' in late '59, and we hooked up in Natural Bridge, Tennessee. Kenne said he had us booked on a tour, sponsored by Remington. That's when he did the fancy trick shooting. Rodd Redwing was working at Stembridge gun rentals at the time and developed the act for Kenne. Kenne used .22 caliber lead bullets. When that lead would hit that steel target board it would splatter, so no matter what target you had hung up in there, no matter where, it broke it. It's the same basic act Sunset Carson later picked up. I'd often ask Kenne how he was doin', and he'd use the quotation, 'As the jockeys say at the track, I'm scufflin' for groceries.' When we were on the road on tour, he'd call his mother, who he called Duchess, he'd call her most every night. Also, you talk about a guy that was thrifty with a buck, he was tight. He wouldn't buy brand name beer. He'd buy off brand beer that tasted like…(Laughs) When he went to a restaurant, he'd grab up all those little bags of sugar. (Laughs) He was frugal! Kenne had an apartment at 1842 N. Edgemont St. in Hollywood where he'd lived forever, the Edgemont Arms, apartment #2."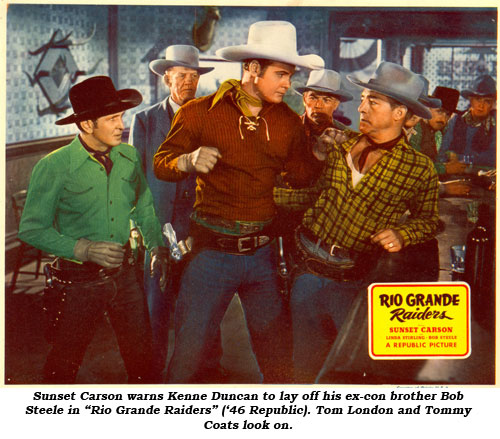 In 1957, now 55, parts were harder to come by for Duncan and regretfully, he hooked up with cheapo producer/director Ronnie Ashcroft to make "The Astounding She-Monster". That wouldn't have been so bad, but somehow Kenne and Ashcroft hooked up with the notorious Ed Wood. Needing work, Kenne worked in several of Wood's no-budget epics ("Night of the Ghouls", "Sinister Urge") and worse yet, began to party with Wood. Wood makeup man Harry Thomas speaks of Kenne's "risqué parties" in the book about Ed Wood, NIGHTMARE OF ECSTASY. Thomas says Kenne was a "lover of the female gender" and "had all he could." Thomas also states, "I was looking at Kenne…and you know, all men are not created equal." Dale Berry concurs that Kenne was "well endowed." In NIGHTMARE OF ECSTASY Ashcroft tells, "Kenne had a book, and it was quite thick, of the women he had in bed. He said there was over a thousand in there."
Again in NIGHTMARE—, Ed Wood's widow, Kathy, recalls Kenne's 36 ft. wooden hull boat, Oil Ken, and some of the drinking that went on there, "It was real crazy." Dale Berry also recalls the Oil Ken and says, Kenne and Kathy had quite an affair that even Ed was aware of but unconcerned about. "There was no secret about it," Dale stated.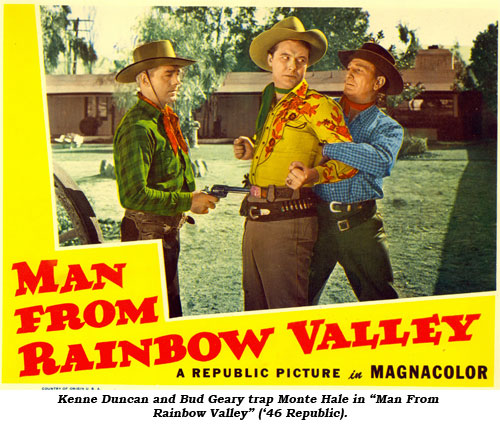 Duncan died at 69 February 7, 1972, at a Los Angeles hospital. He'd suffered a stroke a year earlier and many sources state, incorrectly, that was the cause of his death. Upon his demise, an investigation ensued with actual cause of death ruled a suicide from an overdose of barbiturates and alcohol. Friend Dale Berry disagrees, "I just do not believe that! He loved life. He loved living. Every day was a new adventure to him. And every day was gonna be a little bit better than the day before. Kenne did like to drink, and he'd had a light stroke and developed a little bit of a speech impediment. He was on whatever medication they gave you back then for strokes. So I think what happened, the booze mixed with the medication…I don't think he deliberately committed suicide. Statements in books that he was 'tired of living' are wrong…each day was a new conquest to him, especially if she was good looking. (Laughs)"
At any rate, it was a sad end for a fabulous B-western badman. Of his career, Kenne once stated, "I didn't mind being typecast as a badman. In fact, I enjoyed it. Me, Roy Barcroft, Jack Ingram, and all of us heavies worked all the time. We made good money because we would finish up a day's work on one set, walk right across the lot to another and get paid for two jobs in one day."
PS: In June 2018 we received this interesting email.
I'm Kenne Duncan's biological daughter
>
> I was born in 1954 when Kenne was 52 years old. My mother is Rose Holmgren-Smeal then 30 and beautiful. Her sister is Rita Smeal who was the wife of Crash Corrigan.
> My legal father Don Holmgren used to drink and party with Kenne.
>
> Last time I remember seeing Kenne I was around 4 years old. When I was about 10 my dad in a drunken state blurted out that he wasn't my dad. He said that Ken Duncan was my dad. Don always called him Ken. My mom denied it and said he was just drunk so of course I didn't believe him. When I grew up and found out my blood type was B and I knew my mom and dad were both O, I knew Don was not my dad. I never had the heart to confront my mother. She was a good mom and took care of us and provided for us when Don never would
>
> My mother passed in 2010. In 2015 I did Ancestry DNA and it confirmed that I am indeed the daughter of Kenne Duncan. Just recently Kenne's niece Sandra, now in her 80s, submitted DNA to Ancestry and showed on my DNA as a 1st cousin. She is the daughter of Malcolm Maclachlan, Kenne's younger brother.
>
>
> Regards
> Cheryl Zapata