PIERCE LYDEN
Named "Villain of the Year" in a 1944 Photo Press fan poll, Pierce Lyden became one of the best known and beloved badmen in Western films, a lot of it due to his longevity and numerous Western film festival appearances.
Peggy Stewart said, "Pierce Lyden was a real professional. He always knew his lines and gave his all to a particular scene. He was a fine gentleman—and he knew how to handle horses. Believe me, Pierce is no badman—just when playing the role. In later years I think Pierce found and knew more love than he had ever known. Everyone liked and knew Pierce, but it wasn't like a Charlie King or Bud Osborne—'cause Pierce is a quiet guy. But in later years at the festivals, he just couldn't believe it. Then to have streets in his own hometown named after him, to go to England and be on the BBC, Golden Boot award—just all the recognition he got was awesome to him and thrilled him to death. He was quite talented…a loving person, always thinking of the other person."
One of the sweetest, most humble, thoughtful human beings you could ever meet was born on a ranch in a sod house January 8, 1908, in Hildreth, Nebraska. Pierce learned to ride as a boy—his father (Albert Lyden) was a horse buyer for the U.S. Army. His mother, Ida Pearson, was from Illinois. As a youngster he was bitten by the acting bug when he saw traveling tent shows. Attending the University of Fine Arts in Lincoln, Nebraska, he managed to gain stage and radio experience which led to six years of stock company work in the Midwest and New England.
In late 1931 he headed west to Los Angeles, appearing in several plays there before his expert horsemanship broke him into westerns at 24 in 1943. Sporting a mustache, he was forever typed as a heavy.
Reflecting on work as a badman, Pierce wrote, "The heavies always worked. There was always room for them. The good-looking boys they would hire for one picture then they didn't want them again for a while. But the heavies and stuntmen, who did stuff I did, worked all the time. So I got stuck on Westerns. I made up my mind that's the way it was going to be. Some say the Western will come back. I, too, would like to think so, but I cannot imagine the audience of today cheering and worshipping the hero in the white hat, week after week, year after year. This was the lot that fell to Gene and Roy, and I, for one, do not see this kind of audience coming again."
Pierce was a regular serial badman as well, beginning with a small role in "Green Hornet Strikes Again" at Universal in 1941. Some of his better serial parts came in "The Vigilante" ('47 Columbia), "Sea Hound" ('47 Columbia), "Cody of the Pony Express" ('50 Columbia), "Roar of the Iron Horse" ('51 Columbia), "Government Agents Vs. Phantom Legion" ('51 Republic) and "Gunfighters of the Northwest" ('54 Columbia). After appearing in "Wild Westerners", Pierce left films in '62 and got into stagecraft, manning spotlights at Disneyland and later joining Johnson's Ice Follies as property master.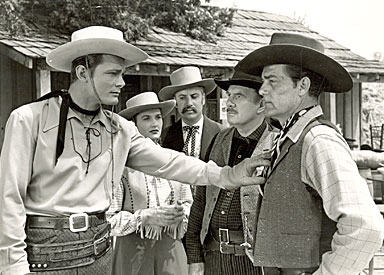 Discovered by Western film festivals in the '80s, Pierce was overwhelmed by the fact people still remembered "this old black hat" and revered his work. Since then, he's received countless honors and awards. He was most proud of those bestowed on him by his native Nebraska, his Golden Boot award and his star on the Palm Springs Walk of Fame.
In the '80s Pierce authored five books about his Hollywood experiences. For a thorough picture of Pierce's career, read THE MOVIE BAD MAN; CAMERA! ROLL 'EM! ACTION!!; FROM B'S TO TVS; MOVIE BADMEN I RODE WITH and THOSE SATURDAY SERIALS.
Pierce also found time to get involved with the Meals On Wheels program in 1978 and was on their advisory board as its president. Besides being active in the Elks Club, he was very involved in various religious activities. He was a Mason and received several honors from that organization.
Lyden's domestic life was not tranquil. He was once divorced, twice widowed (his last wife was Hazel who accompanied him to many festivals) and his only child, a son, died in 1988.
One of the most respected Best of the Badmen died at 90 on October 10, 1998, in an Orange County hospice following a six month bout with cancer.
Tributes came in from many of his fellow badmen. Gregg Barton: "Pierce loved the picture business and was proud of his part in it. Whether it was one or 100 in his audience, he was happy to pass on stories of the good old days. He was very serious about his career and enjoyed being the black hat baddie. In his quiet and sincere way he made you proud to have been a part of it too."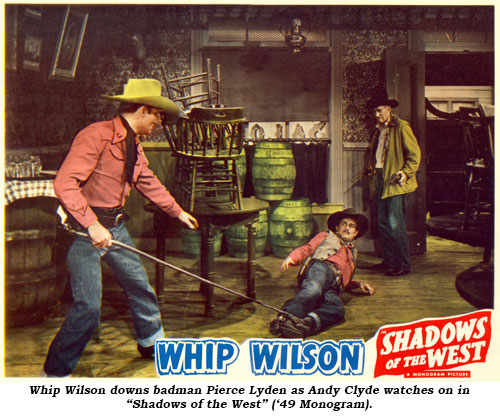 House Peters Jr.: "I never really got to know Pierce until we started going to these festivals. That's when we became much better acquainted. It's strange—sometimes we never saw each other on a set, even though we were on the same picture. Maybe we came in for a day or so…small part…just didn't work the same days. And when we did, sometimes we never saw each other for another year before we got in another picture together. He was one of the steadfast black hat heavies; he sure did a whale of 'em." Walter Reed: "He was one of the nicest, most humble gentlemen I ever knew in the business." John Hart: "He was a real gentleman. I've known him on and off for nearly 50 years. He worked in the Lone Rangers…he worked for Katzman. I've enjoyed knowing him and sharing memories of working together. Chris Alcaide: "He was a nice man—for a bad guy!" Myron Healey: "Pierce was one of the most vital, energetic fantastic men I've ever known. I just pray many of us can equal his mark in longevity."
John Mitchum: "I first met Pierce when I was working on the serial, 'Perils of the Wilderness'. I was totally a greenhorn as to westerns—riding horses and all of that. Pierce kind of 'fathered' me. He took me aside, told me little things, helped me from going over the side of the mountain and all that kinda thing. He was so gentle and so kind that he's been a dear friend of mine ever since…over 40 years. This is a strangely unique man. He played heavies but has not an evil bone in his body. Basically, there's no way in real life this man could do what he's done on the screen. If you really care about somebody for almost half a century, they have to have something most people don't have. Pierce was one of the true gentlemen of the screen."