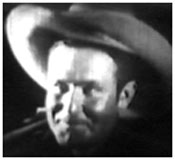 TOM BAY
Ruddy-faced cowboy actor/stuntman Tom Bay, prominent in silents and early '30s B-westerns, was killed by a jealous girlfriend on October 11, 1933, in Burbank, CA.
Mrs. Alta Lessert, 36, shot and instantly killed Bay, took a shot at another woman, then fired two non-lethal bullets into her own body. Seems Lessert's husband Walter left California for Oklahoma and she was living with Bay. Actress Mary Frances Miles (aka Frances Martin) tried to act as a peacemaker between Bay and Lessert during an argument over Bay spending the night with another woman when Lessert took a gun from another room and shot Bay three times in the chest, shot at the other woman but missed, then Lessert fired twice at her own heart but the bullets were deflected by her ribs. A murder charge against Lessert was dismissed on March 10, 1934, when a jury failed to agree on a verdict in the case. She died in 1951 in the L.A. area.
Born William T. Bay in Travis County, TX, on February 22, 1901, to John Q. and Mattie E. Bay, he was the oldest in a family that eventually included two sisters (Mildred, Ivy) and two brothers (Otis, Raymond). By 1910, his father, a farmer, had moved the family to Dewey, OK, and by 1920 they were in Gracemont, OK. Tom was now 18 and living with the family, according to census records, as was Tom's new wife, Ethel, also 18.
By 21 Tom had somehow drifted into film work with his first credited being as Dr. Gale in "The Better Man Wins" with Pete Morrison in '22. Throughout the '20s he played primarily heavies in silent westerns opposite Bob Custer, Buddy Roosevelt, Wally Wales, Art Acord and Dick Carter. He has a prominent role in Ken Maynard's "Red Raiders' ('27), is in the cast of Jack Daugherty's serial "The Vanishing West" ('28) and has the main heavy role as Art Acord's cousin in "Fighters of the Saddle" ('29). He apparently even starred in Hollywood Pictures' "Drifting On" ('27).
Bay made the transition to sound, playing mostly uncredited henchmen in the westerns of Buck Jones, Ken Maynard, Tom Tyler, Tom Keene, John Wayne and Tim McCoy. Researcher Danny Rogers tells WC when Ben Corbett was injured on the second day's shooting of Wayne's "Haunted Gold" ('32), Bay (as Tom) took over for Corbett and finished the picture. Bay is chief henchman Sam in Buck Jones' "Fighting Sheriff" ('31) and one of the gang in "Freighters of Destiny" ('31) with Tom Keene, "Gordon of Ghost City" serial ('33) with Buck Jones, "Men Without Law" ('30) and "Border Law" ('31) both with Buck Jones, "Shotgun Pass" ('31) with Tim McCoy (also doubling McCoy in a big fight scene) and "Fightin' Thru" ('30) (doubling Ken Maynard in a barroom brawl), among others.
His last role seems to be as a wounded man in Randolph Scott's "To the Last Man" ('33) which also featured a young Shirley Temple. Temple once wrote of a cowboy actor she became close with while making that film, saying he was caught in a compromising position by his girlfriend and was "plugged" fatally. Temple was without a doubt referring to Bay.
Tim McCoy wrote in his autobiography TIM McCOY REMEMBERS THE WEST ('77 Doubleday), "Tom Bay, my double in pictures, cooled a mean hombre named Yakima Jim with a slug from his pistol when Yakima had the gall to pull a knife on him in a Gower Gulch saloon. Later, Tom didn't fare too well himself, being shot and killed by a jealous girlfriend." Actually, in December 1925, Bay was acquitted over testimony that the fatal shot that killed James "Yakima Jim" Anson was fired while in a struggle over a gun during a free-for-all drunken brawl at the Hollywood Hotel in August 1925.
(Early life research by Evy Patrick; L.A. TIMES research thanx to Don Kelsen.) Note: There was a Vivian Bay (aka Vivian Ray) (born circa 1911) who appeared in three westerns with Bob Custer and Tom Bay in '29-'30. According to research by Evy Patrick, Vivian seems to be no relation to Tom Bay. It's also possible that one credit of Vivian "Bay" was a typo for Ray. At any rate, Vivian immediately disappeared from films.