One of the latecomers to westerns, Steve Brodie's first time in the saddle was as Bob Dalton in Randolph Scott's all-star-outlaw adventure, "Badman's Territory" in 1946.
An RKO contract player, he left a lasting impression in the early post-war Tim Holt B's. At the Knoxville western Film Fair in 1991 Steve smiled, "I loved making pictures with Tim Holt. I particularly liked playing a villain. When people booed you and hated you for the way you performed, it meant you had done your job well. Those western pictures were fun, and Tim Holt and Richard Martin were great guys to work with."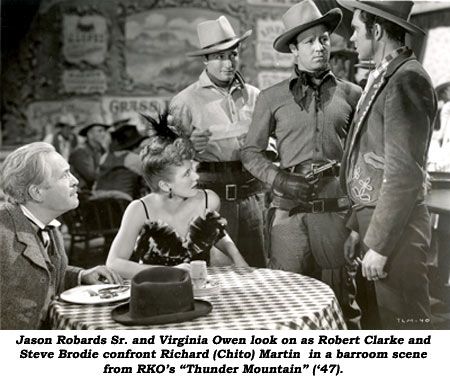 Steve was born John Stephens in El Dorado, Kansas, November 25, 1919. His father, Alexander Lewis Stephens, was from Ohio, and his mother, Lena Blanche Daugherty, was a native of Illinois. As a teenager in the midst of the Great Depression, to his way of thinking, the best jobs were the flamboyant ones, so Steve raced cars, worked on oil rigs, boxed and made bootleg whiskey. He aspired to be a criminal lawyer, but when forced to drop out of school decided to try acting.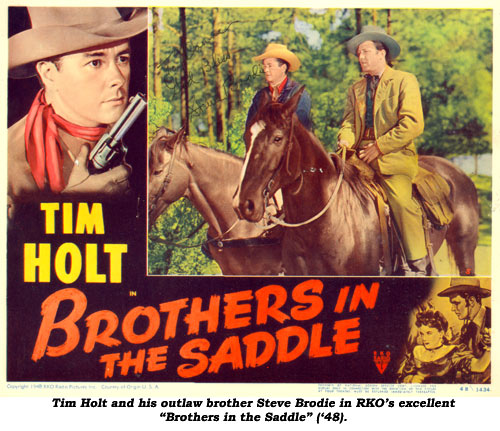 Auditioning in New York, he found nothing for over a year using the name John Stephens. Then he got the idea to come up with a memorable name, hence Steve Brodie—fashioned after the famous New York saloon owner who, in 1886, claimed he jumped off the Brooklyn Bridge into the East River. Pulling a "Brodie" soon became synonymous to publicity stunts. When casting agents assumed he was related to the famous man, he didn't correct them and soon began receiving acting jobs. An MGM talent scout saw him and brought Steve to Hollywood as a $75 a week contract player. His first film was "Ladies Courageous" with Loretta Young in '44 (on loan-out to Universal). Unfortunately, he was dropped by MGM after a year. He freelanced for a while and was then signed by RKO, along with good friend Robert Mitchum.
Steve was first married to actress Lois Andrews (with whom he later worked in Holt's "Rustlers" in '49). They had two sons and the marriage lasted til her death in 1968. One son was director/actor Kevin Brodie. Steve later married Virginia Carol Hefner and they lived on Sunnybrae Avenue in Canoga Park, California.
Steve worked in films and on TV heavily til '68-'69, at which time he slowed down considerably. He made a bit of a comeback in '75 starring in "The Giant Spider Invasion" alongside former RKO stablemate Barbara Hale. But his appearances on TV after that were scant and the few films he did were ones he probably shouldn't have made.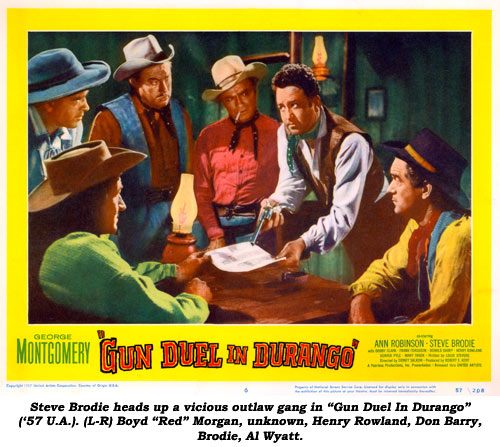 Apart from westerns, he starred in a few B-pics at RKO such as "Desperate" ('47), but really made a mark in several classic A films. He was part of the Texas Division platoon who took "A Walk in the Sun" on Salerno beachhead in '45. He was Robert Mitchum's blackmailing private eye partner in the film noir "Out of the Past" ('47). He was Robert Ryan's drunken and sadistic ex-Army buddy helping to beat to death Sam Levine in Edward Dmytryk's controversial "Crossfire" ('47). He was Academy Award material as the bigoted corporal in Stanley Kramer's "Home of the Brave" ('49).
But still, it is the western films and TV shows for which we best remember Steve—the Tim Holt and Randolph Scott westerns…and his portrayal of vicious Sheriff Johnny Behan on TV's "Life and Legend of Wyatt Earp" from '59-'61. Steve was also seen on "Lone Ranger", "Wild Bill Hickok", "Stories of the Century", "Sugarfoot", "Wanted Dead or Alive", "Maverick", "Cheyenne", "Bonanza" and others.
RKO alumni Richard (Chito) Martin said, "He was a happy-go-lucky guy. I don't think he had too many problems in life. He always had a good time…but he studied and worked hard, he didn't take his job lightly. He got along with everybody, but he was outspoken. He enjoyed telling stories, laughing. I don't think he missed too much (in life) and that's good because we only go 'round once."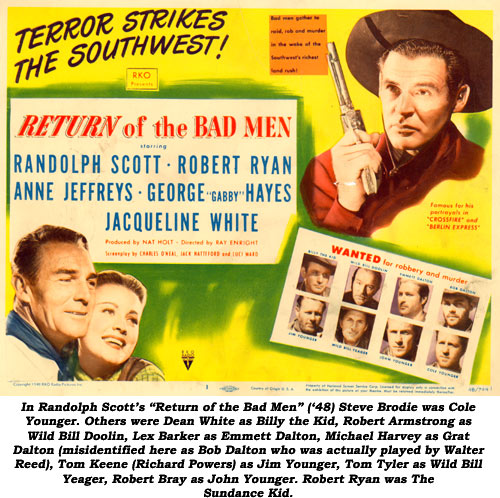 Walter Reed remembered, "I knew Steve socially also. I liked Steve. He was a real nice guy—funny guy—fun to be with. Also a very good actor, very competent. He was right there when he was needed. He lived hard, but he worked hard too. One day he just quit (films) and went into business. I don't think he pushed hard enough to really become big. He didn't realize how good he was."
Steve died January 9, 1992, at Humana Hospital in West Hills, California, of cardio respiratory arrest and myocardial infarction. Lactic acidosis and esophageal cancer were also contributing factors. His remains were cremated and taken to the family home.
"Everybody wants to be a leading man," said Brodie at the 1991 Knoxville Fest, "but early on I discovered it is much better to be a heavy because you work more. When a part was given to me, I went at it hard. If I had my life to live over again, I wouldn't change a thing. I've had a ball."