GEORGE WALLACE
"I enjoyed westerns. I thought I should have been born in 1880," the late George Wallace told interviewers Tom and Jim Goldrup for their 3rd volume of FEATURE PLAYERS. "You could bring so much to a heavy. You can bring a limp, you can bring one eye, you can sneer and do a lot of things instead of being the straight leading man."
And George D. (Dewey) Wallace brought all those traits and more to bear throughout the '50s and '60s in "The Big Sky", "Star of Texas", "The Homesteaders", "Vigilante Terror", "Destry", "Six Black Horses" and on TVers such as "Hopalong Cassidy", "Stories of the Century" (as Cole Younger), "Kit Carson", "Black Saddle", "Overland Trail", "Sugarfoot", "Daniel Boone", "Lawman", "Rebel", "Rawhide", "Cheyenne", "Tales of Wells Fargo", "Laramie" and a recurring role as Tombstone badman Frank McLowery on "Wyatt Earp". He turned more and more to character roles from the '70s onward.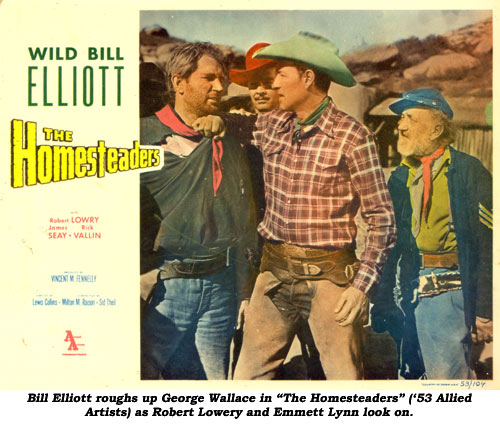 Born June 9, 1917, in New York, he moved with his mother and her new husband to the coal mining town of McMechen, WV. His schooling ended with the 8th grade at the height of the Depression, and at 13 he began working in the mines. In '35 George joined the CCC (Civilian Conservation Corps) then the Navy in '36 where he boxed and became light heavy weight champ of the Pacific Fleet for two years. Reenlisting when WWII broke out, he served til '45.
Supporting himself after the war with a number of odd jobs (lumberjack, meat packing company, bouncer), it was as a singing bartender he came to the attention of noted columnist Jimmie Fidler and broke into films in 1950.
Attending dramatic school, he auditioned at Republic where the fledging actor won the role of Commando Cody in "Radar Men From the Moon" serial ('52).
Until his death in 2005, he never stopped working in films, TV and Broadway ("Pajama Game", "New Girl in Town", "Unsinkable Molly Brown", "Camelot") except when a horse fell on him and broke his back in '59 on an episode of Disney's "Swamp Fox" and he was laid up for a year and a half. Shortly before his death at 88 on July 22, 2005, at an L.A. medical center from complications following injuries when he fell while vacationing with his wife in Italy, Wallace told interviewers Tom and Jim Goldrup, "I just want to do what I enjoy doing…pay the rent…and be together with my wife."