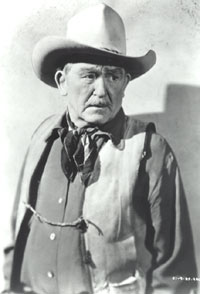 Considered one of the finest six-up drivers in westerns, Lennie B. (Bud) Osborne was born in Claymore, Indian Territory (now Oklahoma), July 20, 1884. Available records indicate his father's name and place of birth are unknown and the only info on his mother is that her name was Betty.
At one time a rancher in Indian Territory, Bud later appeared in various wild west shows including Buffalo Bill's famous outfit (where he became assistant arena director) and the 101 Ranch Wild West Show. He made his first film, "For the Cause", in 1912. Unknown whether this was a western, but "Sheep Herder" (1914 Universal) was, starring J. Warren Kerrigan.
In a 6/10/48 HOLLYWOOD CITIZEN-NEWS interview Bud explained, "I came out to Hollywood from Indian Territory in 1912 with a consignment of horses and cattle for the Thomas H. Ince movie outfit. The studio was located on the beach front at the foot of Santa Inez Canyon, four miles north of Santa Monica. There were just a few sets, and interiors were built outdoors just the same as exteriors. Transportation from the end of the trolley line was the stagecoach and ranch wagon we used in the pictures. And it wasn't the smoothest riding in the world. We found it took too much time traveling back and forth from Santa Monica so Ince decided to build a tent city at the studio. I put up the 24 tents, including a cook and mess tent. The place became known as Inceville. And I became an actor. Out bathtub was the Pacific. Our recreation hall was the beach. When we went on location we used horses and stagecoachs and wagons. We had sandwiches and cold coffee for lunch. In the old days, we didn't draw salaries. We got wages. Five dollars a day. Leading men and women sometimes got $60 a week. And no limit on working hours. Overtime? Everything was overtime. But there were compensations. You could get a room at the swank Hollywood Hotel for three dollars a week. A good meal from soup to nuts cost two bits. A drink was a dime instead of a dollar."
By 1916-1917 Bud was playing supporting roles in Harry Carey ("Knight of the Range", "Texas Sphinx") and Neal Hart ("Bill Brennan's Claim", "Squaring It") westerns at Universal. Throughout the teens and '20s Bud played (mostly) heavies opposite Leo Maloney, Don Coleman, Bob Custer, Dick Hatton, Bob Curwood, Fred Thomson, Franklyn Farnum, Jack Perrin, Bob Steele, Jack Hoxie, Buddy Roosevelt, Fred Gilman, Dick Carter and Fred Humes, among others, even a role in John Ford's prestigious "Three Bad Men" ('26).
Bud starred, at least once, in "Prairie Mystery" for director George Edward Hall at Truart in 1922.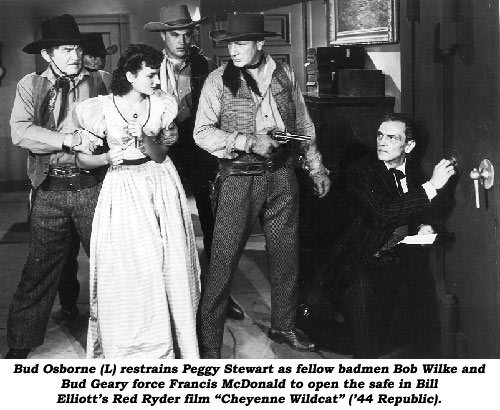 Bud easily made the transition into sound and played everything from the boss heavy to 5th man through the door opposite virtually every cowboy star. He even got to saddle up a couple of times as a sidekick—to Big Boy Williams in "Big Boy Rides Again" ('35 Beacon) and in Sam Katzman's "Son of Geronimo" ('52 Columbia) serial with Clayton Moore. He was particularly fond of Tim McCoy's serial, "The Indians Are Coming", in which he's featured in a dagger duel with McCoy.
Bud's serial output stretched to over 40 cliffhangers, counting silent epics, and about a third of them were other than western serials.
Working in a calculated 584 films and serials and close to 100 TV shows from 1912-1962, an amazing 50 years, Bud's output gives him the record for screen appearances of any actor in history.
As Bud began to age you'd spot him driving the stage or essaying the part of the Sheriff more and more. Besides his scores of B's, Bud appeared in some major A's—"The Plainsman", "Allegheny Uprising", "Virginia City", "Blood On the Moon", "Winchester 73" and "Hanging Tree". His greatest talent was the ability he displayed in handling six-up stagecoaches, buckboards or any type of wagon regardless of the terrain. His friend Glenn Strange said, "When I first met Bud Osborne, he was a broncobuster and all-around hand. He was one of the best 4 and 6-up drivers in the business, and when the story called for some wild driving, Bud usually got the job. He was big-hearted, forever ready for a good time, and well liked by all who knew him. He liked to joke a lot." Some good examples of Bud's driving are in "Texas City" ('52 Monogram), "Bonanza Town" ('51 Monogram), "Fighting Frontier" ('43 RKO), "Border Buckaroos" ('43 PRC) and many TV episodes of "Lone Ranger", "Gene Autry", "Hopalong Cassidy". One of the best is in "Cisco Kid: Stolen Bonds".
His last work was apparently on a "Have Gun Will Travel" episode ("Darwin's Man" 4/21/62) and a "Rawhide" ("The Pitchwagon" 3/2/62).
One of the true western greats died at the Motion Picture Hospital February 2, 1964, of a heart attack at 79. He was survived by his wife, Elderine C. Osborne, a receptionist.
Tris Coffin remembered, "Bud Osborne was a close friend; I worked with him many times. He was a heavy drinker, but I never saw him louse up a scene because of it."Roy Barcroft, Charlie King, Jack Elam, Lee Van Cleef and others may have a bigger "name" in the annals of screen badmen, but as to longevity and number of films, Bud Osborne is the "King of the Badmen".