AL FERGUSON
With over 265 films, silent and sound, to his credit over a 45 year period, husky-voiced, 6 ft., 185 lb. Al "Fergie" Ferguson made a profitable career out of playing badmen. A staggering 55 of those films were serials!
Alfred George Ferguson was born in Rosslarre, Ireland, April 19, 1888. His parents were both Irish nationals. Ferguson was educated in London, England. He served with the British Army prior to emigrating to the U.S. but exactly how and when he came to the states is unknown. He was in films by age 24 with 1912's "Whiskey Runners" with Myrtle Stedman being his earliest credited appearance. There are no more credits til 1916's "With Life At Stake", an Art Acord Western in which Al played the girl's father.
In the silent era Ferguson worked in nine chapterplays, with his best roles coming in "Haunted Island" ('28 Universal) opposing Jack Daugherty, "Tarzan the Mighty" ('28 Universal) as Black John, ruler of a tribe descended from pirates, "Tarzan The Tiger ('29 Universal) tricking Tarzan (Frank Merrill) by posing as a friendly scientist and "Pirates of Panama" ('29 Universal) trying to beat Jay Wilsey (later Buffalo Bill Jr.) to a buried treasure.
When not toiling in serials, Al rode silent Western trails trying to outsmart William Russell, Tom Tyler, Jack Perrin, Buzz Barton, Bill Patton, Franklyn Farnum, Yakima Canutt, Ted Wells, Dick Hatton, Bob Steele, Cheyenne Bill, Ken Maynard and others.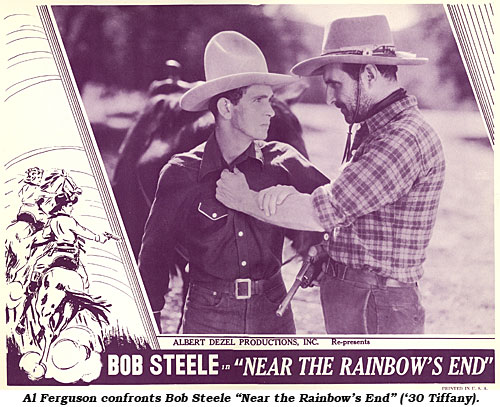 Al made a brief stab at stardom himself in 1924-'25 when he starred in four Westerns (or Mountie/northwoods pictures) for Davis. He also directed three of these. Evidently, he quickly realized he belonged on the wrong side of the law, and stayed there right on through a 1959 TV episode of "Union Pacific". With that, at 70, he retired.
During the sound era, "Fergie" (as his friends called him) threatened cowboy heroes from Bob Steele, Tim McCoy, Tom Tyler and Buck Jones on through William Boyd, Buster Crabbe, Eddie Dean and Tim Holt.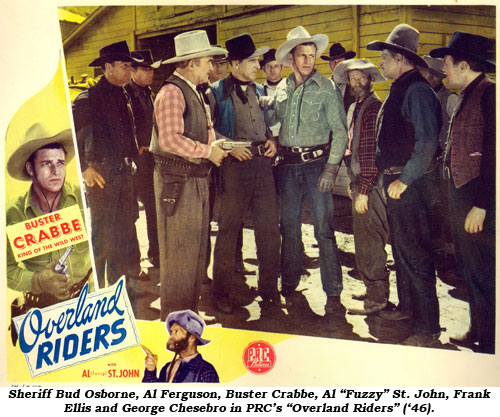 46 sound serials provided Ferguson plenty of employment. He was railroad detective Whispering Smith helping Lane Chandler in "Lightning Express" ('30 Universal), a French-Canadian outlaw in "Mystery Trooper" ('31 Syndicate), the Wrecker's pilot in "Hurricane Express" ('32 Mascot), and one of many thugs in "Galloping Ghost" ('31 Mascot), "Lost Special" ('32 Universal), "Pirate Treasure" ('34 Universal), "Vanishing Shadow" ('34 Universal), "Tailspin Tommy" ('34 Universal), "Secret Agent X-9" ('37 Universal), "Green Archer" ('40 Columbia), and plenty more. Sam Katzman cast him as outlaw "Fergie" in his last serial, and the last serial made, "Blazing the Overland Trail" ('56 Columbia).
Married to Narcissus M. Weston and living at 300 N. Screenland Dr. in Burbank, researcher John Brooker met him and found Ferguson's wife didn't like him talking about his old Westerns. Al had an old shed out back with a few crumbling stills on the wall. Maybe his wife didn't appreciate him, but we did. One of the best of the badmen died at 83 December 4, 1971, at Burbank Community Hospital from prostate cancer. His cremated remains were inurned at Forest Lawn, Glendale.