LEO GORDON
Leo Gordon's hulking, muscular physique and deep set hard eyes combined with his raucous, menacing growl of a voice certified this man was a sadistic heavy. Director Don Siegel ("Riot In Cell Block 11") claimed, "Leo Gordon was the scariest man I have ever met." Gordon came by his toughness through life experiences, serving time in San Quentin for armed robbery.
Leo Vincent Gordon Jr. was born December 2, 1922, in Brooklyn, New York, to Leo Vincent Gordon Sr. and Ann Qualy. He left school in the 8th grade, went to work in construction and demolition, then the CCC (Civilian Conservation Corps) after which Leo enlisted in the Army in 1941 where he served two years.
It was after the war he was arrested for armed robbery in southern California and was shot by arresting officers when he pulled a gun. Leo served five years in San Quentin where he read nearly every book in the library. He put his life back together and attended the American Academy of Dramatic Arts on the GI Bill of Rights.
Leo married one of his classmates, actress Lynn Cartwright, in 1950 and was soon cast as a boatswain mate in the London and Canadian companies of "Mr. Roberts". Then, as Leo tells it, "I replaced Jack Palance in (the play) 'Darkness At Noon' in New York. A Hollywood agent got me the first film ("China Venture" in '53). I came back to New York and three months later I got another call. They asked if I could ride a horse. I said, 'If I can't ride, I'll carry it." I went out and rented a horse in Central Park. I couldn't walk for two days. Anyway, they put me on a horse and I was there for 35 years. But I have a good foundation for a western background. I was born in the same town as Billy the Kid…Brooklyn." That first western which started Leo on a lengthy career in film and TV westerns was "City of Badmen".
Gordon was not just a one-note villain. He played sympathetic parts on occasion, notably in "Black Patch" (which he wrote), in Roger Corman's Civil Rights drama "The Intruder" and on episodic TV, "Gunsmoke" in particular. He always turned in first rate performances. He was recognized for his abilities with a Golden Boot Award in 1997.
Gordon was also a screenwriter. For TV he wrote for "Bonanza", "Gunsmoke", "Maverick", "Cheyenne", "Colt .45" and "Adam 12". His big screen entries include "Escort West", "Wasp Woman", "Attack of the Giant Leeches", "The Terror", "Bounty Killer" and the big budget WWII film, "Tobruk". As to how he started writing, Leo explained, "When Charles Marquis Warren was directing the pilot for "Gunsmoke" ("Hack Prine"—filmed first but not aired until eight months later), I told him I had an idea for an episode. 'Don't tell me, write it,' he answered. I went home and the next thing I knew I had 110 pages. I showed it to my agent. Next thing I know, George Montgomery wanted to buy it. That was 'Black Patch'. Gene Corman negotiated the deal. That's how I came into contact with him and Roger Corman. In writing, conflict is the thing. Take a normal person and put him in an abnormal situation and you got a story. Take an abnormal person and put him in a normal situation and you've got a story. Writing is more rewarding than acting, but look at my face. Nobody believes I'm a writer. I should be 5' 8", 142 pounds, wear patches on my elbows and horn-rimmed glasses and smoke a pipe. That's a writer. (Laughs)"
Two of his most memorable heavies were with John Wayne in "McLintock!" and "Hondo". Leo recalled, "In the scene in 'Hondo' where he kills me down by the stream, I reach for my gun and he shoots me. I buckled up and pitched forward. Wayne hollered, 'Cut! Cut!' even though John Farrow was directing. Wayne says to me, 'What was that? When you get hit in the gut with a slug you go flying backwards.' I pulled up my shirt to show him where I'd really been shot in the gut (back when he was arrested for armed robbery). 'Yeah? I got hit point blank and I went forward.'"
On the right side of the law, Leo was a semi-regular as Hank Miller on "Circus Boy" ('56-'57) and had a recurring role on "Maverick" as Big Mike McComb. "I liked Jim Garner. I thought he was an honest guy. I would have liked to have gone further with that role, but they brought in Jack Kelly for a sidekick and Roger Moore as a cousin and made it a family affair."
Leo guested on "Cheyenne" with Clint Walker several times. Their fight in "Vengeance Is Mine" is legendary. Clint told us, "Leo was a serious and intense actor, but I appreciated that working with him. Leo co-starred in my favorite film, 'Night of the Grizzly'. I was so glad when Leo was cast in that film. I knew it would make a better picture." Incidentally, "Night of the Grizzly" was Leo's favorite role. "It just had a quality to it. It was something Disney might have done. Basically, a clean story with no rotten nastiness about it. The whole concept of the thing was good."
The fast gun star of "26 Men", Kelo Henderson, remembers Leo. "Very few actors could out heavy Leo, he was the ultimate on-screen bad guy, as his long successful career has proven. But in reality, he was a nice guy on and off the set. I remember him sitting in the shade of a Saguaro cactus, out on location with his portable typewriter, working on some movie or TV script when he wasn't needed in front of the camera."
Another heavy, George Keymas, told us, "I worked with Leo several times. We were in 'Santa Fe Passage' and the remake of 'Beau Geste' then we did another TV show together. He was a gentleman all the time and a hell of an actor. I don't think people really realize the amount of talent this man had. I say that because he was used primarily as a bad guy all the time, but I remember a film he made where he played a very sensitive kind of character. He was excellent."
And Gregory Walcott said, "We worked on 'Rifleman' ("Angry Gun"). He had a menacing presence and was a valuable asset to our industry. He also was successful as a writer of screenplays. I remember on 'Rifleman', between each set-up, he'd retreat rapidly to his dressing room where he had a portable typewriter set up. He'd peck away on a script until he was called back to the set. I admired that ability."
And the late producer Alex Gordon provided this insight into Gordon. "Leo submitted a script to me in '63 which he had written for Mickey Rooney. The role was that of a timid young man who becomes a tough killer and is involved with two girls. I liked the central role and bought the script with the understanding we could do a rewrite as we wished. R. Alexander (my wife, Ruth Gordon) had done some previous script writing and outlines for me like 'Underwater City' and 'Masque of the Red Death'. She re-wrote 'The Bounty Killer', combining the two female roles into one and coming up with a new script though we gave Leo original story credit. Leo wanted to play the Rod Cameron role, but we explained we needed Rod for the foreign co-financing and I preferred Buster Crabbe in the villain's part. He understood. Leo was a nice guy but slightly intimidating in size and appearance."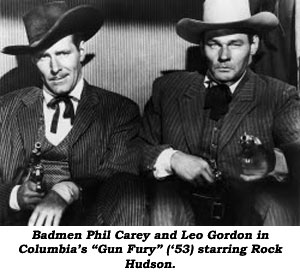 As for Leo's own assessment of acting and being typecast as a heavy, "Actors should never have speeches that run more than four or five lines consecutively. Westerns are fundamental…the morality play. There's a good guy and a bad guy. You know which is which. You don't have to go into the psyche to find out his parents were abusive. (And the heavy is) the guy people remember. You get more recognition. After all, I look like a heavy. I'm 6' 2", 200 pounds. Got a craggy-ass face. I was walking down the street in Morocco when a little kid steps out of the alley and looks at me. He runs a few feet ahead of me—turns around and looks again—he puts his hands down like he's drawing two pistols. He goes "bip, bip, bip!' Y'know? Like he's shooting. You figure, here you are, a world away from anything you're familiar with, and some little kid in an alley in Morocco recognizes you? Once, coming down the street in Madrid with my wife a car slides up and these guys jump out. They were a couple of photographers from the Spanish press. They spent the whole afternoon with us."
After a brief illness, one of the top five screen/TV western badmen died in his sleep at his home on Warnom Ave. in Sunland, California, on December 26, 2000. Cause of death according to the department of health services was respiratory failure and chronic obstructive pulmonary disease. He was 78. Leo was buried at Hollywood Forever Cemetery in Santa Monica.
Leo's wife of 50 years, Dora Lyn Cartwright, the daughter of a congressman, died at 76 on January 2, 2004, of dementia related disease following a hip fracture. A daughter, Tara, survives.