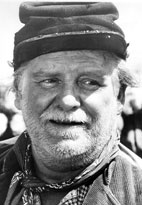 WALLACE FORD
The real life story of stocky, friendly-faced character actor Wallace Ford rivals any screenplay Hollywood ever wrote. Born Samuel Grundy Jones February 12, 1898, he was from the poorest of families of Bolton, Lancashire, England. At only three years old his aunt and uncle, who had a total of six children of their own, placed Samuel with the notorious "Dr." Thomas Barnardo orphanage as a home child. With over 300 others he was sent to Toronto, Canada, at age seven. From 1868-1939 more than 100,000 children from 50 British orphanages were transported via steamship to Canada where they were settled with rural farming communities. The younger ones, three to five, were often adopted and grew up loved and happy, but many of the older children, from six to 17, were treated as chattel, enduring harsher conditions from which they had been "rescued" in the slums of Britain's industrialized cities. Such was Samuel's fate, rivaling the brutality of a Charles Dickens novel.
Samuel was so badly abused that he kept running away, eventually being shuttled to 17 different foster homes. At 11 he ran away for the last time and joined a vaudeville troupe called the Winnipeg Kiddies where he remained until 1914. Now 16, Samuel joined a friend named Wallace Ford and the two hoboed their way into the United States. When Ford was killed underneath the wheels of a train, Samuel took his comrade's name for his own. "It was half sentiment," Ford later recalled, "and half dislike of that undistinguished (Samuel Jones) handle."
Ford then quit his wanderings and found work in shoestring theatrical troupes and repertory companies. During WWI he served with the U.S. Cavalry at Fort Riley, KS. In 1919 Ford joined a dramatization of Booth Tarkington's "Seventeen" which ran for nine months in Chicago and received a rousing reception in New York. Over seven succeeding Broadway plays followed in the '20s including the role of Abie in "Abie's Irish Rose". His inauspicious feature film debut was in the baseball drama "Swellhead", made in '30 but not released until '35.
His big break came in '31 with Joan Crawford's "Possessed". He then landed the lead in MGM's now cult classic "Freaks" ('32) and was Walter Huston's amoral brother in the gangster drama "Beast of the City". Ford then starred, or co-starred, in scores of B-mysteries, often as a wisecracking newspaper reporter ("Headline Shooter", "Night of Terror", "Mysterious Mr. Wong", "Nut Farm", "One Frightened Night", "Rogue's Tavern", "Mummy's Hand", "Mummy's Tomb", "Ape Man", "Machine Gun Mama", "Roar of the Press", etc.).
Also among Wally's over 160 films are five directed by John Ford, including "The Lost Patrol" ('34) and "The Informer" ('35).
He often returned to the Broadway stage; in '37 he created the role of George in the original production of "Of Mice and Men". As he grew older and stockier Ford remained in demand for middle aged character roles, eventually sporting a short-cropped white beard.
After 18 years in the business Ford made his first western, "Man From Texas" ('48) with James Craig, followed immediately by the memorable "Coroner Creek" ('48) with Randolph Scott. From then on he was in constant demand in westerns such as "Belle Starr's Daughter" ('48), "Red Stallion In the Rockies" ('49), "Dakota Lil" ('50), "The Furies"

('50), "Warpath" ('51), "Great Jesse James Raid" ('53), "Nebraskan" ('53), "Destry" ('54), "Wichita" ('55), "Man From Laramie" ('55), "A Lawless Street" ('55), "Maverick Queen" ('56), "Stagecoach to Fury" ('56), "Warlock" ('59), among others. No stranger to TV he appeared on "Death Valley Days", "Trackdown", "Tales of Wells Fargo", "Klondike", "Wide Country", "Travels of Jamie McPheeters" and in '59-'60 Ford joined old friend Henry Fonda in the first season of "The Deputy" as Marshal Herk Lamson.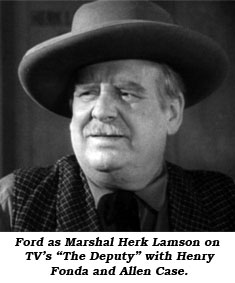 On the personal side of his life, having grown up in foster homes, until 1936 he believed himself an orphan. As the result of a chance conversation, Ford received word his mother, Catherine Jones, might still be alive. With the help of Scotland Yard he found her living in a trailer beside the river in Northwich, England, married to a match seller known as "Blind Dan". After talking to her for five hours, Ford was convinced she was his mother. "I'm glad (the search) is all over," Ford told reporters in December '36. "I'm going to get a little house in Northwich where my mother and her husband can spend the rest of their days in peace. She's had a hard life."
In July '43 Ford acquired his U.S. citizenship papers and also had his name legalized as Wallace Ford. Ford met his wife, Martha Haworth (sister of actor Joe Haworth during the run of "Abie's Irish Rose" on Broadway. She was in the chorus; they were married in 1922 and had one daughter, Patricia, born in 1927, who died in 2005.
Ford's last role was as Elizabeth Hartman's drunken but good-hearted grandfather, Ole Pa, in "A Patch of Blue" ('65). Ford, 68, died June 11, 1966, at the Motion Picture Hospital in Woodland Hills, CA, where he'd lived for only a few months after his wife died earlier that year (Feb. '66). Friends expressed belief Martha's death hastened Ford's passing. (Thanx for research to Evy Patrick.)