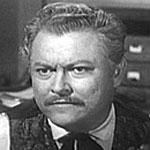 WILLIAM MIMS
Character actor William Mims was not nearly as famous as his good works deserve. Born in Carthage, MO, January 15, 1927, his family moved to California during the height of the depression and Bill graduated from Manual Arts High School in L.A. and then Los Angeles City College. After studying acting and appearing in several stage performances Mims first role was in Johnny Carpenter's low-budget "I Killed Wild Bill Hickok" in '56.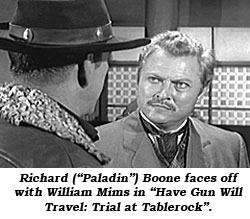 Small roles on television ("Mike Hammer", "Official Detective Stories", "Third Man") followed before he became an oft-seen face on late '50s TV westerns. Some of his better roles were as the duplicitous promoter trying to marry off his niece (Jo Morrow) to rich rancher L. Q. Jones in "Lawman: The Bride"; a fervent prosecutor plying every legal (and illegal) twist to get an accused gunman hanged in "Have Gun Will Travel: Trial at Tablerock"; a recurring role as the corrupt editor of the TOMBSTONE NUGGET on "Wyatt Earp"; an ex-Quantrill renegade killer on "Rough Riders: Wagon Raiders"; a crooked gambler on "Whispering Smith: Poet and Peasant"; an outlandish guide for the "Champagne Safari" on "Have Gun Will Travel"; an underhanded gun runner on "Custer: Sabres in the Sun"; a dying bank robber in "Virginian: Legend for a Lawman"; a miserable reprobate of an outlaw on "Tales of Wells Fargo: Vignette for a Sinner"; an obnoxious convention gladhander on "Empire: Between Friday and Monday" and even as a poor, uneducated Mexican whose family is run off their land by an angry mob accusing his daughter of witchcraft as even he slowly begins to believe his daughter is a witch on "Wagon Train: Adam McKenzie Story".
Besides these, the versatile Mims also played sheriffs, townsfolk, preachers and third-badman-through-the-door roles in "Walk Tall" and "Young Jesse James" both with Willard Parker in '60 and on TV's "Law of the Plainsman", "Zane Grey Theatre", "Bronco", "Tate", "Wild Wild West", "Big Valley", "Daniel Boone", "Guns of Will Sonnett", "Lancer", "Cheyenne", "Gunsmoke", "Alias Smith and Jones", "Bonanza" and "Kung Fu".
As Westerns dissipated in the '70s, Mims continued to work steadily in TV ("Ironsides", "Marcus Welby, M.D.", "Fantasy Island", "Switch", "Dukes of Hazzard", "C.H.I.P.s", "Airwolf", "Murder She Wrote") through 1988. In between films Mims performed on the L.A. stage in "Inherit the Wind" and as Big Daddy in "Cat on a Hot Tin Roof".
Mims was founder and president of the Hollywood Hackers Celebrity Golf Club. Actor Gregg Palmer told WC, "Bill was a nice person. He was the founder and head of the Hackers golf tournament. People in the industry who played golf would go out and play the tournament. Bill was kinda quiet, not too outgoing, kind of a reserved person, easygoing, likeable. Had a good smile on his face. Shug Fisher, Don Porter, Bob Donner…these people were all in the Hackers."
Married for 36 years to Nancy Mims, the talented Bill Mims died at only 64 of cardiac arrest at his Studio City, CA, home April 9, 1991.