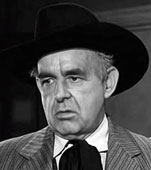 NESTOR PAIVA
Balding, bushy browed, bull-chested, dark complected prolific character actor Nestor Paiva, a veteran of some 400 serial, movie and TV credits from 1937 to 1968, had one of those nondescript ethnic faces and a gift for dialects that allowed him to portray practically any type of foreigner.
Born Nestor Caetano Paiva June 30, 1905 in Fresno, CA, to Frank and Marianna Paiva. His parents were both born in the Azores region of Portugal and became naturalized American citizens. Frank first owned a grocery store in Fresno before later moving to Berkeley.
Nestor graduated from Fresno High School where he appeared in several school plays and was a member of the Boys' Glee Club. He attended the University of San Francisco and later the University of California at Berkeley where he continued his interest in theatrics, graduating in 1932 with an A.B. degree. Beginning in 1934 he appeared in an L.A. production of "The Drunkard" for 11 years but finally left the show in the mid-'40s as his film workload grew in importance.
Nestor's first uncredited film role was in "Island Captives" in '37. Although he worked constantly, uncredited, it took him until the mid '40s to obtain credited roles. He is noticeable as a henchman in three serials—"The Spider's Web" ('38 Columbia), "Flying G-Men" ('39 Columbia) and "The Green Hornet Strikes Again" ('40 Universal). His first Western was as a train conductor in "Union Pacific" ('39)—followed by "Northwest Mounted Police" ('40) as a half breed and "Santa Fe Trail" ('40) as an Abolitionist.
Nestor was married on January 19, 1941 to Maxine Kuntzman in Las Vegas, NV. Maxine was once Howard Hughes secretary. The couple had two children, Joseph in 1944 and Caetana in 1947.
Nestor took a job at Lockheed in Burbank during WWII but still continued to act. At last he acquired excellent villainous roles in two serials. He was Count Baroni in Republic's "King of the Mounties" ('42) and allied with the Japs as The Scorpion in
"Don Winslow of the Coast Guard" ('43 Universal). Many small character roles kept Nestor busy—10 appearances in 1941, 15 in '42 and 13 in '43. He worked in two Roy Rogers Westerns—"Shine On Harvest Moon" ('44) and "Along the Navajo Trail" ('45). He was Sam Bass in Randolph Scott's outlaw laden "Badman's Territory" ('46); the buffoonish Alcalde in "Robin Hood of Monterey" ('47) w/Gilbert Roland as The Cisco Kid; a Mexican rancher helped by Rex Allen in "South Pacific Trail" ('52) and an oppressive carpetbagger in Wayne Morris' "The Desperado" ('54). By the '50s his flair for accents, be it Spaniards, Mexicans, Russians, Arabs, South Americans,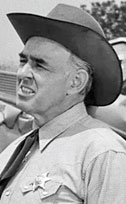 Italians, etc., had him in demand appearing constantly in A-films, B-pictures and TV. Nestor worked in ethnic roles of all sorts, from bartenders and farmers to Governors, Generals and Padres. He gained much notoriety as Lucas, the boat captain, in "Creature From the Black Lagoon" and "Revenge of the Creature". TV Westerns saw him in "The Lone Ranger", "Gene Autry", "Rin Tin Tin", "Tombstone Territory", "Sugarfoot", "Sheriff of Cochise", "Broken Arrow", "Restless Gun", "Tales of Wells Fargo", "Maverick", "Death Valley Days", "Lawman", "The Texan", "Mackenzie's Raiders", "Wichita Town", "Wanted Dead or Alive", "Laramie", "Cheyenne", "Rawhide", "Have Gun Will Travel", "Wagon Train", "Virginian", "Bonanza", "Gunsmoke", "Daniel Boone" and notably as innkeeper Senor Pacheo on 14 episodes of "Zorro". Nestor's A-Western work included "Four Guns To the Border" ('54) w/Rory Calhoun, "The First Texan" ('56) w/Joel McCrea, "Guns of Fort Petticoat" ('57) w/Audie Murphy, "Left Handed Gun" ('58) w/Paul Newman, "Frontier Uprising" ('61) w/Jim Davis, "California" ('63) w/Jock Mahoney, "Comanche" ('56) w/Dana Andrews (both of Paiva's children were uncredited as youngsters killed by Indians)…even as a saloon owner in the ghastly "Jesse James Meets Frankenstein's Daughter" ('66).
In 1965 Nestor was diagnosed with stomach cancer and, despite extensive surgery that led to the removal of his stomach, his condition deteriorated and he died on September 9, 1966. Shifty, charming, devious, villainous, deceitful, comic, cowardly, brave—Nestor Paiva could play them all, and all with a fabulous skill for dialects. (Thanx to Evy Patrick for ancestry.com research.)