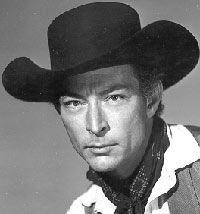 LEE VAN CLEEF
They nicknamed him Angel Eyes. "Being born with a beady-eyed sneer was the best thing that ever happened to me," Lee Van Cleef smiled as only he could. Tall and lean, pointed nose, high cheekbones, cruel mouth, balding head—and those cold-steel squinty eyes, these physical attributes served to make Van Cleef one of the major heavies of screen westerns.
Born Clarence Leroy Van Cleef Jr., January 9, 1925, in Somerville, New Jersey, his parents (Clarence Leroy Van Cleef and Marian L. Van Fleet) were both new Jersey natives of Dutch extraction. Lee's father, a WWI veteran who served two years in Europe, worked as an accountant and bank cashier. His mother, by some reports, was once a professional singer. His father, an outdoorsman, taught Lee to shoot by age 10.
In June '42, after his junior year in high school, Lee took a summer job on an area farm. He quit the farming job in September to begin his senior year, but in October '42 the 17 year old left high school to enlist in the Navy. During this era, many high school seniors were given condensed courses to complete high school before entering service. Navy documents attest Lee did receive a high school diploma. Following recruit training as a Sound Man and in Mine Craft, he was assigned to the USS Incredible.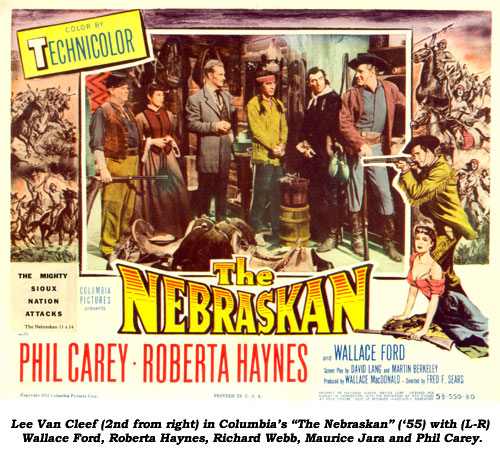 On December 10, 1943, Lee married high school sweetheart Patsy Ruth Kahle before he was sent to sea, eventually serving in the Atlantic and Pacific. He was discharged from the Navy March 6, 1946. During the war Lee had seen service aboard a subchaser in the Caribbean and a mine-sweeper in the Mediterranean and the China Sea, earning him several medals.
After Van Cleef was discharged, he and his wife worked in a Maine hunting/fishing camp. Before '46 was over, he was a farmer on the estate of a prominent socialite. With the birth of two children, Alan in '47, Deborah in '48, Lee found better paying work at a Somerville factory. Also from '46-'50 he maintained a private practice as an accountant for several local businesses. Encouraged by a factory co-worker, Lee became involved with the Clinton (NJ) Music Hall Players, appearing in "Our Town" and "Heaven Can Wait".
Enamored with stage work, Lee went to New York and obtained a small role in "Mister Roberts", then toured for 15 months in '50-'51 with the hit play. It was his work as a policeman in this production that caught the eye of producer Stanley Kramer who was preparing "High Noon". Kramer initially offered Lee the role of the deputy (which eventually went to Lloyd Bridges) with the stipulation Van Cleef have his nose surgically altered to appear less menacing. Lee refused and Kramer cast him as one of the heavies at $500 a week.
Van Cleef quickly learned to ride and, as production on "High Noon" didn't start til September '51, Lee was able to find work as a heavy on two episodes of Jock Mahoney's "Range Rider": "Greed Rides the Range" and "Outlaw's Double". Dick Jones, Dick West on "The Range Rider", was unaware these were Van Cleef's first screen roles, "He came on as an old professional. I liked working with him. He was very handy…did a good fight scene. I sure didn't know it was his first job." Van Cleef is the first character seen on screen in "High Noon" and, without a word of dialogue, made a lasting impression in the Academy Award winning film, forever establishing Lee as a heavy.
After appearing in dozens of film and TV westerns, Lee was driving home from Lone Pine, California, in the Fall of '58 (after completing location work on "Ride Lonesome") with his wife and three children (a third son David had been born by this time) when he was involved in a head on collision with another car. The wreck fractured his left arm in two places and shattered his left kneecap, hospitalizing him for a month. Lee was told he may never walk again without a limp or ride a horse. However, in a struggle Lee later termed "mind over matter," he disproved the doctor's theories.
Tragically, the accident and aftermath led to a drinking problem for Lee which ended his 15 year marriage. In 1960, Lee remarried, to Joan Miller. They adopted a daughter, Denise.
With westerns on the decline by the mid '60s, Lee hit bad financial times. Joan was working as an IBM secretary and Lee was doing freelance house painting and living off residuals. Good fortune returned in the person of Italian director Sergio Leone who had struck gold with Clint Eastwood in "A Fistful of Dollars". For the follow-up, "For a Few Dollars More", Leone wanted Van Cleef for his bounty hunter protagonist. That film, like "High Noon", changed Van Cleef's life. Lee went on to make over 20 more Spaghetti westerns through the late '70s, never returning to the TV screen again until he starred in his own short-lived series, "The Master" in 1984. More than any other actor, he brought prestige to the Italian western.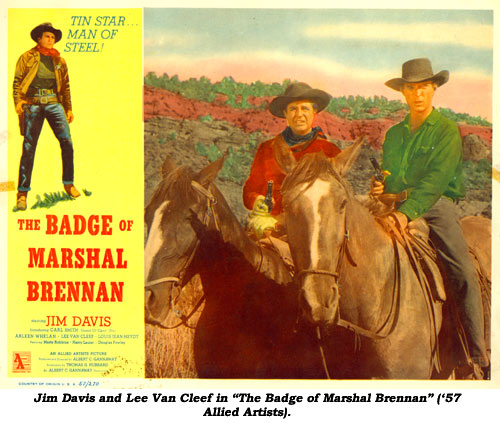 While making 1974's "The Stranger and the Gunfighter", Lee met Barbara Hevelone, a concert pianist working on the score for the film. By 1975, he divorced Joan and married Barbara on July 13, 1976.
Heart disease slowed his work in the late '70s. He had a pacemaker installed in the early '80s. Besides the failed 13 episode run of his series "The Master", Lee's screen roles were on a definite downturn as he accepted parts in lesser budgeted films.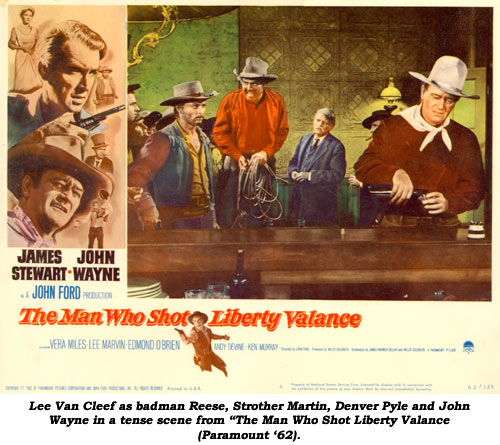 On December 16, 1989, a few weeks shy of his 65th birthday, heart disease caught up with "the man with gunsight eyes" as he collapsed at his home in Oxnard, California. He was taken to St. John's Hospital where he died. Throat cancer was listed as a secondary cause of death. Lee had taken up smoking a pipe while in the Navy and can be seen smoking in many of his films. He was buried at Forest Lawn Cemetery in Hollywood Hills, California. His friend from "Mr. Roberts", actor Rance Howard gave the eulogy. Rory Calhoun, Harry Carey Jr. and others were pallbearers.
"Bad guys have always been my bag," Lee once explained, "I look mean without even trying. Audiences just naturally hate me on screen. I could play a role in a tuxedo and people would think I was rotten. You can do much more with a villain part. Movies are full of leading men—most of whom aren't working. It's much harder to find a good villain."