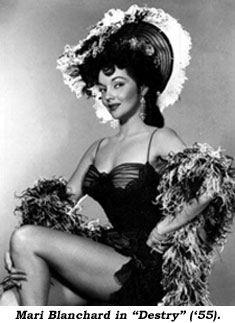 MARI BLANCHARD
Voluptuous, exotic-looking Mari (pronounced Mar′-e) Blanchard was possessed of a striking but synthetic beauty, relegating her to being cast as tarts, home wreckers, and other assorted femme fatales.
Born Mary Blanchard April 13, 1923, in Long Beach, CA, she contracted a crippling case of polio at age nine but fought back and was walking again by 11. She swam daily for several years to restore her muscles and even ran away at 17 to join Cole Brothers Circus where she rode elephants and performed on the trapeze. After attending Santa Barbara State College, UCLA and USC to study international law, she went to New York to seek employment in the international trade business but wound up signing with the Conover Model Agency. In '48 she was cartoonist Al Capp's inspiration for Stupefyin' Jones in his "L'il Abner" strip. Capp later sent Mari on a nationwide publicity tour to promote Sadie Hawkins Day.
A Kodak bubble bath advertisement brought her to the attention of Paramount in late '49 but she only remained under contract until late '51. "I couldn't have been lower when Paramount let me go," she is quoted. "I am grateful to the studio for training me, but every role that came up was either too big or too small for me to do. I'd have gone back to New York and modeling if it hadn't been for my agent. He wouldn't let me get discouraged. I figure that a girl has until 35 to use her face and figure. I wanted to use up those years left to me constructively."
Freelancing, the 5' 5" actress made her first Western as the saloon singer mistress of badman Hugh Beaumont in Tim Holt's "Overland Telegraph" ('51 RKO). Universal-International saw her potential with her first two there being "(Willie and Joe) Back at the Front" ('52) and "Abbott and Costello Go to Mars" ('53). Three Westerns quickly followed.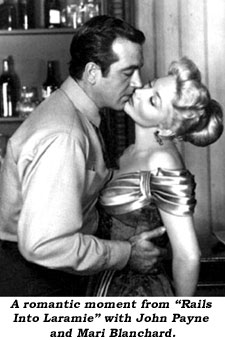 For "Rails Into Laramie" ('54) she was badman Dan Duryea's girl who has a change of heart and instigates an all-woman jury to convict Duryea of his lawlessness.
In Joel McCrea's "Black Horse Canyon" ('54 UI) Mari is the owner of a large horse ranch, then in Audie Murphy's remake of "Destry" ('55 UI) she's at her best as Brandy, saloon owner Lyle Bettger's partner who falls for Audie, eventually taking a bullet meant for him. Incidentally, Mari severely injured her nose in the "Destry" catfight with Mary Wickes.
Gregg Palmer was a contract player at U-I at the same time and recalled, "She was a sweetheart. She was reserved, but outgoing. She wasn't pushy, a class act."
During this period she was romantically linked with Scott Brady, Broadway attorney Bentley Ryan, movie lawyer Greg Bautzer, director Hugo Fregonese (estranged husband of Faith Domergue), dress manufacturer Bob Evans, Lance Fuller, Don Barry, Mexican singer-actor Luis "Tony" Aguilar, Mel Torme and George Raft—eventually marrying L. A. attorney Reese Hale Taylor Jr. in 1960, but it only lasted less than a year.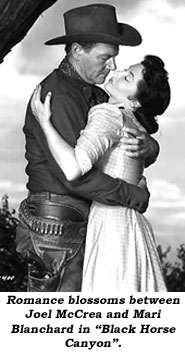 It was perhaps her refusal to dance in "Son of Sinbad" because she considered her outfit too revealing that caused U-I to drop her contract in July '55.
She immediately went to work as outlaw-queen Texas Rose who is eventually rehabilitated by John Ericson in "Return of Jack Slade" ('55 Allied Artists) and as a dance hall vixen trapped with Forrest Tucker and others in "Stagecoach to Fury" ('56 Regal/20th Century Fox).
A succession of B-movies was next for Mari, including "She Devil" ('57) during which she barely survived an emergency appendectomy.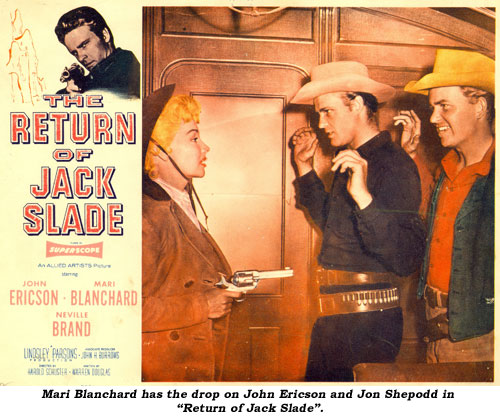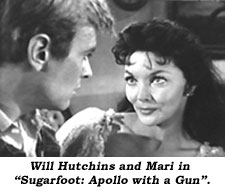 Turning primarily to TV in the late '50s she appeared on "Sugarfoot: Apollo with a Gun" with Will Hutchins, one of his favorite episodes. "Of all the gals I ever worked with, she's in the Top 3. The other two are Grace Raynor from 'The Devil to Pay' and Anita Gordon on 'Hideout'. As for Mari—we didn't have many sexy 'Sugarfoot' shows, but I think 'Apollo with a Gun' was the sexiest, all because of her. She was just a delight. She said the sweetest thing. I don't remember saying goodbye to a lot of people, I shoulda been better at that. But I remember she said she really liked working with me, she said she learned a lot. I shoulda said, 'Why don't we talk that over at dinner?' But I didn't. (Chuckles) I was so in awe of her, I didn't let her know how much I liked her. And she was terrific in the part."
Mari is also in "The Texan" ("Caballero" as a gun runner's lady), "Tales of Wells Fargo", "Laramie" ("Rope of Steel" as an opportunistic saloon girl), "Bronco" (as a shady lady in "Montana Passage"), "Gunslinger", "Rawhide" (as a sexy conniver in "Incident of the Big Blowout" and as a dark-haired Mexican Senora in "Incident of the Stalking Death").
Divorced from Taylor, she lost a child by miscarriage in mid '60, but gained a regular role on "Klondike" ('60-'61) as hotel proprietress Kathy O'Hara. Unfortunately, the ZIV series wasn't well received and did nothing to revive her faltering career. Her TV roles were sporadic in the early '60s, primarily on Warner Bros. detective series before she married—briefly—a George Shepard in '65 and then photographer Vincent J. Conti in '66. Roles in "Don't Knock the Twist" ('62), "Twice Told Tales" ('63) and billed 24th as the likeable town Madame in John Wayne's "McLintock" ('63) effectively wrapped up her career.
Diagnosed with cancer, she underwent surgery in early '69 but died May 10, 1970, at 47 at the Motion Picture Hospital in Woodland Hills, CA. She was cremated and her ashes scattered at sea.