RAYFORD BARNES
The man with the mean looking smirk, Rayford Barnes was one of the busiest badmen on episodic TV from '54-'69, besides working in some classic westerns of the period—"Hondo", "Wichita", "Shenandoah" and "The Wild Bunch".
Born October 23, 1920, near Whitesboro, TX, the WWII Navy and Merchant Marine vet began his career in New York training with Stella Adler at the Neighborhood Playhouse, later moving to San Francisco to open his own theatre.
Rayford actually came from a showbiz "family". He was a nephew of comic actress Binnie Barnes who married producer Mike Frankovitch in 1940. Producer Peter Frankovitch and screenwriter Mike Frankovitch Jr. are his cousins.
His first film was a Western, "Stranger Wore a Gun" in 1953 with Randolph Scott. John Wayne's "Hondo" was the same year and Rafe was on his way.
Husband and wife actors Jan Shepard and Dirk London have slightly varying views of Rayford. Jan recalls him as "serious" while Dirk found him "funny". Jan said, "He was sweet, friendly, very professional. Reminded me of a young Richard Widmark. Blonde, blue-eyed. Widmark was more pronounced; Ray was a little more nondescript." Dirk says, "He had a very infectious, contagious smile. He was Ike Clanton on our 'Wyatt Earp' show. (Dirk was Morgan Earp.) He was the type of guy who knew what he was doing, but had a lot of fun along with it."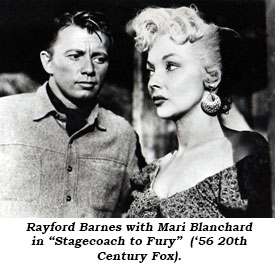 Kelo Henderson, star of TV's "26 Men" knew Rayford. "The first time I met Rayford was on location in El Centro, CA, for MGM's 'Gun Glory' in '57. The second time was when he came to Phoenix, AZ, in '58 to appear in four episodes of my '26 Men' series. He was professional, a very versatile actor, having the rare talent of being able to portray a mousey, cowardly type with real conviction, then easily make the transition to a villainous heavy."
Barnes was still working up until his death, having just completed jobs on "ER" and "Walker Texas Ranger".
He married wife Debra in 1973. He may possibly have been married before. He died November 11, 2000, at St. John's Health Center in Santa Monica.