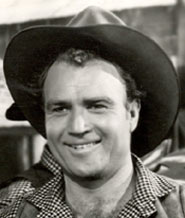 JOHN CASON
Tough Texan John Cason came to films at 23 in 1941 after a brief career in the boxing ring. John Lacy Cason was born July 30, 1918, in Valley View, Cooke County, TX. His parents John J. Cason and Frances Johns were both Texas natives, moving to Dallas when John was 15. At 6 ft. tall, 190 lbs., Cason won a light heavyweight Golden Gloves Tournament in Dallas then turned pro. He fought Tony Musto and won by a TKO. A group of spectators watching this semi-windup took a liking to him and bought his contract. "You could have knocked me over with a feather," John once said, "because when I was introduced to my new owners it was George Raft and Hugh Herbert." Through these showbiz connections, Cason obtained an uncredited role as a prizefighter in Abbott and Costello's "Buck Privates" ('41). His first western was the same year, uncredited as a deputy in Don Barry's "Apache Kid".
Cason reportedly joined the Marine Corps in '42-'43, returning to film work in '44. From there on, through 1961, Cason worked steadily in westerns. He practically became a fixture in Buster Crabbe's PRC series.
Besides acting, Cason worked heavily as a stunt double for Bill Williams on "Kit Carson" ('51-'55), Guy Madison on "Wild Bill Hickok" (although Madison had several doubles during the run of the series from '51-'58) and Jack Kelly on "Maverick" ('57-'62).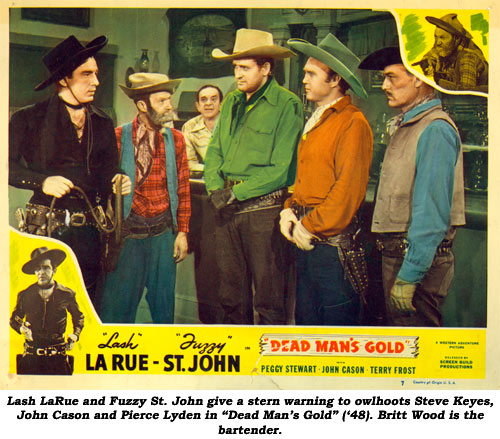 Perhaps the best description of Cason came from fellow badman Pierce Lyden, "I don't know if his name was John or Bob, but most of us who worked with him called him Bob. I never heard him say which he preferred. He was the kind that didn't care about a thing like that. Having had a somewhat 'speckled' career as a professional fighter, I guess it was only natural he was very good at motion picture fights. Bob never said exactly how many pro or semi-pro fights he had, but once when I asked him he said, 'I won a few and lost too many.' He had the bone in his nose removed, and his ears were a little thick, so he knew his way around the ring. I always liked Bob, he was great to work with. He was always good at everything we did. He was at his best in a part where he had a good fight scene. He told me once, 'It's hard sometimes to pull your punches.' I knew what he meant. There are times with some guys that you'd like to let one go. I never saw Bob lose his temper, but it was common knowledge 'you don't want to be around him when he does,' and I, for one, believed it. There were rumors that he 'mixed it up' once in a while at various watering holes in the Valley, but I never knew him to be in any great trouble."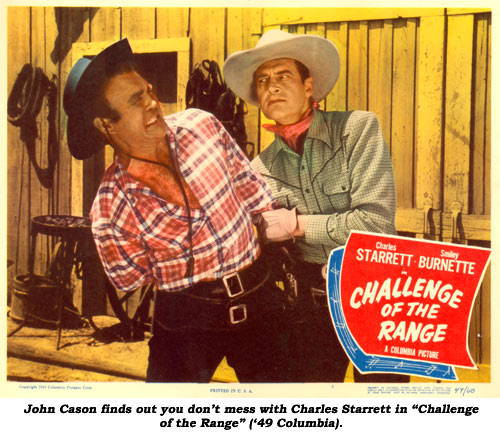 Cason had worked in over 130 movies and hundreds of TVers when his life was foolishly cut short in a drunken driving auto accident. Jackie Lents Hoofman, the daughter of the man Cason was with on July 7, 1961, explains, "My dad Alton Lents aka Charlie Lents was with John in the auto accident. They were going on a coon hunt. John was driving his black El Camino and they went off the road near Buelton, California, close to Santa Barbara. John was killed instantly and my dad died two days later. Both were drinking when the accident happened. My dad and John were good friends and went on many hunts together. John went with my dad to Ninnekah, OK, to my grandmother's farm and they went on hunts there. John lived in Sylmar, CA, where we also lived. John was a good cook and a fast driver, he came to our home many times. John called Glenn Ford from our house and called him Pappy, he took some friends and I to see Glenn when he was filming 'Pocket Full of Miracles'. John had a brother Glen that lived in Hanford, CA." The accident occurred approximately 3 miles west of Buelton on county road 101 at about 8pm. Cason's massive injuries included a fractured skull, extensive brain damage, as well as fracturing his cervical vertebrae, pelvis and right arm. Actual death occurred at Cottage Hospital in Santa Barbara.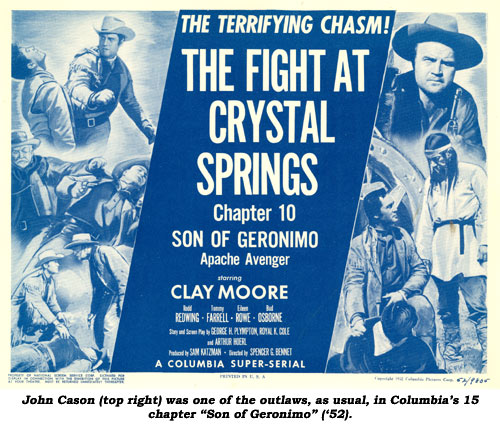 Cason was known to be a heavy drinker by those who worked with him, as director Oliver Drake related, "It was early in the morning and the crew and cast were preparing for action. The fight was to take place between Sunset Carson and Steve Keyes. Steve plays the heavy in the picture. Then Sunset's flashy Cadillac pulled into the parking area and stopped nearby. Bob Cason, one of the heavies in the picture, and also a fine stuntman, opened the driver's side door and stumbled drunkenly out to open the rear door. Ice and beer cans spewed out from the rear floor of the Cadillac onto the ground. Sunset got out of the passenger's side and walked around the car. He stared at the mess and then at Cason. 'What the hell have you done Bob?' he asked sharply. Guiltily, Bob grinned. 'I thought we'd need some cool drinks,' he mumbled and started to pick up the cans and put them back into the car."
Whatever his personal faults, John (Bob) Cason gave his all on the screen, rewarding us with many exciting fights, chases and menacing moments. He is buried at Grangeville Cemetery in Armona, CA. (Thanx in part to Steve Cason, John's nephew, and Ken Leach.)