Often known as the 'meanest man in Hollywood', there was never any doubt when Dick Curtis came on screen he was a "heavy" in the truest sense of the word.
Born Richard Dye May 11, 1902, in Newport, KY, the 6' 3" Curtis' early years are hazy, but at a young age he was apparently already in Hollywood as an extra in "The Unpardonable Sin" w/Wallace Beery in 1919. He soon left, finding stage work more productive in the East. He returned to Hollywood in '32 and was in First National's "The Famous Ferguson Case". Several months later, during the making of "King Kong", he was seriously injured and didn't work for two years.
Resuming work at a fever pitch in '35, westerns became his main niche with his first several menacing Kermit Maynard at Ambassador followed by Tom Mix ("Miracle Rider" serial), Tim McCoy, Johnny Mack Brown at Supreme and Fred Scott. Dick seemed to find a home at Columbia in '37 rustling, robbing and riding hell for leather against Charles Starrett and Bill Elliott. Starrett used to refer to his constant on-screen run-ins with Curtis as "the never ending fight".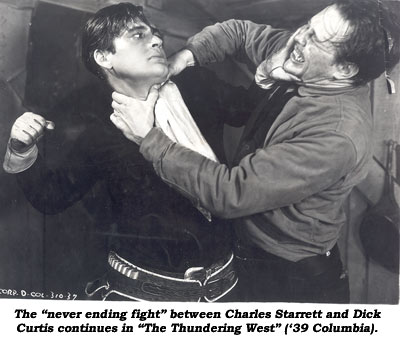 Even though steadily employed in Columbia B-westerns, Curtis still found time to appear in other features ("Headline Chaser", "Blondie", "Man They Could Not Hang"), serials ("Blake of Scotland Yard", "Batman", "Flying G-Men", "Lost City of the Jungle", "The Phantom" etc.) even 3 Stooges and "Crime Does Not Pay" short subjects. For several years, at the height of his productivity in the late '30s, Curtis worked in over 40 productions a year.
Constantly busy though the '40s, but less at Columbia, he found work at Universal, U.A., even PRC. Oddly, when he came to "The" western thrill factory, Republic, he seemed out of place at times. As Don Miller wrote in HOLLYWOOD CORRAL, "A fine straight menace at Columbia, Curtis was in 'California Gold Rush' and was instructed to make it funny. Curtis was not used to Republic's humorous heavies but did as told. Roy Barcroft could have carried it off in his sleep, but Curtis merely managed to be cute about it. Instead of hitting the whimsical mark, Curtis looked stoned throughout." Still, he was in over a dozen Republics.
In the late '40s, it was Curtis who discovered the Pioneertown location site and, along with Russell Hayden, Roy Rogers and some members of the Sons of the Pioneers, developed the area for filming of westerns. Gene Autry's Productions and ZIV's "Cisco Kid" were the primary users of the high desert locale.
In the early '50s Curtis found work in television ("Lone Ranger", "Gene Autry", "Wild Bill Hickok") and a couple of good serial roles, "Roar of the Iron Horse" ('51) and "Government Agents Vs. The Phantom Legion" ('51) just prior to his untimely death January 3, 1952, at only 49. He'd been operated on for a brain tumor at Cedars of Lebanon Hospital in L.A. on Nov. 26 and died of respiratory failure. His last small role was in "Rose of Cimarron" ('52) w/Mala Powers.