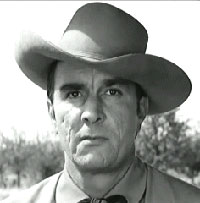 IAN MacDONALD
In the minds of Western devotees, Ian MacDonald will always be thought of as Frank Miller, the fierce killer set to arrive in Hadleyville at high noon to take revenge on newly-wed sheriff Gary Cooper in Fred Zinnemann's superbly directed, masterfully constructed "High Noon" ('52 Columbia).
The man that will forever be linked to "High Noon" was born Ulva William Pippy June 28, 1914, in Great Falls, Montana. His father, William Pippy, was a Methodist minister. His mother was Sara Ann MacDonald—obviously the source for part of his professional name change.
During his school years he was athletic, playing high school football and basketball, yet still expressing an early interest in drama. After graduating from a small parochial college in Helena, Montana, where he served as president of the drama club, Ian worked at various jobs: clerk in a bank, on a highway construction gang and school teacher in an authentic ghost town where he was superintendent, repairman and taught all high school classes. Coming to California, he studied at the Pasadena Playhouse.
Ian entered films as a heavy in a pair of Hopalong Cassidys, "Secrets of the Wasteland" and "Stick To Your Guns" (both '41 Paramount).
MacDonald struggled along in small, often uncredited roles for the next several years. By the late '40s, better parts had begun to come his way, eventually cinching a career by beating out Royal Dano, Peter Mamakos, G. Pat Collins and Bob Wilke for the choice role of Frank Miller in "High Noon". (Wilke ended up as one of his henchmen along with Sheb Wooley and Lee Van Cleef.)
MacDonald is credited with serving in the Armed Forces during WWII, explaining the gap in his film credits from mid '42 through 1946.
By the mid '50s Parkinson's disease began to have an effect on MacDonald. It is noticeable by the ever increasing non-use of his right arm in films of this period. It's often quite interesting to see how he "protects" this weak arm in various scenes. It's obviously for medical reasons MacDonald began to hone his behind the camera skills in 1955. He was writer/producer and actor in "The Silver Star" ('55 Lippert) with Earle Lyon; writer, associate producer and actor for "Lonesome Trail" ('55 Lippert) with John Agar and associate producer and actor for "Two Gun Lady" ('56 Associated) with Peggie Castle as well as "Stagecoach to Fury" ('56 Regal/20th Century Fox) with Forrest Tucker.
MacDonald continued to work until 1959 when he and his wife, Shirley Kannegaard Pippy, returned to their Montana roots. They were living at 1103 N. Cedarview in Bozeman, Montana, when one of the screen's ultimate badmen died April 11, 1978, of cardiac arrest and the late stages of Parkinson's disease. He is buried at Wilsall Cemetery in Wilsall, Montana.