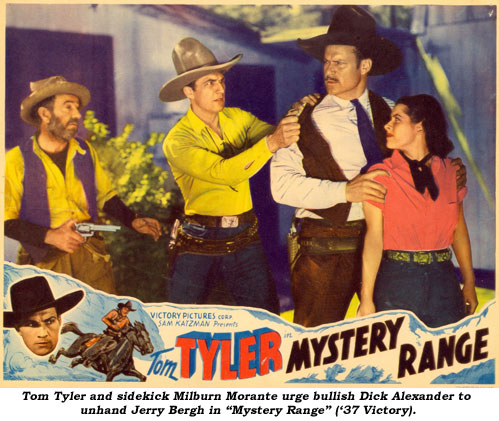 The large, 6' 3" imposing figure of Dick Alexander is probably best remembered as Buster Crabbe's ally, Prince Barin, in the first two Flash Gordon Universal serials ('36 and '38), but Alexander was one of the busiest and meanest of Western movie badman in the '30s and '40s.
Born in Dallas, Texas, November 18, 1902, Alexander graduated high school there, but the years circa 1920-1925 are unaccounted for til his first film, "Old Ironsides", in which he was an extra in 1926. His first Western came a year later with Pathé's "Fightin' Comeback" starring Buddy Roosevelt.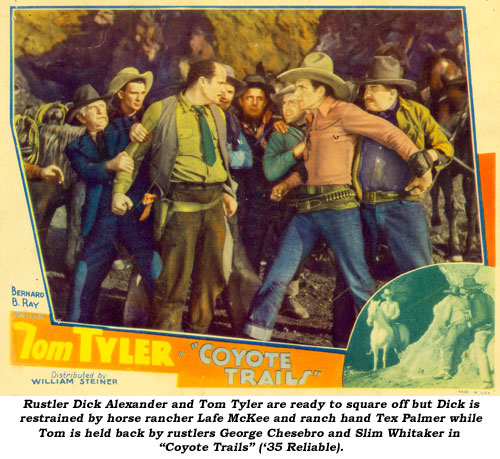 By the early '30s Alexander had found his calling and westerns became his forte. In a myriad of oaters from '30-'53 the brutish Alexander, often named Bull, made trouble for Ken Maynard, Tim McCoy, Tom Tyler, Jack Randall, Charles Starrett, Tex Ritter, Three Mesquiteers, Dave O'Brien/James Newill, Rod Cameron, Johnny Mack Brown, Buster Crabbe, Hopalong Cassidy, Jimmy Wakely and others.
Additionally, Alexander found work in 12 serials for Mascot, Universal and Republic. Besides the Flash Gordon mentioned chapterplay he is especially prominent in "Zorro Rides Again" ('37 Republic).
Alexander enacted roles in many A films throughout his 39 year career ("Sign of the Cross" '32, "Cleopatra" '34, "Babes In Toyland" '34, "Charlie Chan in Honolulu" '38, "Abbott and Costello In the Navy" '41, "Ali Baba and the Forty Thieves" '44, "A Southern Yankee" '48, "Father of the Bride" '50, "Dangerous When Wet" '53, "So Big" '53, "Great Race" '65, etc.) but he always returned to westerns, with his last being a role for producer Alex Gordon in "Requiem For a Gunfighter" in '65 and a bit in "Cheyenne Social Club" ('70).
Following a stoke after his retirement, he resided at the Motion Picture Home in Woodland Hills, California, where he died of pulmonary edema, heart disease and chronic lung obstruction on August 9, 1989. Dick never served in the military and at the time of his death he was divorced. He's buried at Forest Lawn Memorial Park in Glendale.
Fellow heavy Pierce Lyden told us at the time of Dick's death, "He was one of the oldtimers…from the old school. Very large, impressive man. Always very happy—everybody knew him."