BARTON MacLANE
One of the screen's best heavies, Barton MacLane was at his vilest in "Relentless", a vastly overlooked 1948 western chase drama with Robert Young from Columbia.
MacLane was a staple in films from the '30s to the '60s, always a tough guy, usually bad, but sometimes good such as when he teamed with feisty newspaper reporter Glenda Farrell as hard-bitten detective Steve McBride in Warner Bros.' Torchy Blane series ('37-'39).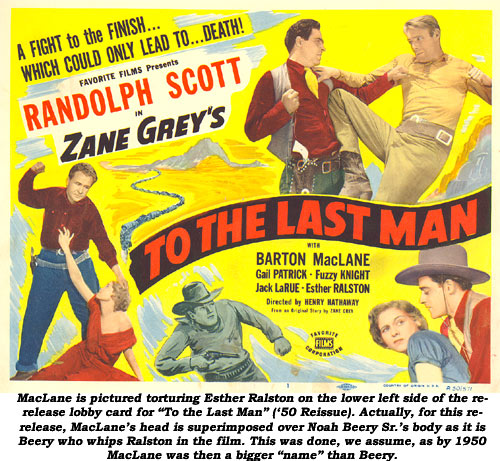 MacLane was tall and stocky with a square, rugged face. He had mean-looking, menacing eyes and a hard, raspy voice. "I don't think it's my face—at least I don't think I look like a heel," MacLane chortled. "I suppose the real reason I was originally cast as a villain is because I'm a big man. You'll notice villains are usually brawny, a fact which explains the slang term the heavy."
Born in Columbia, South Carolina, on Christmas Day 1902, his parents (Waldon MacLane, Caroline O'Brien) were both from South Carolina. Growing up in the South, he attended Wesleyan University where he was a football and basketball star. After being observed in a football game, he was asked to audition for the 1926 Richard Dix film, "The Quarterback".
Bitten by the acting bug, MacLane enlisted at the American Academy of Dramatic Arts in New York as well as attending a community theatre in Brooklyn. He soon debuted on Broadway in such plays as "Subway Express", "Trial of Mary Dugan", "Steel", "The Tree" and even put his talent for writing to work for the drama "Rendezvous" in which he starred. By 1929 he was back in Hollywood where he worked steadily in some 150 films and dozens of TV shows until 1968.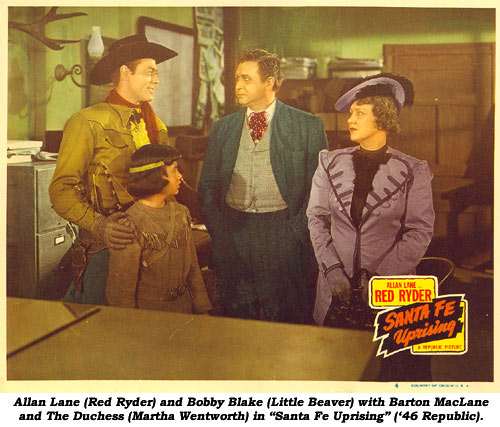 MacLane was twice married, first to a Martha Stewart. This union produced a son, William, and a daughter, Marlane. He next wed actress Charlotte Wynters.
At one time MacLane owned a 2,000 acre cattle ranch in Madera, California.
MacLane died January 1, 1969, at 66 at a Santa Monica, California, hospital of intracranial hemorrhage, cardio-vascular disease and pneumonia—not cancer as often reported. He is buried at Valhalla Cemetery in North Hollywood.
Besides his numerous western roles, MacLane was often seen in gangster films such as "Bullets or Ballots" ('36), "Mutiny In the Big House" ('39), "High Sierra" ('41), "Maltese Falcon" ('41) and "San Quentin" ('46). Most, but not all, of his westerns came late in his career—from '46 on.
For TV, MacLane turned good guy as head U.S. Marshal Frank Caine on the first season of NBC's "The Outlaws" ('60). Co-star Don Collier told us, "MacLane was great. I'd been an admirer of his for years when I was a youngster in the '30s and he was a heavy at Warner Bros. What a treat to work with a guy like that!"