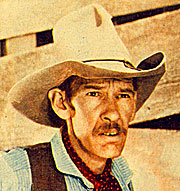 GUY WILKERSON
Guy Wilkerson may be best remembered for his not-too-bright comedy sidekick role of Panhandle Perkins riding alongside James Newill and Dave O'Brien (and later Tex Ritter) in 22 PRC B-Westerns from '42-'45, but the scope of his career was much more far ranging.
Born December 21, 1899, in Whitewright, TX, to James and Nicie Wilkerson, he had five brothers and sisters. His father was a carpenter. Before coming to movies in '37 Guy's younger years were spent working in tent shows, minstrel shows and vaudeville.
In his book THOSE GREAT COWBOY SIDEKICKS David Rothel described Wilkerson as a "tall, string bean of a galoot who generally drawled out his words at a molasses-in-winter tempo. The comedy he provided was seldom of the slapstick variety and was often just a humorous touch to the proceedings." Director Oliver Drake told Rothel, "He was a very funny guy—funnier than most gave him credit for. He was a good comedian…a very quiet person off camera. He wasn't at all in person like he was on screen. Most comedians are very serious people."
Of Guy's 184 credited roles—more are being discovered continually—over 100 were in Westerns, beginning in '37 as one of the backwoods hillbilly clan plaguing Ken Maynard in "Mountain Justice", Gene Autry in "Yodelin' Kid From Pine Ridge" and The Three Mesquiteers in "Heart of the Rockies". He impressed as Tennessee in "Sergeant York" ('41) and, unlike many other B-western comics, was never relegated to just B-movies. Wilkerson pops up in "Gone With the Wind", "Duel In the Sun", "Pride of the Yankees", "Unconquered", "The Sun Comes Up", "Roseanna McCoy", "Winchester 73" (as Virgil Earp), "Mr. Belvedere Rings the Bell", "Great Missouri Raid" (as Clell Miller), "Red Badge of Courage", "Far Country", "Lucy Gallant", "Jubal", "3:10 to Yuma", "Decision at Sundown", "Hanging Tree", "True Grit" (as the hangman), "Haunted Palace", "Harlow", "The Silencers", "Monte Walsh" and so many more.
In '42 Wilkerson embodied Icabod "Icky" Mudd for 15 chapters opposite Dave O'Brien in Columbia's "Captain Midnight" serial, the same year Guy assumed the slightly dim-witted role of Panhandle Perkins in the Texas Rangers series at PRC with O'Brien and Newill. For some of his funniest work in the series watch "Enemy of the Law", "Spook Town" and "Gangsters of the Frontier".
The Panhandle moniker stuck with Guy in Universal's "Scarlet Horseman" serial in '46—although he was a genial, Shakespeare-spouting outlaw cave guard.
Like many other character actors, by '57 Wilkerson's gangly, back-end-of-hard-times looking frame and Texas drawl began to appear regularly on all the TV Westerns as a prospector, stableman, shop owner, hotel clerk, undertaker, farmer, jailer—whatever the script called for.
Unbeknownst to many, Guy maintained a Camellia garden of 10,000 flowering plants in Orange, CA. The flowers were never for sale, it was simply a showplace which drew hundreds of visitors at peak blossom time.
Assuredly, his last role was on a Western, an episode of "Bonanza" as a sheriff ("A Deck of Aces") in '71. The highly underrated Guy Wilkerson died of cancer at 71 a few months later on July 15, 1971. (Thanx in part to Evy Patrick.)