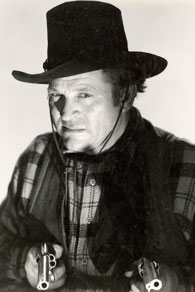 FRED KOHLER
Fred Kohler Sr., a brute of a man standing 6 ft. 2 in. and weighing 200 pounds, had the perfect build and features, including a truly evil sneer, to portray screen badmen. His glowering look "spoke" more than any amount of dialogue. He was one of the Best of the Badmen, beginning in the early silent era until his untimely death at only 50.
Author Buck Rainey described Kohler best, "On screen he was the most contemptible, ill-tempered badman committing his evil deeds without a shade of remorse. He was ruthless and cunning. One could almost hear him grinding his teeth in his silent roles. Kohler always relished showing a total disregard for the rights of others, and if he had any pangs of conscience he never bothered to reveal them."
Dick Alexander once remarked of Kohler (and Noah Beery Sr.), "They were so rotten, mean, filthy, sneering characters that if they even looked at you when you passed them, you felt they had accepted you as a friend! This is what they wanted the public to believe, actually they were very nice, regular guys, just making a living doing what they did best, being an actor."
Off-screen Kohler was just the opposite…researcher Lee Koonce described him as "one of the most loving fathers I have seen."
Kohler was born in Dubuque, Iowa (not Kansas City as often reported), April 21, 1888. His father, Frederick L. Kohler, an inventor, was born in Germany. Fred left home as a teenager, working various jobs. During this time, according to his son, Fred Kohler Jr., his Dad was employed by a mining company. Working with explosives he lost two fingers and part of his right hand in a mining accident. According to Fred Jr., his father was of an age where it was illegal to work with explosives, so the mining company, to protect itself, paid Kohler $100 not to report the incident and fabricate a hunting accident story.
Shortly after, circa 1907, an actor friend of Kohler's, William Carleton, offered Fred an opportunity to go with a touring theatrical company performing "When Johnny Comes Marching Home". Fred accepted and began his stage career with the Willis Wood Theatre in Kansas City, Missouri. He toured the vaudeville circuit and tent shows for about four years. Going to see old friend Jim McGee at the Selig Company gained him a role in his first film in 1911; a one-reeler entitled "Code of Honor".
His on-stage and screen nastiness quickly found him a niche as a western villain. Perhaps the role that cemented his career of corruptness was as the renegade Indian Three Fingers in John Ford's classic "Iron Horse" in which he and George O'Brien battle to the death after Kohler has murdered George's father.
Kohler was married to Marjorie Prole and they had one son, Fred Jr. who followed in his father's footsteps as an actor and screen badman.
Fred Kohler Sr. died in his sleep of an apparent heart attack on October 18, 1938, at his home at 1354 N. Harper Ave. in West Hollywood, California. His wife was vacationing in the Sierras at the time. The body was discovered by a visiting nephew. Kohler is buried at Inglewood Park Cemetery in Inglewood, California.