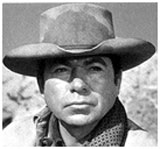 CLAUDE AKINS
Our book BEST OF THE BADMEN profiles 315 western screen heavies from 1930 to the TV era of the '60s. By sheer page count for the book, we obviously had to draw a line on who to include and who not to include. A reader suggested we omitted Claude Akins…which we did based on the premise Akins essayed probably more "good guy" and character roles as well as non-westerns in his 40 year movie/TV career as he did heavies in westerns.
Akins is often best remembered for playing no-nonsense sheriffs and for his starring roles on TV's "Movin' On" ('74-'76), "Nashville 99" ('77), "B.J. and the Bear" ('78-'79) and "Misadventures of Sheriff Lobo" ('79-'81). Akins is living proof it is possible to overcome Hollywood typecasting as a snarling badman and morph into a role like slapstick Sheriff Elvoy P. Lobo.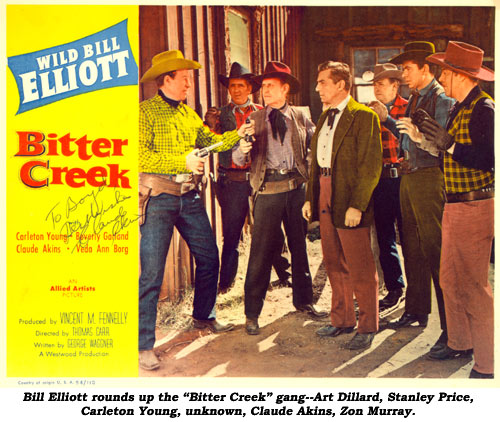 But the broad-shouldered, beefy, wavy-haired Akins was equally adept at using his forceful, booming, Southern-redneck voice to play menacing villains. He was impressive from the start in Bill Elliott's "Bitter Creek" ('54) and equally so in "Joe Dakota" ('57), "The Burning Hills" ('57), "Rio Bravo" ('59) and "Comanche Station" ('60) as well as, over the years, on dozens of TV episodes such as "My Friend Flicka", "Have Gun Will Travel", "Boots and Saddles", "Jim Bowie", "Bronco", "Restless Gun", "Yancy Derringer", "Bat Masterson", "The Texan", "Pony Express", "The Rebel", "Rifleman", "Tall Man", "The Deputy", "Tales of Wells Fargo", "Wagon Train", "Outlaws", "Dakotas", "Laramie", "Destry", "Rawhide", "Legend of Jesse James", "Hondo", among many others.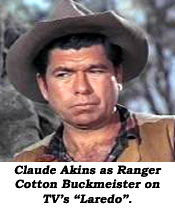 Akins was a semi-regular on the second season of "Laredo" as Ranger Cotton Buckmeister.
Claude Marion Akins was born May 25, 1918, in Nelson, GA, the son of a police officer. Akins attended Northwestern University in Illinois and went on to serve with the Signal Corps during WWII in Burma and the Philippines. Returning from the war, Akins reignited an interest in drama appearing in stock and on Broadway in 1951 while supplementing his income as a salesman.
He first appeared before cameras on an episode about John Wilkes Booth on TV's "You Are There" in '53. His breakthrough role came the same year in "From Here To Eternity". Akins eventually racked up hundreds of screen and TV roles. Following his Sheriff Lobo role, he declined the grind of another series and returned to guest star roles and TV commercials right up until the time of his death from cancer at 75 on January 27, 1994, in Altadena, CA.
The gregarious, likable Akins was married for 40 years to Theresa Fairfield. They had three children.