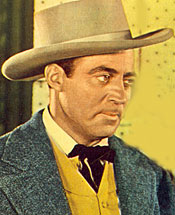 LE ROY MASON
Handsome and usually well dressed, Le Roy Mason was the perfect "dress heavy" or "big boss" in B-Westerns throughout the '30s and '40s. There was bad blood all the way through his veins. So much in demand was Mason in the Westerns of Buck Jones, Tom Keene, Trail Blazers, Range Busters, Tim Holt, Smith Ballew and Bob Baker that Republic put his slick, conniving abilities under exclusive contract as of July 1943. He remained with Republic until his untimely death in '47.
Le Roy Franklin Mason was born in Larimore, North Dakota, on July 2, 1903. Mason's death certificate indicates no information was available as to the name and place of birth of Mason's father. His mother, Bertha Nelson, was born in Norway. It's also unknown how this North Dakota boy came to California and entered films at 21 in 1924, working in several Tom Tyler/Frankie Darro FBO silent Westerns.
He had a brief fling at leading man roles in latter day silents but by the time sound arrived in 1930, he seldom veered away from B-Westerns and serials. Speaking of serials, Mason worked in 13 of them with his best roles coming as heavies in "Last Frontier" ('32 RKO), "Phantom of the Air" ('33 Universal), "Painted Stallion" ('37 Republic), "Jungle Menace" ('37 Columbia), "Tiger Woman" ('44 Republic), "Phantom Rider" ('46 Republic) and "Daughter of Don Q" ('46 Republic).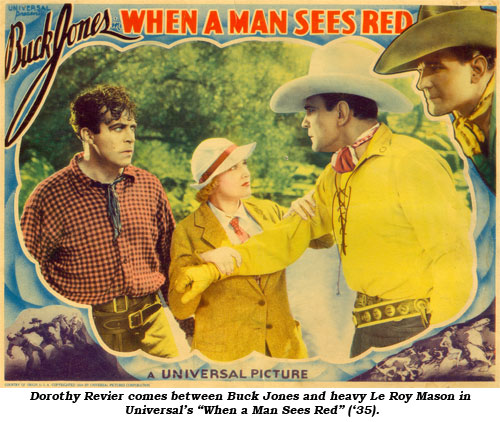 During WWII Mason was in the Signal Corps in 1942 but was discharged after a year due to poor health.
Mason married silent screen actress Rita Carewe (born 1909 in New York City) in 1928. However, at the time of Mason's death, he was married to a Bernice Mason whose age was listed as 27.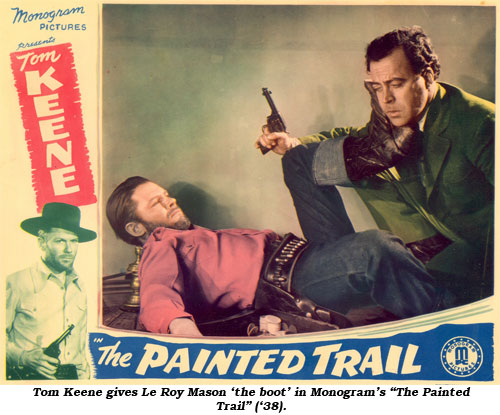 During the filming of one of Republic's Westerns Mason lost the sight in one eye. Fellow badman Tris Coffin once told researcher John Brooker, "He was doing a fight scene with Bill Elliott and Bill's glove grazed his eye. An infection set in and he had to lose it…he died of a heart attack while we were working together on a Monte Hale picture." That heart attack happened while filming Hale's "California Firebrand". Mason was taken to Birmingham VA Hospital in Van Nuys, California, on September 12, 1947. He died at the VA hospital on October 13, 1947, of an acute myocardial infarction and coronary thrombosis. He was buried at Forest Lawn Cemetery in Glendale. The Masons had been living at 10342 Zelzah Ave. in Northridge.