SCOTT MARLOWE
Scott Marlowe became well known for his portrayals of dysfunctional juveniles in several '50s films ("Restless Breed", '57; "Cool and the Crazy", '58; "Young and Wild", '58; "Riot In Juvenile Prison", '59 and "The Subterraneans", '60). So when TV westerns of the late '50s and early '60s needed an intense James Dean type for their story it was often Scott Marlowe to whom they turned.
Marlowe's fidgety, nervous, inwardly violent and troubled demeanor brought a perfect onscreen blend of the '50s rebel-teen and the western outlaw-delinquent kid to shows like "Bronco: The Turning Point" (in which Marlowe played gun crazy John Wesley Hardin), "Hotel de Paree: Sundance

and the Kid from Nowhere", "Law of the Plainsman: Show-Off" (an imitation Billy the Kid), "Have Gun Will Travel: Duke of Texas" (as a spoiled young prince) and "Hanging of Roy Carter" (a kid about to be hung), "Wagon Train: Gabe Carswell Story" (as a bitter young half-Indian who hates all white men), and so many others on "Gunsmoke", "Zane Grey Theatre", "Stoney Burke", "Bonanza", "Rawhide", "Lancer" and "Cade's County".
Lisa Montell co-starred with Scott in "Cheyenne: Apache Blood" and told WC, "He was very cute; nice guy. I loved him with his long Apache hair. Very disappointed when the script required him to cut it off. Oh—and I had a great 'kiss' with Scott."
Marlowe brought his J.D. persona to "The Young Guns" ('56 Allied Artists) with Russ Tamblyn, Gloria Talbott and Wright King who recalled for WC, "Albert Band wrote and directed that good memory in my crazy movie career. Scott was one of those friends you meet after days, weeks, years and immediately pick up from where you last met. He was a surreal character and so intense but always with a sense of humor. He took a lot of chances as a professional actor, often resulting in some interesting highs and lows. I can still see him holding on for dear life as he galloped down the trail on what had to be his first encounter with a horse. Early in our film days when Scott and Natalie Wood were an item, he brought her to dinner at our place. They, my wife June, and I hit it off at once and it was a memorable evening. He was a good friend and a gentle person."
"Those early movies made me somewhat of a teen icon," Marlowe once said. "Kids in those days enjoyed defying authority. I never really enjoyed going out on the town much, I didn't drink and smoked only occasionally. The studios in those days wanted their stars to act on and off the screen. As I was a rebel (on-screen) I had to behave like one."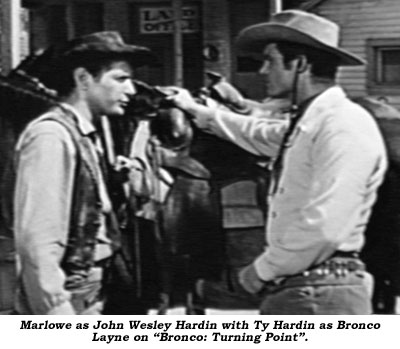 As to his westerns Marlowe recalled, "Those cowboy shows were made in the hills above Hollywood or on the back lot. More often than not the entire show was filmed in little over a week. Scenes were printed on the first take. If you fell off your horse the director kept it in, as it was a lot cheaper to alter the script (than reshoot). Shows like 'Gunsmoke' are watched all over the world."
Marlowe, born June 24, 1932, in L.A., was a well-behaved child, good at academic studies, but when he started to find his way into film work it was the Hollywood studios that saw him as a "rebel" and told him to drop his nice guy image. After working in local theatre productions Marlowe fell into his first movie while visiting a friend who was working at 20th Century Fox. The director of "Attila" ('54) spotted him on the lot and asked if he wanted a bit in the film. From then on, through 1999, Marlowe was seldom out of work. His motto was, "It's better to be seen in something than not to be seen at all." If he wasn't in a film, he was working live theatre across the U.S., including a fine performance in "Death of a Salesman" at Chicago's Civic Theatre.
At only 68, Marlowe died in L.A. January 6, 2001, of a heart attack.