The Frankenstein monster. Petro—the "Mad Monster". Sam the bartender on "Gunsmoke". Tested for the role of Tarzan. Dick Foran's sidekick "Pee Wee". Fiddle player and noted songwriter. Veteran of nine serials including "Flash Gordon". Butch Cavendish who ambushed Clayton Moore on TV's "Lone Ranger". But most of all, 6' 3" Glenn Strange was a B-western badman in over 200 features.
Born August 16, 1899, in Weed, NM, of Irish-Cherokee parentage, his father was a bartender and a rancher. (No wonder he looked so natural as Sam the bartender on "Gunsmoke".) A little known fact is that Glenn was a first cousin to B-western sidekick Lee "Lasses" White.
Glenn quit school after the 8th grade to help his father in the cattle business, but after learning to play the fiddle at about age 12, he started drifting around the country with various type shows. Glenn did a brief stint as a heavyweight boxer (Eddie Dean says Glenn was a protégé of Jack Demsey until he broke his hand) and worked briefly as a deputy sheriff in New Mexico.
Glenn started in radio in El Paso in 1928, eventually hooking up with the Arizona Wranglers, a group who at the time included musician/actors Jack Kirk and Cactus Mack. The group could be heard on KNX radio, Hollywood.
Glenn can be spotted playing fiddle with Kirk, Mack, Charles Baldra, Charley Sargent and other musicians in such '30s B-westerns as "Lawless Range", "Stormy", "Westward Ho" and "Cyclone of the Saddle". You'll even see him during his later "Gunsmoke" years playing the fiddle at some Dodge City social.
Glenn worked for a while as a rodeo rider, which is where he picked up the nickname Pee Wee. (He talks about this in the following interview.) Riding rodeo, he spent time with Hoot Gibson's rodeo at Saugus, CA. (Gibson bought the Baker Ranch and Rodeo in April '30.)
Strange remembered Hoot helping him over the rough spots in his first film. Hooter's "Wild Horse" and "Hard Hombre" were Glenn's first two features. Although "Hard Hombre" was released first, "Wild Horse" was filmed a month or so prior, but released later in '31.
His roles were chiefly unbilled bits from '31-'35. For one picture Strange remembers Buck Jones insisting he stay in bed on the second day of shooting when Glenn awoke with the flu. Jones put on Glenn's wardrobe and did his riding for him.
Besides outlaws, he was Dick Foran's buddy, Pee Wee, in several of Foran's Warner westerns and portrayed sheriffs in several films as well, such as Bob Baker's "Honor of the West".
Over the ensuing years Glenn worked with nearly every western star but for whatever reason he was on screen more for Warner Bros., Monogram, Universal and PRC than he ever was for Republic where he only did about 20-21 with several of those being lesser roles in '50s A-westerns. One of his standouts is as the dim-witted killer, The Maverick ("That ain't friendly"), in the Range Busters' "Boot Hill Bandits" ('42).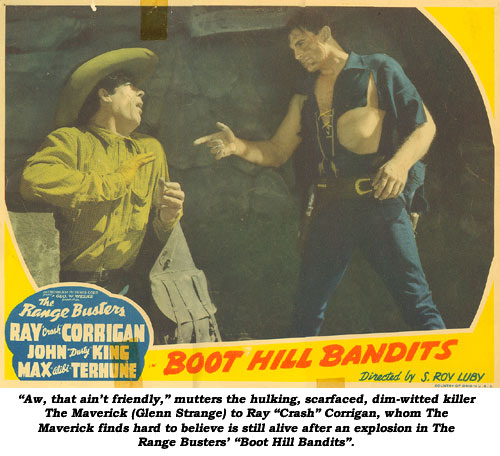 .
While still appearing in scores of westerns, Strange won over the horror audience by becoming the Frankenstein monster in three Universals—"House of Dracula", "House of Frankenstein" and "Abbott and Costello Meet Frankenstein". He also appeared as the monster with Abbott and Costello on their "Colgate Comedy Hour".
Glenn's early musical training allowed him to compose several songs for films, the most recognized being "On the Banks of the Sunny San Juan" which he wrote with Eddie Dean who performed it in "Wildfire" ('45) and "Harmony Trail" ('44). Smiley Burnette sings it in "El Dorado Pass" ('48). Other Strange songs were sung by Tex Ritter ("Renegade Song") in "Hittin' the Trail" ('37), Eddie Dean's title song to "Tumbleweed Trail" ('46) and Dean again ("Sands of the Old Rio Grande") in "Stars Over Texas" ('46). Earlier, Glenn contributed music to John Wayne's "Westward Ho" ('35) and "Winds of the Wasteland" ('36).
Still making feature films, Glenn entered the early days of TV in '49 as he waylaid Clayton Moore and a group of Texas Rangers on the first three continued-storyline episodes of "The Lone Ranger". He returned as Butch Cavendish a year later in the "Never Say Die" episode. He was also seen on nearly 100 other TV western episodes of "Cisco Kid", "Kit Carson", "Gene Autry", "Annie Oakley", "Buffalo Bill Jr.", "Cheyenne", "Sugarfoot", "Rawhide", "Hopalong Cassidy", "Rifleman", "Judge Roy Bean", "Rin Tin Tin", "Sky King", etc.
Glenn came to "Gunsmoke" when he met James Arness in '59. Jim asked when he was going to do an episode, explaining he liked to work with tall guys and Glenn fit the bill. Glenn's first "Gunsmoke" was "Old Faces" in March '61, but he didn't become a regular as mild mannered, craggy-faced Sam the barkeep for Miss Kitty until the next season's shows in Fall '61. He continued with the show until his death September 20, 1973, at 74.
Archivist/actor Bob Burns told WC, "Glenn was closer to me than my own Dad. He was one of the most loved guys in the business. At his funeral there must have been over 900 people. It overflowed the church. Every old-time western actor or stuntman still around was there. Some were in wheelchairs, walkers, etc. They all came to pay their respects to Pee Wee. Dick Foran, who had just lost his nose to cancer, said to me, "He was one of the best human beings on the face of this good earth." (A few months later Dick was gone.) Eddie Dean was Glenn's best friend. He was supposed to sing at the funeral but was so distraught he couldn't do it. Luckily, he had prerecorded it just in case that happened and they played that. And what a wonderful guy Jim Arness is. At the funeral, he really helped me get through it. We were honorary Pallbearers and I was doing pretty well until we had to move with the coffin and I completely fell apart. He put his arm around my shoulder and said how much we would all miss Glenn. The way he said it and the look in his eyes was so comforting to me. I'll be forever grateful to him for that. Glenn so loved Jim. He kept Glenn working when he had his cancer until he just couldn't work any longer. I think that's really a measure of a man."
On the 1/21/74 episode of "Gunsmoke", Robert Brubaker as Floyd has replaced Sam. When Nehemiah Persoff asks the whereabouts of Sam, Floyd replies, "We lost him awhile back…everybody around here misses him a lot."

Prolific B-western badman Glenn Strange sat down in Burbank, CA, with four guys on June 16, 1965, for a lengthy discussion of his life in movies. The interviewers, Don Glut, Bart Andrews, Bob Burns and Larry Byrd, were primarily interested in Strange's horror film work as Frankenstein and in PRC thrillers such as "Mad Monster", however, the subject of westerns was just too prominent in Glenn's background to keep many delightful stories and anecdotes from being related by the genial giant. The freewheeling conversation rambled from one subject to another, so for WC purposes, we've simply given each topic a designation and let Glenn do the rest.
Topic: Yakima Canutt—
GS: I never, in all the time I worked with Yak, I never saw a guy get hurt if they did what Yak told them to do. They tell me Yak got hurt one time over at MGM, a mule fell back on him—on "Boom Town". That was just a freak accident thing, but I'm talking about things he would rig up. For instance, he'd hook a four-up to a wagon, then come down a road and you'd see him bend 'em, he had a way of pulling the king pin which let the horses loose and he'd go with the horses and the wagon would just pick itself up and wrap itself around a tree. The guy somehow had a knack for rigging the thing where he got just the effect he wanted. He'd jump from the stagecoach boot to the first team, then the second team, then go underneath and crawl back up on the coach again. He's a perfectionist when it comes to figuring out a stunt and how to get the maximum out of it. Still, it's safe for everybody involved in it, if they do what he tells them to do.
Topic: Favorite picture—
GS: I did a fight picture with Buster Crabbe, "The Contender", and I did his friend—his buddy. I was an old time fighter and I trained him. I liked that, it was a human interest thing. I also liked "Texas Carnival" with (Red) Skelton. I did a lot of westerns with Dick Foran at Warner Bros. At the opening (credits), they'd show a picture of Dick, then a picture of me, Glenn "Pee Wee" Strange. (Laughs) I got that name way back during when Hugh Strickland was World Champion Cowboy. My brother and I was rodeoing then, and Bud was bigger than I am. We went to the Fort Worth Fat Stock Show. Hugh was announcing and he announced us as we'd come out, and why Hugh did it, I don't know…my Bud came out before I did and he called him Puny. (Laughs) He was as big as (James) Arness! Then when I got ready to come out—Pee Wee! (Laughs) Puny and Pee Wee—and we never lost those names, not ever. I was still rodeoing when Warners pulled me over there with Foran. (Director) Breezy Eason knew me real well, the producer knew me real well, so they said, "Most people know you as Pee Wee, we'll just call you that." Breezy was a good director, as well as a second unit man. Mike Eason, his brother, was usually the assistant and they worked real good together. When we started over there, Noel Smith directed, then Breezy came along and he directed 7 or 8, maybe 10… Ross Lederman directed a few of 'em. Mostly Breezy directed 'em. (In actuality, D. Ross Lederman only directed the first picture in the Foran WB series. Noel Smith directed 5 and Eason only 3.—ed.)
Topic: Where a lot of PRC pictures were filmed—
GS: Kinda in behind Columbia Drug now (in 1965), there used to be a passageway to the left. You walk down the main entrance to Columbia Studios, you turn left and went into an office there, and this was a stage in back of—where the barber shop is—all along there, that frontage was for storage, but behind it was a stage. Norman Sedgewick owned this stage. That's where we did a number of the Buster Crabbes, Lee Powell and Jack Randall…right out of there. A lot of the Range Busters was done right there. PRC started Grand National and Grand National was where—oh, that old studio down there on Santa Monica Blvd. just beyond where ZIV used to be, that's where Grand National started. Of course, all our locations were Iverson's or Ray Corrigan's or out at the old Monogram streets. Sig and Sam (Neufeld) were a couple of wonderful guys…Bert Sternback…we'd do a lot of these small westerns in a week…8 and 10 days. Then the Hoppys took better than two weeks, sometimes 3 weeks. Of course, when I was over here with Dick Foran, we'd spend 3 weeks on a show.
Topic: Injuries and accidents—
GS: I got my leg broke. When you're sitting in a stagecoach and the horses are running just as fast as they possibly can run, and the door is wired—you can't get it open—and nobody up there to drive 'em, that'll give you kind of a rough feeling. That was a Charlie Starrett movie—one of those Durango Kid things. I was doing the heavy in it. Ted Mapes had been doubling me that day. He'd made all these wild rides in this coach and they came to the place where they were shooting a closeup of me over Starrett's shoulder…he was on a parallel on his horse. They're shooting over his shoulder into the coach on me. Horses bolted, took off with me in there. I wound up in Cedars of Lebanon Hospital with a leg smashed all to pieces including the knee joint. I'd come off every pinnacle in the country and horse falls—of course you're always leading the pack if you're the heavy—I've had horses fall and the whole pack run over me.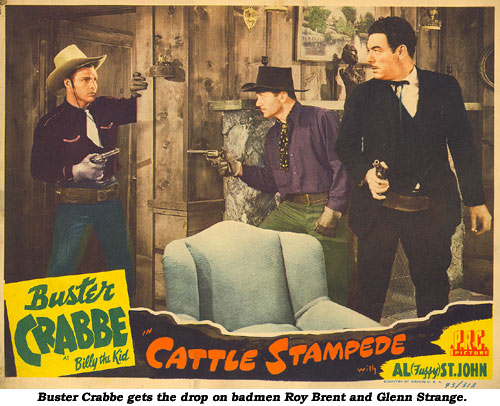 One time, on a Foran picture up at Chatsworth, we were coming right down between two rocks, just about room for a horse and man to get through. I had a guy coming from the other way with what they call a falling horse—they cue 'em, you know, and they fall. He was to fall that horse here (indicating with a finger) and we'd go right by him. Well, the horse, they cued him a little late and he fell right across our trail. My horse's front feet hit him and turned over with me. It was on the side of a hill and I was afraid he'd roll over on me. I reached under the side of his head and grabbed the bit and jerked his head down against the ground so he wouldn't come on over. I was laying there seeing these other horses turning over me. There was seven of us and nobody got hurt! Every horse was down and every man was down.
I was up at Sonora, CA, one time, out at a place called Phoenix Lake. It had been up but the water had receded. There were round driftwood sticks (or logs) laying around. I was chasin' a stagecoach. The pony I was ridin' was about a half quarter horse. He could really fly! Jumped this log with me, and when he lit on the other side, his feet hit on one of these driftwood sticks and the thing rolled out from under him. This is on film, he went right over and hit on his nose, in fact, broke his nose. I thought he was gonna bleed to death. Of course, he lost me on the first turnover. He lit on his hip and turned completely over again. I hit into some rocks and sticks and it knocked me goofy for a minute, which it didn't have to knock me too hard. (Chuckles) To show you how things work out, I got up and grabbed the gun, I'd lost my gun which I'd had out and was shooting, and my hat, and got on this horse as he was getting up and rode about 40-50 feet out of camera range and fell on my face. I was still out! It's on film with Bob Baker. ("Last Stand" '38 —ed.) I rode the rest of that picture with two broken ribs from that fall. What a hurt I had!
We went to Arizona in early 1930, some independent company. I jumped this horse off of this cliff—and I tried to leave him, but it's a little hard if you've never tried this, when a horse is falling and you're falling with him, you try to get off him—but I did somehow and I never straightened up. I just lay up there like this (erect motion) and that's the way I hit the water and I don't think I ever went under. You talk about being blistered—I just bounced! They had a coupla boats together and had kind of a raft built across that with cameras on it. They had a camera on the shore shooting up this way and they had a camera for the take-off back here. I never stunted very much, I just stunted a little-while and then started trying to act… and I'm still trying. (Chuckles) It was the last day's shooting on this picture, just after lunch. They had to go back and get a heavy and shoot all of my stuff over because I couldn't finish the picture. You can imagine what it cost to do that. That's why they double. Many stars can do stunts, but (the studio) can't afford to let 'em try, if anything happens, they're in Dutch.
Big Williams picked me up one time and threw me through a plate glass window—wasn't glass, it was candy—over here at Warners. Big was as strong as a mule! He like to killed me in "The Desperadoes"…big saloon fight. He threw a chair at me, I ducked and it stuck in the back bar and stayed there! (Laughs) We were doing this fight and they called lunch. You always go eat and come back and finish it. Big was to dive at me, he's to sidestep, hit this bar and crash it, go thru it. And that'd be the finish of it. Well, they're always pullin' a stunt on somebody, and Big would sure pull one on you. Now they had this all fixed with balsa wood, so while we were gone to lunch they put a piece of plywood back in there and took a 2x4' and put it against it and jammed it over against the set, and here come ol' Big like a big bear—BARROOOM—and he just bounced back! (Laughs) Now this director (Charles Vidor) didn't like any foolishness at all, he was strictly everybody-pay-attention-to-what-I'm-doin'. Of course, Big, he had to tell his stories. (Laughs) He and I and Glenn Ford were up at Kanab, UT, and the clouds had come in. In those days you couldn't shoot unless you had the sun. The director says (affecting accent) "Villiams, what's-a-matter wit you?" Vidor was always bawlin' everybody out. Big says, "Now, I wanna tell you somethin," he had his arm up around this old bald-face horse he had, ol' Comanche, "By God, don't you get tough with me or I'll throw this damned old horse at you." What made it so funny, Big was about strong enough to do it! And Vidor had to laugh. (Laughs)
Topic: Jokes and Gags—
One time up at Monogram Ranch, it like to got into somethin' serious. They had a café on the old Monogram Ranch where they'd feed us. Gloria Spreckels—Jack Randall was going with Gloria then and she was gonna come up and visit him and she brought her friend along. So before they got up there, Jack and Bob Woodward and myself—now Jack wanted to pull this thing. What they did—they got a table together, Jack and Bob and the two girls. Bob was tellin' Jack about me, he says, "I've taken all off this guy I'm gonna take! I just will not take any more off of him! The next time he pulls a stunt like this there's gonna be trouble, that's all!" Now they tell me all they're gonna say and we've got it all made up what we're gonna do. We've got the makeup man over here at the door with a blood sponge and Bob's (gun) is loaded with blanks. I came in, walked around behind Bob. He'd buttered a piece of bread, started to take a bite. I just reached around, caught his hand and splat—just ground it in (his face). (Laughs) He jumped up and whirled toward me, of course he's got his back to them. Now the guy that runs the café doesn't know anything about this. So I bust him (Bob) one, and he made it so real he went right back into the food! I just turned and walked toward the door. He yelled, "Draw you SOB!" I whirled around and got just about so far before he just—KA-BOOM—and down I come! I didn't even touch my gun. I hit the floor a-screamin'! This makeup man came a-runnin', grabbed my head and turned my face toward him and gets this (fake) blood all a-runnin'. Ye-Gods! Now here's old Chuck that ran the café out here with a .38 right in ol' Bob's face and he's just about ready to pull the trigger! Oh Brother! Of course, they had to get the wardrobe girl for the girls! (Laughs) Oh Brother! One wound up under the piano. But that (joke) like to backfired! Ol' Chuck was shakin' like a leaf with that .38—and it was loaded for really!
Victoria Vinton would like to do dramatic stuff but they cast her in this Dick Foran western as my girlfriend ("California Mail" '36). We had to dance together. She was a little ol' short thing. Well, Foran and Curley Fletcher got a piece of limburger cheese, put it on a little stick and shoved it down my vest pocket. (Laughs) We started to dance and 'course she just (sniffs) in the scene… 'course the director (Noel Smith) is in on this. I didn't know what was going on! He bawled her out, "C'mon now, you're supposed to be sweethearts," and so on. And she says, "Well, he stinks!" (Laughs) And that made me mad and I said, "Well, I hadn't noticed you smellin' like a rose!" (Laughs) Of course, everyone's dyin' (with laughter). So we went to lunch, I picked up a menu, leaned over and said, "Ugh. I smell somethin'!" It didn't smell good at all! I kept foolin' around and finally found it in my vest pocket! Hunk of limburger cheese! Poor little ol' gal had her nose jammed right in my vest pocket. (Laughs)
Once, when Steve Clemente was throwin' knives at me in a short, he had me pinned to this board. They told me, he's gonna throw a coupla knives, he's real good. I said, "I don't know. I don't like it." They said, "Look," and they let him throw a few at a chalk mark on the board and he stuck every one of 'em right in that mark. "See what I mean, you don't have to worry about it." Well, he started throwin' 'em and I couldn't move. It was on one side, then he crossed one there and one here…the handle was right out here in front of my face. Now we're not through, and they call lunch. They made sure Steve sat right beside me. He picks up this menu and he goes (makes like he can't see it)…he holds it up here and he holds it out here and over here—Ye Gods! And the guy's been throwin' knives at me! (Laughs) I said to the director, "That's all of that! The guy can't even read that damn menu! And he's throwin' knives 20 feet!" Director says, "Well, he can't see close but he sees well over there!" 'Course they finally had to tell me it was a gag…'cause I wasn't gonna get back up there!
To hear the complete audio interview with Glenn Strange, locate the Image DVD "Tales of Frankenstein". The center-piece of the disc is a complete print of the 1958 TV pilot, "Tales of Frankenstein", but the bonus features include not only the lengthy Strange interview, but audio and/or video interviews with Boris Karloff, Peter Cushing and others as well as trailers for virtually every Frankenstein film ever made.