Pierce Lyden said Roy Barcroft turned his parts "into the deserved title, King of the Badmen."
Terry Frost called him "one of the nicest people I ever met in the business."
Monte Hale wrote that Roy "was the most likable, kindly, soft-spoken gentleman you ever crossed trails with. But when the cameras started rolling, he was the meanest, low-down, orneriest son-of-a-gun on the face of the earth. He always made the leading man look really good, no matter with whom he was working. He could always handle his part with the best of actors."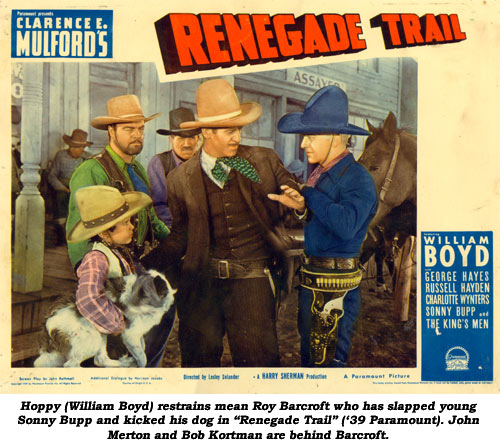 Rex Allen smiled, "When I think of Barcroft, I think of him coming to work on a motorcycle, roaring through the front gate. Off screen, he was the nicest, big, old Saint Bernard you could ever want to be around. I had a very high respect for his acting ability and his photographic memory. He was a real pro."
Sunset Carson remembered, "One of the greatest you'd ever want to meet. He enjoyed a good laugh and was always telling jokes and pulling tricks on somebody. He enjoyed parties, hanging out with the guys and riding his motorcycle."
Eddie Dean recalled, "He was a musician, too. He enjoyed a jam session and played the clarinet and saxophone really well."
Tris Coffin said, "He was as beloved as anybody in the entire business."
Peggy Stewart calls him "a wonderful guy."
"You never met a nicer guy than Roy Barcroft," Harry Lauter commented. "And he was a fine actor. I'm sure he would have gone on to greater things if he hadn't gotten typed as a western heavy."
Fellow badman I. Stanford Jolley smiled, "Wonderful Roy Barcroft. We were the top heavies in 'Desperadoes of the West'. We made things tough for cowboy star Tom Keene, whom for some reason we never learned, used the name of Richard Powers in the film. Roy and I were friends socially as well as on the film set. We and our wives would often travel to Las Vegas together. Roy loved to play roulette. He had a 'system' and would sit at the tables for hours. He often liked to talk about a book he planned to write but never did. He wanted to entitle it, 'A 1,001 Ways to Lose at Gambling'.
Roy Rogers referred to Roy as "almost like family. He was a great actor. In his personal life he was just the opposite of the villain he portrayed. He was loving and kind as well as a comic at times. He looked mean, but he wasn't. Roy was one of the nicest guys I ever worked with."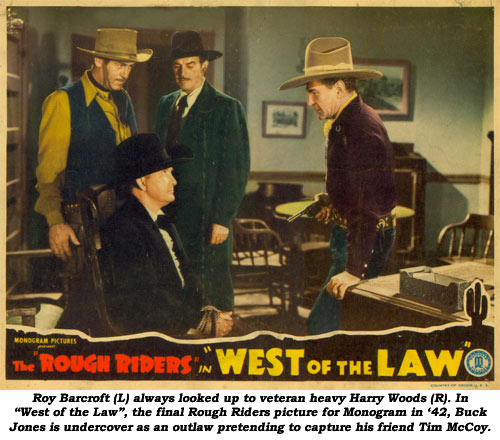 Howard Harold Ravenscroft was born September 7, 1902, the youngest of seven children, to William Ravenscroft and Lillian Williams, both from Illinois. According to Social Security records in '37, Roy listed his birthplace as Omaha, Nebraska. However, close friends knew he was born in nearby Crab Orchard, Nebraska, and merely listed Omaha as his birthplace due to the city's greater name recognition. Weeping Water, Nebraska, is also often listed as his birthplace. The two small towns are near one another, so it's likely he was born in-between the two sites on his father's farm where he grew up.
After his father died when he was 13, Roy lied about his age and at the young age of 15 he managed to enlist in the U.S. Army at Lincoln, Nebraska, and was sent to France with the A.E.F. during WWI where he was wounded in action and returned home at 16 for discharge. He then spent about four years wandering, working at odd jobs—short order cook, dishwasher, oil well roughneck, gandy dancer (laborer on railroad tracks), truck driver, and a sailor-fireman on a tramp freighter in Constantinople. Sometime during this period, while working on a ranch in Oregon, he met his first wife by whom he had two children, a son and a daughter. They were divorced in '31.
Earlier, in 1923 he re-enlisted in the Army, serving until 1926 in Hawaii and at Fort Lewis, Washington. During his time in the service he learned to play the clarinet and saxophone, playing professionally after leaving the Islands in '26. He played with various bands around Chicago until the market crash of '29 at which time he packed up his Model A Roadster and he, his wife, and child headed for California, establishing a residence in Culver City near several movie studios. There was a call for well-drilled ex-soldiers so, curious about the industry, he obtained an extra part in Greta Garbo's "Mata Hari" ('31).
For the next six years, during the Great Depression, Roy worked for two years in a tunnel for the Metropolitan Water District bringing water to L.A. and spent the rest of the time selling radios and automobiles. In order to improve his sales, he took a course in public speaking where a friend suggested dramatics. He appeared in several little theatre productions where, one day, an agent offered to represent him.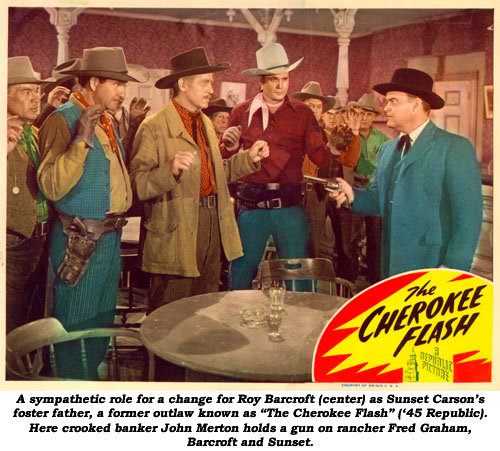 Roy's first real film role was in the Republic serial "S.O.S. Coastguard" in July of '37. He was paid $66 per week.
Meanwhile, in 1932, Roy married again, to Vera Thompson. They had one son, Michael.
Roy's rough voice, tough look and demeanor were perfect for heavy roles in B-westerns and Barcroft spent the next 33 years in the film business.
As to his name, Barcroft once explained, "My real name was Ravenscroft, but it was too much for the marquee, or for anybody to pronounce correctly, or remember. So I thought I'd like to keep part of it. All this went through my mind. I thought. 'Well, let me see now…I could keep Croft and I'd like to be high on the alphabetical list.' So instead of being way down in the R's, if somebody was looking for an actor, they'd be going down the line, and they might come to one, and never finish the list. So I thought I'd like to be up there fairly high, which is the B's, and I thought I'd choose a name no one else had in the business, but kind of similar to an actor who is well established…like George Bancroft. Then they would, maybe, say, 'See if you can find a guy's name something like Bancroft.' Then I thought, 'What's a better three-letter first name; make it short for the marquee, or whatever it was.' So I came up with Roy Barcroft; it sounds like a heavy."
His first western was as one of the heavies in Johnny Mack Brown's Universal serial "Flaming Frontiers" ('38). Barcroft worked steadily at Paramount, RKO, Monogram, Universal and Republic for the next several years.
Reminiscing to writer Ken Jones for WESTERN FILM COLLECTOR in 1973 Barcroft said, "I will never forget my first 'chase'. I thought I could handle a horse. In this scene there were 15 horses involved and some of the best western players, men like Charlie King, Karl Hackett, Ethan Laidlaw, Kenne Duncan and Yakima Canutt. We started on top of the hill. The shot was fired which was the signal for the horses to go…and they did! I was in the middle of the pack and down the steep side we went, across an open grassy prairie, some cactus, ditches, prairie dog holes, over boulders and into the river. I won't try to say what went through my mind, but one thing was for certain; if I intended to remain in western pictures and all in one piece I was going to have to learn how to really ride. I sneaked away and practiced riding and falling by myself time and time again until I was accepted by the others. I can look back on some pretty miserable days when it was cold, windy and dusty and we 'chased' all day long and wore out three or four horses. That night it was Epsom salt baths and liniment. I think I liked the roles best where I could be the dirtiest, meanest, unkempt individual possible, such as the film 'Night Train to Memphis' with Roy Acuff in 1946. I also enjoyed films where the costumes were elaborate such as 'The Purple Monster Strikes' and my own favorite, 'Manhunt of Mystery Island,' both serials."
Having performed well and developed a following, Barcroft was signed to a term-contract at Republic on July 7, 1943. Over the next 10 years his salary rose from $125 a week to $300 a week. His contract ended July 11, 1953.
Before joining Republic exclusively, Barcroft had already worked in 17 serials at Universal, Columbia and Republic. Beginning in '43 he became Republic's prominent serial badman, appearing in 19 serials for them through 1954. His personal favorite was as Capt. Mephisto in "Manhunt of Mystery Island".
Barcroft remembered for writer Ken Jones, "There was always a lot of horseplay with the movie crew during the filming of a feature. One didn't dare lie down on a hot rock for a nap for fear of a hot foot or having his spurs wired together or having a nice, warm snake released across your chest. The western actors were a great bunch of guys. I took it in stride the times when they loosened my saddle cinch just before running out of a saloon for a fast getaway…or even better yet riding up alongside of me in a wide open chase and taking off my horse's bridle and handing it to me."
When his contract ended at Republic in '53, Roy, continuing to play badmen, easily moved into television on "Annie Oakley", "Cowboy G-Men", "Kit Carson", "Fury" and "Lone Ranger".
In later years stuntman Whitey Hughes remembers how Roy Barcroft "built his own home out there in the San Fernando Valley with his own hands then complained about having to work real hard to keep from getting taxed out of it."
Gaining a little heft, Barcroft began to play sheriffs, lawmen and other characters on TV westerns such as on "Have Gun Will Travel", "Trackdown", "26 Men", "Tales of Wells Fargo", "Maverick", "Laredo", "Gunsmoke", "Johnny Ringo", "Rifleman", "Shotgun Slade", "Rawhide", "Bonanza" and others. For Walt Disney in the late '50s Roy worked regularly on "Spin and Marty", "Elfego Baca" and "Texas John Slaughter". On theatre screens he played character roles in some 40 major westerns of the '50s and '60s—"Oklahoma" ('55), "Man Without a Star" ('55), "Domino Kid" ('57), "Escort West" ('58), "Six Black Horses" ('62), "Way West" ('67), "The Reivers" ('69) and his final film, "Monte Walsh" ('70), released after his death on November 28, 1969, at the Motion Picture Hospital in Woodland Hills, California, of kidney cancer. His body was donated to UCLA for research.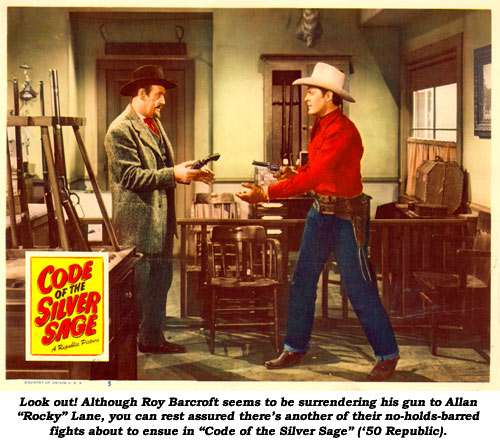 The incredibly prolific (310 movies, over 110 TV shows) and talented 6' 2", 200 lb. Roy Barcroft always managed to bring something extra to his western badmen, making him stand out when the script often had little to offer. His screen fights with Allan "Rocky" Lane in 38 of Lane's 51 films are legendary realistic brawls. Without a doubt, Roy Barcroft tops the Best of the Badmen list at #1.