Reviews and Observations on

Silent Westerns

by Boyd Magers
As the forerunner of the sound westerns we all enjoy, the silent westerns that still exist deserve our consideration and attention. As seemed to be the custom of the day, you'll notice in silents many of the cowboy heroes mix light comedy with hard action. This style was carried over into talkies primarily by Hoot Gibson, but to a lesser degree by Ken Maynard and Buck Jones, eventually giving way to straight action from the star of the film with the comedy elements left to the sidekicks (Gabby, Fuzzy, Smiley, etc.) Silent westerns also exhibited stronger roles for women and usually more romance than in the sound era B-westerns.
For specific stars or titles, use your "Find on this page" feature on your computer.
The
Ratings

Well above the norm and definitely worth a look

Above Average

Average

Very little of Interest




Not Worth
your time!
Posted 4/25/09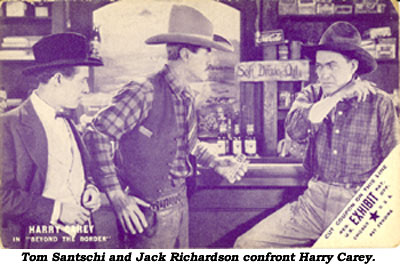 BEYOND THE BORDER (1925 PDC) 55 minutes
Above average production on all counts as sheriff Harry Carey finds himself aced out of his job while he is away capturing bandit William Scott. Crooked politico Tom Santschi has rigged the election so his man, gunman Jack Richardson is now sheriff. Scott reveals to Carey that he has been using an alias and both men are actually named Bob Smith. With Scott's sister Mildred Harris, due to arrive from back east, so as not to let her learn he is an outlaw, Scott persuades Carey to let Harris believe Carey is actually the brother she hasn't seen since childhood. Mixed up with Santschi's gang, Scott is convicted but Santschi promises him Sheriff Richardson will let his escape on the way to prison. Doubling crossing Scott so he won't be able to speak against Santschi, the crooks plan to kill Scott on the way to prison. Learning of the plot, Carey rescues Scott and takes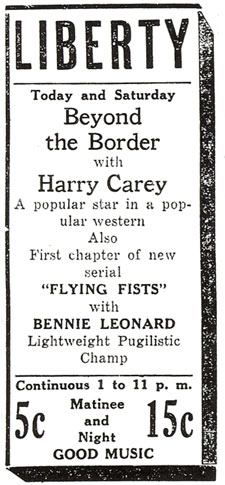 him to his ranch where Harris eventually learns who her real brother is. The doublecrossed Scott, wishing to go straight, reveals what he knows about the crooked Santschi allowing Carey to regain his sheriff's position and put Santschi and Richardson where they belong—behind bars. Harris now has her real brother and the man she has come to love—Carey. PDC (Producer's Distributing Corporation) released about 100 features from 1924-1928 before being absorbed by Pathé. Director Scott Dunlap (1892-1970), the son of actress Louise Dunlap, got into the movie business in his '20s circa 1915 as a location manager. He began directing silents in 1919 and turned producer with the advent of sound. At Monogram he headed up B-westerns with Jack Randall, Tex Ritter, The Rough Riders and Johnny Mack Brown. He was with Buck Jones when Buck tragically died in the Cocoanut Grove fire in Boston. Dunlap was injured but escaped and, unfortunately, he is the man most responsible for starting the absolute myth that Jones went in and out of the blazing inferno saving people. Apparently, Dunlap thought it would add some sort of heroic stature to Jones' legend. Truth is, Jones did not come and go from the fire, but was trapped inside and horribly burned. He died two days later. In all, over 500 people died in the fire that led to many of the fire laws in place today.

CYCLONE CAVALIER (1925 Rayart) 55 minutes
Western conventions are transposed to Central America in this comedic drama (with the emphasis on comedic) in which Americano adventurer Reed Howes and his slapstick pal Wilfred Lucas foil the plot of revolutionary El Diablo (Jack Mower) to overthrow the President of Costa Blanca. Mixture of stunts and comedy leaves you feeling you've just watched a weird Laurel and Fairbanks clone.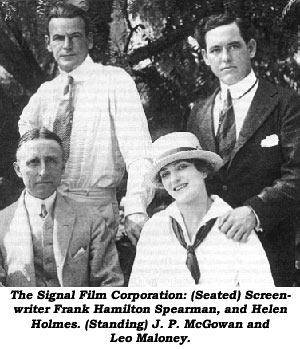 MISTAKEN ORDERS (1926 Anchor) 59 minutes
Not a western in the truest sense of the word, but all the trappings are here in one of director J. P. McGowan's action packed railroad dramas. Star Helen Holmes (1892-1950) specialized in hair-raising stunts that made her a favorite of silent-era movie goers. She scored a huge success in 1914-'15 as the original star of THE HAZARDS OF HELEN serial. She met and married McGowan during the serial and they formed their own production company in 1915, the Signal Film Company, which was dissolved when they divorced around 1926. MISTAKEN ORDERS, then, is one of their last collaborations. Holmes is the daughter of railroad VP Henry Barrows who, in order to straighten him out, has his playboy son Hal Waters assigned to the out-in-the-sticks Hynes station as night operator, replacing loutish Harry Tenbrook. Meanwhile, Jack Perrin, the railroad president's upright son, is installed in the main dispatcher's office. Irked at being replaced by an upstart, the bullying Tenbrook picks a fight with Waters, knocking him unconscious and causing Waters to completely miss a "hold" order dispatched from Perrin on a fast freight bound for collision with a passenger train. A wreck is narrowly averted but everyone believes Waters to have failed at his job. As Perrin and Holmes both race to the Hynes station, the guilty Tenbrook attempts to escape on a locomotive. Perrin and Tenbrook fight on the runaway locomotive as it barrels straight for disaster at an open drawbridge. Only the daring pluck of Helen Holmes can save the day!

BEYOND THE TRAIL (1926 Chesterfield) 46 minutes
Should have been titled BEYOND THE PALE! Dopey looking Bill Patton is the "tired hired man" on Eric Maynes' ranch. Far from your typical hero, Patton plays it strictly for laffs. The ranch hands all pick on him but Maynes' daughter Janet Dawn stands up for Patton, even to having him appointed deputy sheriff. When Patton finally does capture robber Sheldon Lewis, Maynes' foreman "with an evil eye" who has stolen the ranch payroll, it's like watching Fuzzy Knight or Roscoe Ates play hero. Beyond all that the film bogs down midway with a musical party scene in which Janet and others do the Charleston to a black piano player. Music and dancing in a silent? While all this transpires, Patton is off searching for dude clothes in a Rears and Sawbuck catalog. (Nothing more is ever made of that thought). Oh yeah—as a ranch hand posse rides after the payroll robbers we "hear" this exchange: "Do you know where we're going?" "No—but if we keep agoin' we'll get there." Ouch!
Posted 4/17/09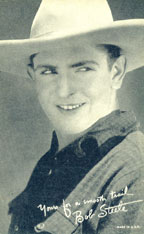 A TEXAS COWBOY (1929 Syndicate) 50 minutes
Not having heard from his mother in some time, Bob Steele returns home to find his widowed mother has remarried a big, loathsome brute (J. P. McGowan) who is plotting to cheat Bob and his mother (Grace Stevens) out of their ranch, curiously named the Bar 20. After McGowan hires crooked lawyer Alfred Hewetson to forge Bob's handwriting to a letter relinquishing all rights to the ranch, Hewetson threatens McGowan with blackmail but McGowan and his henchman, Bud Osborne, severely beat the lawyer. Bob finds the beaten Hewetson and, grateful, he tells Bob about the forgery sending him on the vengeance trail. Director J. P. McGowan makes good use of the Jauregui Ranch for his locations.



GIRL OF THE RANCHO (aka BOSS OF THE RANCHO) (1919 Bull's Eye) 10 minutes
As the undisputed 'Queen of the Nightclubs' the loud and brassy Texas Guinan was symbolic of the roaring '20s. In just 10 months her famous greeting "Hello Suckers" became a slogan of the prohibition era and earned Guinan a million dollars and credit from the NY TIMES for creating an entirely new social set—café society. Born Mary Louise Cecilia Guinan in 1884 she grew up on a ranch near Waco, TX. Her career began as a rider on the Miller Brothers 101 Ranch with her reputation further enhanced in vaudeville. In 1917 an agent signed her and several films were released by Triangle. Frohman Amusement Corporation signed Texas for a series of two-reel westerns in 1918. The Frohman series was followed by releases for Bull's Eye, Capital and Victor Kremer Prod. from 1919-'21. These shorts brought her

national fame as the female William S. Hart and led to her own production company, but insufficient financing caused the company's downfall and Texas left Hollywood to appear in a musical play at New York's Winter Garden Theatre where she met impresario Larry Fay. As partners, she and Fay opened a number of nightclubs which quickly became the center of NY nightlife and made Guinan legendary as the toast of Broadway. Arrested 49 times for operating high class speakeasies, it was the repeal of prohibition that eventually did her in. Texas made a few Broadway based films in the '20s but by 1932 her star had begun to fade. She hit the road in '33, making one night stands, and suddenly died of an intestinal infection in Vancouver, BC, on November 5, 1933.
In GIRL OF THE RANCHO, an action packed thriller, Texas runs a ranch and spurns the advances a Mexican who wants to marry her. He seeks revenge by kidnapping Texas' kid sister. Guns blazing, Texas rides to the rescue. This one-reel appears edited down from an original two-reeler.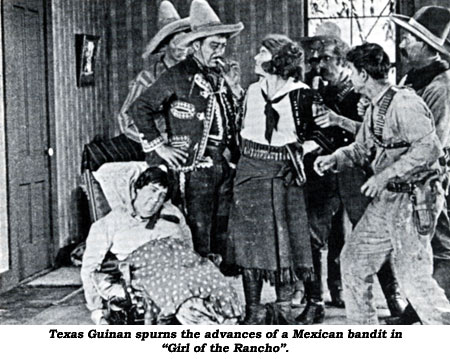 Posted 3/1/09


CORPORAL JIM'S WARD (1922 Irving M. Lesser) 25 minutes

New York born Irving Cummings began his career on the Broadway stage and entered films in 1909 as an actor. A leading man in the early '20s, he began to produce and direct as well, including an excellent series of Northwest Mountie shorts. In this one he befriends a young girl who has taken up with moonshiners after her father died. All the Cummings two-reelers are expertly photographed and well directed, showing Cummings' talent which led him to such sound successes as IN OLD ARIZONA, BELLE STARR and many big, splashy Technicolor musicals at 20th Century Fox with Alice Faye, Betty Grable and Shirley Temple. Cummings was also one of the producers of the FURY TV series.


YOU'RE FIRED (1926 Goodwill) 58 minutes
Gene Autry Plot #101. Lazy ranch hand Robert McKenzie forgets to tell ranch owner Bill Bailey that Bill's sister sent him a letter telling Bill a group of her eastern-bred friends were coming west to spend their vacation on his ranch. Not quite knowing what to do when the dudes (Alma Rayford, Ted Lorch, Velma Watkins, Sam Bloom) arrive, Bill introduces himself not as the ranch owner, but as simply a wrangler. The usual comedy and romance shenanigans follow even to the extent Bill tries to throw a scare into the dudes by pretending he's a notorious local bandit. Then—oops—the real outlaw, Victor Allan, turns up in the last reel. Directed by Paul Hurst who became a noted character player in sound films and Monte Hale's sidekick at Republic.

NIGHT RIDERS (1920 Second National) 63 minutes
An eastern college graduate, a very non-heroic looking Albert Ray, comes west to study ranching and becomes involved with a blind ranch owner (Andre Beaulieu) and his daughter (Maudie Dunham) who are being plagued by white-robed night riding rustlers led by a man in a red mask. Very heavy-handed Canadian made western with a heap of soap opera thrown into the mix.
Posted 2/15/09

WALLOPING KID, THE (1926 Aywon) 67 minutes
Young pugilist Kit Carson is sent west by train to look after his father's ranch. Arriving, Kit sees shady ranch foreman Jack Richardson greet the "wrong" man at the train, assuming him to be Kit. Oddly, the stranger plays along with Richardson's mistake while Kit, overhearing their conversation, lays back, then masquerades as outlaw Doc Hargis and obtains a job with the crooked Richardson on Kit's own father's ranch. Not only does Kit eventually smooth things out at the ranch when "the stranger" reveals himself to be a range detective who's been after rustler Richardson, but Kit also saves pretty Dorothy Woods and her prospector Dad, Frank Whitson, from being victimized by Richardson. Written and directed by low-budget impresario Robert J. Horner who had both legs amputated at the hips while still a youngster. He got around on a platform with wheels. He'd sit on that and wheel himself around with his hands. He owned a car equipped so he could drive it with no legs. Horner was killed in a 1935 car crash that also took the life of juvenile player Junior Durkin. The celebrated Jackie Coogan was the only one to survive the crash when he was thrown clear of the wreck. Owned by Nathan Hirsh, Aywon, the lowest of the lowly, was founded in New York City in 1919 and operated til the mid-'30s. Kit Carson, so-named by Horner, seems to be trying for a Hoot Gibson light-comedic approach to his westerns, but comes off as a poor imitation. Born Elia Bulakh in 1899, after serving as a Cossack in the Russian Czar's army, he escaped from the Russian Revolution into China and a year later in 1920 to California where he became involved in the film industry with his earliest credited role as Elias Bullock in the Arrow serial DAYS OF '49 in 1924. Quickly changing his moniker to Boris Bullock he was in RANGE TERROR ('25) with Bob Custer. Horner liked what he saw in Bullock, changed his name to the more western Kit Carson and in '25-'26 starred him in a short series of westerns of which WALLOPING KID seems to be the last. Following the brief Horner series, Bullock assumed the moniker of William Barrymore, obviously capitalizing on that famous showbiz name, although he would still revert from time-to-time to the Boris Bullock billing. Under any name, the actor left films in '36 and was in the Navy in the '40s and worked for the L.A. Sheriff's Department as a jailer until he retired in '53 when he and his family moved to El Camino where he formed an acting group. He died in 1979 of respiratory failure in San Diego.




GALLOPING ON (1925 Artclass) 53 minutes
After unjustly serving two years in prison for a crime he didn't commit, Wally Wales returns home to find his mother's (Louise Lester) ranch has been seized by banker Richard Belfield. Wally also crosses paths with sleazy Charles "Slim" Whitaker when Whitaker tries to force his attentions on Wally's girl, Jessie Cruzon. Wally fights with Whitaker only to find himself once again in jail. As Whitaker and his gang rob the bank, Jessie releases Wally to pursue the outlaws which eventually reveals it was Whitaker who framed Wally into prison. His name cleared, his mother's ranch is returned to her. Once wild, inventive chase and rooftop fight between Wales and Whitaker is alone worth the price of admission. You'll hit rewind immediately to watch Wally's triple-somersault stunt again and again!


TEARIN' LOOSE (1926 Artclass) 12 minutes
For whatever reason these watered down edits often do not use the same title as the originals (although TEARIN' LOOSE was an original film title) nor do they use the same character names (in the onscreen "word captions") as the originals. Judging from the slight information available, these brief scenes come from either TEARIN' LOOSE or possibly DOUBLE DARING, both of which star Wales, Jean Arthur and Slim Whitaker. It's been suggested the scenes are from THE FIGHTING CHEAT but a brief synopsis from a 1926 newspaper clipping I have indicates otherwise.


LOST, STRAYED OR STOLEN (1923 Pathé) 24 minutes
Rancher Leo Maloney is in love with his neighboring rancher's daughter, Pauline Curley, but trouble is brewing when her father (Chief Whitehorse) won't extend the note he holds on Maloney until Leo sells his cattle. "Business is business," sez the old man. Chasing his pet kitten, Pauline's baby brother Joseph becomes lost in the woods. Learning of this, Whitehorse's unscrupulous foreman Bud Osborne, sees a way to get back at Leo after a disagreement and tries to frame Leo for kidnapping the boy so Whitehorse will cancel Leo's loan note.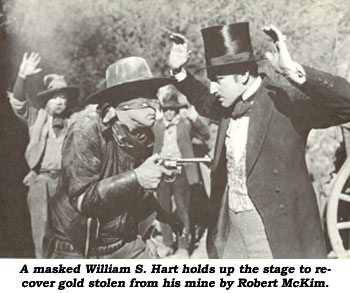 SILENT MAN (1917 Paramount/Artcraft) 47 minutes
After prospecting for gold in the Arizona desert for years, William S. Hart strikes it rich and comes to the small border town of Bakeoven to register his claim. Through connivance, saloon owner Robert McKim and mining company owner Milton Ross swindle Hart and jump his claim. McKim leaves Bakeoven and "marries" a young eastern innocent (Vola Vale) who has brought her kid brother (Harold Goodwin) west for his health. McKim keeps from Vale the fact he's already married and only intends to force her into working in his saloon. Striking back at McKim and Ross, Hart holds up the stage carrying gold from "his" mine, and in the process abducts Vale from McKim and houses her safely with a friendly parson (George P. Nichols) who reveals to Vale the truth about McKim. McKim burns down Nichols' church and then charges Hart with Kidnapping Vale. During the trial a sudden appearance by a U.S. Marshal who has been working incognito as a prospector (J. P. Lockney) to get the goods on McKim and Ross prevents Hart from hanging. Cowboy cancer alert: Hart smokes.

LAST CHANCE (1926 Chesterfield) 59 minutes
Outlaw Merrill McCormick and his gang rob the stage of the mail sacks and kidnap stage driver Harry O'Connor. Feigning his way into the outlaw's camp as a dude, postal inspector Bill Patton and his horse Buster manage to join McCormick's outlaw band as a lookout. When Dorothy Donald, O'Connor's daughter, comes looking for her father, she too is captured. Naturally, Patton saves the day. Written and directed by Horace B. Carpenter this is a pretty lame affair. Patton's serio-comedic escapades dominate far too much of the overly talky (if a silent can be deemed such) film. Just enuf material for a two reeler, unfortunately stretched to feature length. Little or no action til the final five minutes. Carpenter (1875-1945) came from the stage and broke into movies in 1914 as an actor. After appearing in over 40 films, his credits stop from 1919-1923, at which time he began acting once again, and continued to do so through 1946. His long, droopy black mustache made him a character fixture in over 360 westerns. From '25-'29 he tried his hand at writing and directing some 15 westerns. However, viewing LAST CHANCE, I'm glad Carpenter settled on becoming a character player.


LAST ROUND-UP (1929 Syndicate) 63 minutes
The title has more meaning in terms of being one of the last silent westerns than it does to the plot. Produced and directed (and even featured in the cast as Bob Custer's friend) by the prolific J. P. McGowan, the plot has two of Hank Bell's sneaky ranch hands, Bud Osborne and Cliff Lyons, getting in a scrape with Bell's foreman, Bob Custer, during the arrival of new schoolmarm Hazel Mills. Osborne and Lyons join up with rustler Tom Bay to steal Bell's cattle but are thwarted, naturally, by Custer. Rather slow buildup to an exciting finish with a brush fire, a burning cabin and a mountaintop fight. Inside joke? Custer's screen name is Denver Dixon—the acting name used by Victor Adamson. Cliff Lyons became one of the premiere stuntmen in the sound era, in the select class with Yakima Canutt and Dave Sharpe. Tom Bay (born 2/22/01 in San Antonio) broke into silents in '22 opposite Pete Morrison in THE BETTER MAN WINS. Throughout the '20s he primarily played heavies. He made the transition to sound playing mostly uncredited roles but on October 11, 1933, tragedy struck. Bay was shot in the chest three times and killed by a jealous girlfriend, Alta Lassert, in Burbank. The shot instantly killed Bay. Lassert then shot at "the other woman" and missed. She then fired two non-lethal bullets into her own body. After recovery she was charged with murder, however L.A.TIMES files do not reveal her trial outcome.

RIDERS OF THE RANGE (1924 Truart) 61 minutes
Really bottom of the barrel Clifford S. Elfelt production. As head of the Cattlemen's Association Edmund Cobb tries to promote peace between cattlemen and sheepmen. It's 45 minutes worth of argumentative tedium before anything happens and Cobb discovers who is causing all the trouble. Only thing that gives this silent much notoriety is the fact Ed Cobb's wife, Helen M. Hayes (no relation to the more famous actress of the same name), appears in a small role. Hayes and Cobb were married about 1914 and their daughter was born in 1915. The couple divorced when their daughter was about 10 or 12 and both remarried. Hayes died of TB in 1932. Cowboy cancer alert: Cobb smokes a couple of times.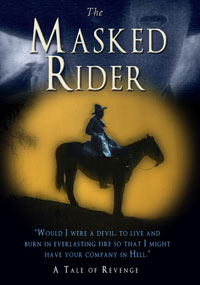 MASKED RIDER, THE (1919 Arrow serial)
Twenty-one reels of footage from this rare silent western serial starring Harry Myers were discovered in 2003 in the home of a former theatre projectionist and collector whose estate was liquidated. Ch. 1 had decomposed but Ch. 2, 3, 4, 5, 6, 7, 8, 9, 10, 12, 13, 14, 15 were mostly preserved, minus opening credits and some footage. Kudos go to Eric Stedman of The Serial Squadron website <www.serialsquadron.com> who has recreated the missing Ch. 1 and is offering the remastered serial, including an excellent all new musical score with sound effects, in nine chapters. Originally filmed around San Antonio, TX, the story concerns violent Mexican bandit Paul Panzer and his raiders' efforts to drive the settlers (Harry Myers, Ruth Stonehouse, Blanche Gillespie) out of the border country by inflicting fiendish tortures on them. Panzer's orders are carried out by his black garbed "emissary of evil", the Masked Rider. The pre-code serial pulls no punches in it's oft-times shockingly violent scenes. Watch for Boris Karloff in a bit role as a Mexican roughneck in the bar scene of Ch. 2 (his earliest existing screen role). Although very melodramatically overacted, this is still an amazing silent serial discovery.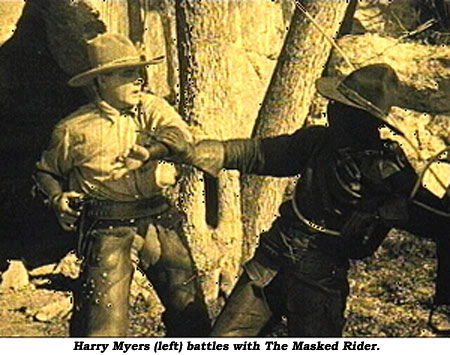 Posted 1/14/09

LOCAL COLOR (1916 Selig) 12 minutes
Naïve young eastern girl Victoria Forde (Tom Mix's real life wife) with journalistic ambitions comes west to get local color for a story. Tom Mix and the boys have a high old time with her staging a fake hanging and what they "believe" is a fake wedding. Simply another of Tom's comedic western one-reelers.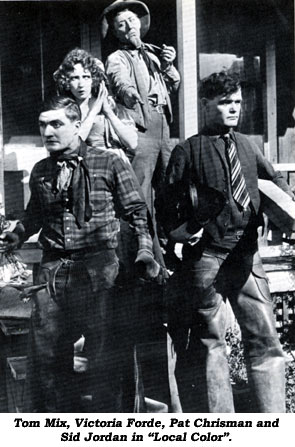 SKY PILOT (1921 First National) 68 minutes
Young college graduate minister John Bowers must prove himself to a western community in this drama based on a novel by Ralph Conner. In his assigned town, with no church, Bowers must preach his first sermon in a saloon. Taunted by a rough ranch foreman (David Butler), he is forced to fight. Winning the fracas, he gains Butler's friendship. Butler finds Bowers a place to stay on the ranch where he works. Meanwhile, Bowers meets and falls in love with Colleen Moore, the daughter of old timer Harry Todd who lost his religious faith when his wife died. But, when Moore is injured in a cattle stampede, started by rustlers, and is saved by Bowers, Todd returns to prayer. Over time the whole community comes to respect Bowers and builds him a church as a Christmas present. Then tragedy strikes when the rustlers set fire to the newly built church. Nicely handled by young on-his-way-up King Vidor who went on to direct such hits as BIG PARADE, BILLY THE KID, OUR DAILY BREAD, TEXAS RANGERS, NORTHWEST PASSAGE, FOUNTAINHEAD and MAN WITHOUT A STAR.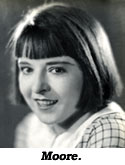 Colleen Moore entered films in 1916 and was the #1 female moneymaker when she starred in ELLA CINDERS in 1926. In '27 she was second, third in '28. She left show business for the business world after a few talkies in the early '30s. John Bowers, born in Garrett, IN, on Christmas Day, 1894, studied law before appearing on stage then in films starting in 1914. From 1916-1929 he was a popular leading man but his career faltered with the advent of sound and he only starred in the low budget MOUNTED FURY in '31. Also divorced from his wife,

actress Marguerite De La Motte, after attending a party, the distraught Bowers rented a small sailboat on Nov. 15, 1936, and started sailing toward the sunset. The boat was found empty the next day and Bowers' body was washed up on the beach the following day. His suicide was the inspiration for the similar death of fictional film star Norman Main (played by Fredric March and James Mason) in both the '37 and '54 versions of A STAR IS BORN. David Butler had a very successful showbiz career in front of and behind the camera. Born in San

Francisco Dec. 17, 1894, he was the son of actor/director Fred Butler and stage actress Adele Belgrade. Following stock company work he entered films in 1913, appearing in every type of movie, including westerns. After some 67 silents, Butler turned to directing and writing towards the end of the silent era, moving easily into sound helming a variety of films, especially comedies and light dramas…even early TV. Retiring in '67, he died of heart failure in '79.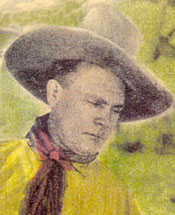 SPEEDING HOOFS (aka LURE OF THE RANGE) (1927 Rayart) 48 minutes
Plenty of silly, ghostly fun in this comedic Dick Hatton western, but action and movement aplenty also. However, the "ghostly comedy" is perhaps a bit overdone, notably with black actor Raymond Turner who is guilty, I'm afraid, of overt racial stereotyping especially when it's believed a ranch house may be haunted. Easterner-come-west Hatton carries a map to a treasure apparently buried on Dagger Ranch where his father was killed. Accompanied by his man-servant Raymond Turner, Hatton meets pretty Elsa Benham who is also on Dagger Ranch searching for her father (Bill Ryno) who disappeared searching for the treasure. Unbeknownst to them, Ryno is being held captive by neighboring rancher Roy Watson and his henchman Bud Osborne who are after the treasure as well. Watson and Osborne create some ghostly apparitions to scare off Hatton, Turner and Benham but their spooky tricks backfire on them.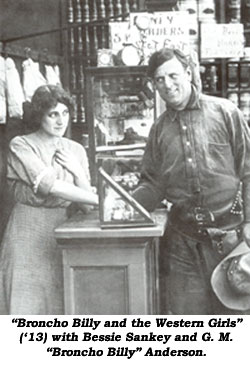 BRONCHO BILLY AND THE WESTERN GIRLS (1913 Essanay) 7 minutes
Broncho Billy helps two post office gals (Bessie Sankey, Evelyn Selbie) save a payroll from an outlaw gang led by Fred Church. Canadian born Church joined Selig Polyscope in 1907 but went unnoticed by the company. Dissatisfied, he hooked up with Essanay in 1912 and found work in some 25 Broncho Billy westerns through 1914. By 1916 he was starring at Universal.



NEVADA (1927 Paramount) 65 minutes
On a minor charge, gunfighter Gary Cooper helps his pal Ernie Adams escape jail in Lineville. Seeking to settle down and live peacefully, Coop and Ernie take jobs on the ranch of English cattleman Phillip Strange where Coop begins to fall for Strange's daughter

Thelma Todd. This doesn't sit well with neighboring rancher William Powell who is also smitten with Todd as well as being the secret head of a rustler band plaguing Strange. When the Lineville sheriff shows up looking for Coop and Ernie they take it on the lam and hook up with Powell's rustlers, led by Ivan Christie, in hopes to expose the outlaw leader and clear their own past. Cooper started in movies in '23 playing bit roles, gradually advancing his career. NEVADA was his 4th western (not counting bit roles) after WINNING OF BARBARA WORTH ('26), ARIZONA BOUND and LAST OUTLAW (both '27). He didn't go west again until his breakthrough role in THE VIRGINIAN in '29.

WINNERS OF THE WILDERNESS (1927 MGM) 69 minutes
A Colonial "western" starring Tim McCoy set 20 years before the Revolutionary War during England and France's struggle for the rich prize of America. McCoy is a British officer who falls in love with Joan Crawford, daughter of the commander of the French Forces. It helps to have a little sense of history about British General Braddock's defeat to view this, but even then the blend of history, romance and fiction works against it all to produce a pretty boring film.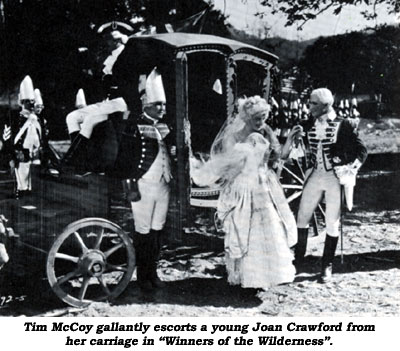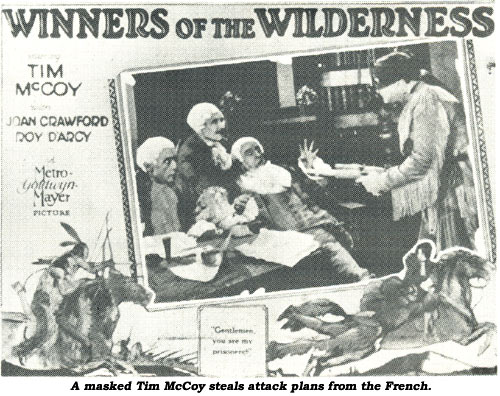 Posted 1/4/09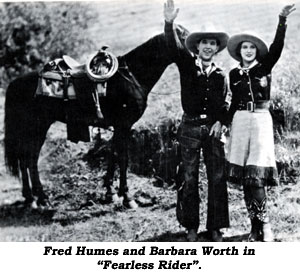 FEARLESS RIDER (1927 Universal) 45 minutes
Trouble begins when ranch owner Fred Humes (and his foreman Ben Corbett and his pal Pee Wee Holmes) find hard rock miner Buck Connors trapped after a blast causes a mine cave-in. Connors' daughter Barbara Worth rides for help but meantime outlaw leader "Doc" William Steele discovers Connors and a valuable pocket of gold exposed by the blast. Rushing Connors off to town on the pretense of an injured ankle, Steele hogties Connors in his backroom. With a greed for gold and lascivious eyes for Barbara, Steele orders his gang to loot the mine while he goes for the girl, but Fred gets wise and outwits the crook. Directed by Edgar Lewis from a Basil Dickey screenplay, FEARLESS RIDER is typical in plot enhanced by William Cline's flashing photography.


RED BLOOD (1926 Anchor) 53 minutes
Crooked Lew Meehan tries to make time with ranch owner J. P. McGowan's daughter Marjorie Warfield, but she prefers neighboring rancher Al Hoxie. Under the evil influence of Meehan, McGowan's son Eddy Barry gambles, putting his father deeply in debt. Al catches Meehan cheating and warns Eddy to stay away from the Ace High saloon, but to pay his gambling losses Eddy forges his father's name to a $3,000 check. Later when Al tries to help Eddy retrieve the forged check from Meehan's safe, saloon girl Frances Kellogg is found murdered and Al is blamed.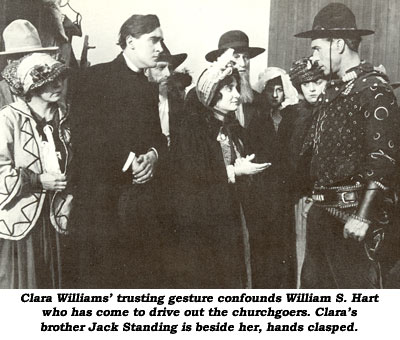 HELL'S HINGES (1916 Triangle) 63 minutes
Into the wide open den of iniquity that scorches even the soil on which it stands, Placer City, better known as Hell's Hinges, comes a young, unprepared minister (Jack Standing) accompanied by his sister, Clara Williams. Sworn to keep law and religion out of Hell's Hinges, saloon owner Alfred Hollingsworth puts it up to local badman William S. Hart to drive out the new minister and his God-fearing flock. But upon meeting Clara, Bill hesitates, backs off and vows to let them be if they keep to themselves. Through Clara and the Bible Hart begins to learn he's been "ridin' the wrong trail" and begins to help Clara's parson brother build a proper church for the parishioners. Having lost his trump card in Hart, Hollingsworth sets dance hall floozy Louise Glaum to prey on the moral weakness of the parson, enticing him into drink and an all night binge with her. At first Hart is forgiving of Standing, but when the pastor willingly backslides and, in a drunken stupor, joins the saloon mob as they burn down the newly erected church, Hart erupts in a fit of all consuming fiery rage, wreaking revenge on Hollingsworth and the town in the flames of Hell! Strong and sincere in treatment with Hart at his good-badman best, HELL'S HINGES has become one of Hart's most revered films.
Posted 12/2/08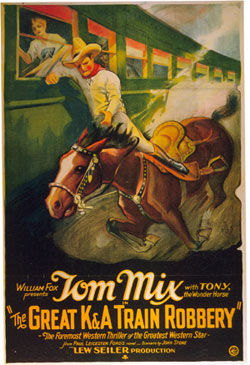 GREAT K&A TRAIN ROBBERY (1926 Fox) 51 minutes
The silent western never got any better than this. It could safely be billed as the fastest moving motion picture ever filmed. Undercover detective Tom Mix is hired by the railroad to track down a gang of train robbers led by Edward Peil Sr. being tipped off as to gold shipments by Carl Miller, the college boy secretary of railroad president William Walling. Action alone would place this Mix in a class by itself, but there's also plenty of melodramatics and comedy. The thrills start as we first see Tom sitting in a basket suspended on a long wire or rope reaching to the top of the Royal Gorge in Colorado—where all the exciting exteriors were filmed. Discovered by the train robbers, Mix slides down the rope right into Tony's saddle. From that moment on the agile Mix continues to thrill as he boards a speeding train with the railroad president's daughter (Dorothy Dwan) in his arms; jumps from a speeding train then catches up on its moving underside; dives Tony out a second story window into a pool of water; rides a wire over the Colorado River; leaps on top of a train entering a tunnel, then conducts a running gun battle on top of the railroad cars, and single handedly captures the outlaw gang after a wild fight in an underwater cave. Inventive, exciting, pure escapist fun and action all the way!

WHEN BIG DAN RIDES (1920 Arrow) 15 minutes
John Lowell, bearing a casual resemblance to William S. Hart, was born April 22, 1875, in Iowa. At one time the sparring partner of boxer James Corbett, Lowell worked in silents as a star, character actor, director and producer. He starred in a series of two-reelers based on L. Case Russell's Big Dan Marvin Royal Canadian Mounted Police stories. Produced by Blazed Trail Productions in upstate New York, they were low budget affairs distributed by Arrow Pictures. Lowell, apparently unable to make the transition into talkies, died in L.A. in 1937. This uninvolving entry has Mountie Big Dan tracking down border smugglers.


BROTHER BILL (1918 Canyon) 18 minutes
Born in Boston, Franklyn Farnum was originally a singer and dancer in various East Coast road companies. He even performed light opera and musical comedy on Broadway before entering films circa 1914. After several dramas, Farnum took a liking to westerns. In 1920 Farnum signed with Canyon Pictures for a series of 26 two-reelers. Meanwhile, Charles "Buck" Jones had come to Hollywood in 1917 from the 101 Ranch Wild West Show and Ringling Brothers Circus. In 1918 he joined Canyon Pictures and appeared in several of Farnum's two-reelers. Often, as here, his roles were equal to Farnum's. Home from an Eastern college, Buck Jones is greeted by older brother Franklyn Farnum who is in love with Lola Maxam, the sister of rustler Vester Pegg. When Farnum's foreman, Bud Osborne, alerts Farnum that Pegg is rustling their stock, Farnum is reluctant to act because of his devotion to Lola. The plot thickens as Lola falls for Buck and they elope. Pegg, furious that Lola would marry into Farnum's family, goes gunning for Buck. Although devastated, feeling betrayed by his brother in his affections for Lola, Farnum nevertheless steps up to the plate and saves the couple.

DANGEROUS TRAILS (1921 Pathé) 13 minutes
In 1921 Robert North Bradbury ventured into the world of movie script writing and directing. Bradbury reasoned a good way to practice his new endeavor was to put his twin sons, Robert Adrian Bradbury (soon to become Bob Steele) and William Curtis Bradbury, both 14, to work in a series of basically homemade one-reel outdoor adventure films. Over the next two years Bob and Bill appeared in 17 one-reelers depicting life in the forest. Originally, the shorts were for director Bradbury's own filmmaking education and the enjoyment of family and friends, however, Pathé viewed them and was impressed enough to distribute them commercially. Today, the shorts are of interest only to see a 14 year old future star of B-westerns, seen here with brother Bill trapping a mountain lion cub.

TRAPPING THE BOBCAT (1921 Pathé) 11 minutes
Essentially a how-to with Bob (Bradbury/Steele) and Bill (Bradbury) on capturing and skinning (!) a bobcat. (See DANGEROUS TRAILS).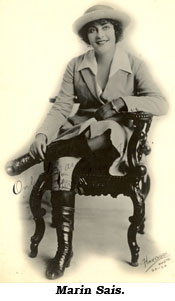 MAN FROM TIA JUANA (1917 Kalem) 19 minutes
Born in 1890, Marin Sais started in pictures in 1909. In 1917, as America was plunged into WWI, she starred in the 21 episode "American Girl" series for Kalem. As Madge King she is the central figure in the series of western two-reelers. Thought not a serial, each episode approached serial like thrills and situations but each contained a stand alone story. Directed by James W. Horne, this one has Sais and Edward Hearn foiling a plot by a bank teller and three heavies out to steal valuable bonds. Fast moving and harmless. Hart (Jack) Hoxie appears briefly as the Sheriff. (Sais and Hoxie were later married in 1920, but divorced in 1925.)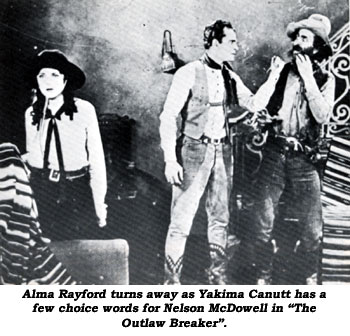 OUTLAW BREAKER (1927 Goodwill) 54 minutes
After starring in westerns for Arrow and FBO, Yakima Canutt signed with independent Goodwill Pictures, directed by Jacques Jaccard. In Wyoming, after cattleman Yakima Canutt's father and brother are killed by sheepmen, his mother makes him promise to hang up his guns. Fearing cattlemen vengeance, cowardly sheepman Dick La Reno hires Harry Northrup to pose as owner of La Reno's sheep spread. After a disagreement with Northrup and his daughter (Alma Rayford), afeared Northrup will divulge to Yak who the real sheepman is, La Reno shoots and wounds Northrup, planting suspicion on Yak. Fearing for his very ill mother's life, Yak escapes the town marshal and rides hard to his mother's bedside where she relieves him of his vow not to carry a gun. When Northrup regains consciousness and exonerates Yak, Alma tells Yak she realizes it was the cowardly La Reno who gunned her father from ambush. Strapping on two guns, Yak goes gunning for La Reno and henchman Frank Ellis. Not as stunt packed as some of Yak's silents, but acceptable Saturday matinee fodder—but watch out—Yak makes a very old and derogatory racial comment to sidekick Nelson McDowell.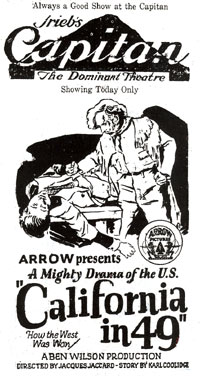 CALIFORNIA IN '49 (1925 Arrow) 68 minutes
Heavily edited feature version of the 15 chapter 1924 Ben Wilson produced serial DAYS OF '49 comes off disjointed and episodic. In old California a woman of wiles, Ruth Royce, visions herself as empress of the Pacific with gambler Wilbur McGaugh as her ally, but they're opposed by Charles Brinley and his daughter Neva Gerber who prefer statehood. Brinley is supported by leading citizen Judge Clark Coffey and his son, noted frontier guide Ed Cobb, who, with Gerber, take up the fight for statehood. Due to editing time restraints we're quickly taken through the Bear Flag Revolution of 1846, statehood, an Indian uprising and the early days of San Francisco where Coffey finally deals with McGaugh and Royce while Gerber and Cobb are staving off a wagon train attack by marauding Indians. After watching several Ben Wilson Productions (whether starring him or not) you discover, although prolific as an actor/director/writer/producer/jack of all trades from 1912-1927, he was not particularly artful in his craft. Neva Gerber never seemed to get the recognition she deserved although she appeared in countless one and two reelers, a series of comedies, plus 38 features and 13 serials during an 18 year career from 1912 to 1930. Born in Chicago on December 8, 1891, she moved with her divorced mother to L. A. and by age 20 the 5' 2", 115 lb. girl was working in films. She came into her own in 1917 at Universal, co-starring with Ben Wilson in the 15 chapter VOICE ON THE WIRE. Their careers were thus linked for the next dozen years both in serials and westerns. Neva married three times, had no children and died broke and forgotten on January 2, 1974. She was buried by the state of California in a pauper's grave. McGaugh, 1895-1965, acted in silents, primarily in westerns as a heavy, from 1921-1930, then became an assistant director from '31-'64. He worked on B-westerns with Hoot Gibson, Tim McCoy, Buck Jones, Dick Foran, Smith Ballew, Charles Starrett, Gene Autry and Randolph Scott as well as TV westerns like "Kit Carson", "My Friend Flicka" and "Bat Masterson".
Posted 11/27/08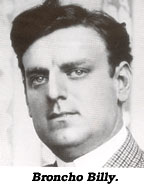 MAKING OF BRONCHO BILLY, THE (1913 Essanay) 10 minutes
Eastern dude Billy is bullied in a western saloon by Brinsley Shaw and challenged to a shoot-out. Billy buys a gun, quickly learns to become a dead shot, and in a showdown he outdraws and wounds the bully. Riding to Sheriff Harry Todd's office to give himself up he's pursued by a mob friendly to Shaw. Just as the mob is about to crash the jail, Shaw rides up to admit he was in the wrong. Texas George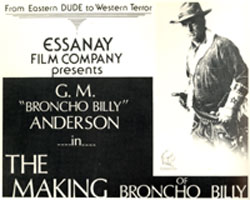 Briggs was a rifle marksman of exceptional ability. In one scene for this film Broncho Billy Anderson draws his pistol and shatters a row of lined up bottles, then sets up a row of playing cards and shoots a hole in each card. Off screen, Briggs accomplished the feat in a continuous take. He also rode and acted, remaining with Essanay for some two years. Silent star-to-be Fred Church can be glimpsed amongst the cowboy mob.

UNTIL THEY GET ME (1917 Triangle) 57 minutes
Set in the Canadian Northwest, Jack Curtis is pursued by Mountie Joe King. Although accused of murder, Curtis killed in self defense. Curtis reaches his home only to find his wife died in childbirth. Leaving the baby to be cared for by an Indian lady, Curtis escapes, vowing to return on the same day once a year to see his child. A year later the story turns to overworked servant girl Pauline Starke who runs away from her hateful mistress. Encountering Curtis, still on the lam from the law, they ride off together as she helps him elude Mountie King. Suspicious, but still helpful, King brings Starke to the Mountie post. Over the next four years Pauline adapts to her new life and becomes "family" at the post. Eventually, in love with King, Pauline lets slip that Curtis returns to his home on the same day once a year. The capture of Curtis nearly destroys their romance, but all is resolved by the end. Directed by Frank Borzage, UNTIL THEY GET ME initially sets up an interesting premise, but bogs down midway, feeling padded for running time, and offers an actionless, unusual conclusion.


WAGON TRACKS (1919 Paramount-Artcraft) 66 minutes
Wagon train guide William S. Hart is headed to meet kid brother Billy Hamilton who is arriving on a riverboat steamer. Aboard the steamer are notorious gambler Robert McKim, his younger sister Jane Novak, and her weak-kneed fiancé Lloyd Bacon, a "tool" of McKim's. When McKim and Bacon cheat Billy in a card game, Billy pulls a gun on the thieves but Jane intervenes and Billy is shot and killed in the struggle for the pistol. Covering up their cheating card game, the two cads claim Billy was drunk and when Hart arrives they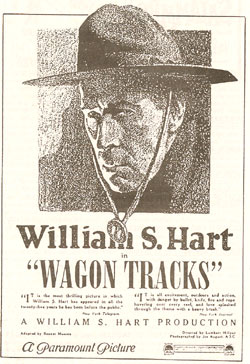 lay all the blame on Jane. Although the shooting is ruled accidental, Hart suspects foul play. We soon find all parties on a wagon train headed west on the Santa Fe Trail. When Jane finally reveals to Hart what really happened, how Billy was being cheated, Hart binds McKim and Bacon to a lariat and herds them out into the sun-parched, waterless desert to walk until one or the other confesses. A fairly good Hart picture, melodramatic at times as Hart tended to be, but logical and consistent, although dark in mood—again as many of Hart's films were. Dramatically constructed by fledgling director Lambert Hillyer who directed 13 of Hart's late-period films, including the classic TOLL GATE ('20).

DEVIL'S PARTNER, THE (1924 Mutual Players/Truart) 57 minutes
Rancher Hayden Stevenson is plagued by border rustler Philo McCullough. Stevenson's son is Edward Hearn who is in love with pretty Nancy Deaver, daughter of Carl Stockdale who is in debt to rustler McCullough. The rustlers gun down Stevenson as McCullough threatens Stockdale with exposure unless the spineless Stockdale coerces his daughter to marry the vicious killer. McCullough then attempts to eliminate Hearn by framing him as a rustler. Written and directed by Fred Becker (he even wrote in a part for himself as McCullough's henchman) but there's not a whit of originality in this contrived by-the-numbers plot. You've seen it all 100 times before. It also includes some of the phoniest riding shots ever seen and some laborious unfunny situations with deputy sheriff Harvey Clark and his spindly wife. Edward Hearn (1888-1963) entered films circa 1916 after nine years stage experience with various stock companies. Cast in over 60 silents, Hearn just wasn't strong enough for leading man parts, but he found much success in character roles on into the talkie era.

CALL OF THE KLONDIKE (1926 Rayart) 39 minutes
In the wake of the success of Rin Tin Tin at Warner Bros., every studio heard the bark of a dog star. FBO had Ranger, Paramount had Flash, First National had Strongheart, Fox had Thunder, Chesterfield had Sandow and Fearless. There was also Peter the Great, Dynamite, Wolfheart, Napoleon, and lowly Rayart made this one-off picture starring Lightnin' Girl. After Dorothy Dwan's boyfriend, Gaston Glass, strikes out to look for gold in the Klondike, she follows him there. A "get rich quick" mining syndicate bossed by Earl Metcalfe and crooked mining engineer William Lowry are cheating prospectors on the value of their claims. When Glass and his partner make a strike, Metcalfe frames Glass for a crime he didn't commit and heads out to jump Glass' claim. It's Glass' dog, Lightnin' Girl, who helps the prospector break jail and right some injustices. Unfortunately, this 60 minute film is missing the second reel, causing several plot points to be quite confusing.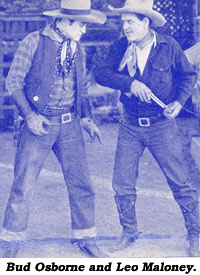 ROUGH GOING (1922 Pathé) 13 minutes
Leo Maloney is courting Josephine Hill when an "old friend" of hers arrives. Apparently a wanted man, he's immediately recognized by ranch hand Bud Osborne who turns the kid into the sheriff for the reward. Leo helps the kid escape which leads this quick two-reeler to twist conclusions you won't see coming.

A BEAR OF A STORY (1916 Selig) 12 minutes
In late 1915, the Commercial Club of Las Vegas, New Mexico, persuaded the Selig Polyscope Company to position the Tom Mix film unit in their town. Tom used studio facilities built in 1913 by Romaine Fielding for the Lubin Mfg. Company's Southwest unit. Las Vegas, NM, was located in the last area of open range in the west. The Mix unit stayed in Las Vegas through June 1916 and this simple one-reeler is probably one of dozens lensed there. Cowpuncher Mix is engaged to Victoria Forde whose best friend has a tame pet bear, so Vicky insists Tom get her one also. After a terrific (and comedic) battle with a wild bear, Tom and pal Sid Jordan finally capture the desired "pet." Alas, by now the fickle Vicky has changed her mind because her friend's pet scratched her finger!
Posted 11/06/08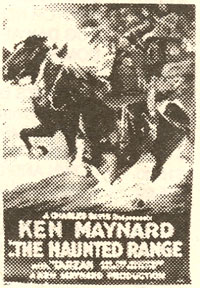 HAUNTED RANGE (1926 Davis) 30 minutes
A ghostly apparition rides the range of Ken Maynard who has just inherited his murdered father's ranch. Eventually Ken learns rustlers, led by easterner-come-west Harry Moody and his cohort Tom London, are to blame. Complicating matters, Ken falls for neighboring ranch girl Alma Rayford, then learns her kid brother (Bob Williamson) is involved with Moody—who incidentally also favors Alma's charms. Unusual mountainside finale. Directed by Paul Hurst who became a noted character actor, and later sidekick to Monte Hale at Republic. "Haunted Range" was rescued from Washington, D.C., film vaults by a devout Maynard fan, unfortunately only the final 30 minutes survive.



MAN FROM OKLAHOMA (1926 Rayart) 52 minutes
Well to do rancher Ed Cobb is shot in San Francisco's Chinatown by vicious Lew Meehan who is conspiring with Lafe McKee, Cobb's ranch manager in Arizona, who has been juggling the books on Cobb's trust fund. Now McKee and Meehan must hide their dirty deed from Josephine Hill, who is now sole owner of the Double O. The mysterious Man from Oklahoma, Jack Perrin, arrives and begins an investigation. When Lafe threatens to make things right for Hill, Meehan shoots him also and abducts the girl hoping to force her to sign over the ranch to him. Directed by low-budget auteur Harry Webb, there's very little action with slow, deliberate plot development for the first 32 minutes, then the excitement begins and doesn't let up.



BUCKAROO KID (1926 Universal) 64 minutes
Ridin' fool Newton House shows off his stuff and gets a job on James Gordon's ranch. Eight screen years pass and the kid has grown into Hoot Gibson who is now Gordon's foreman. Wanting him to "make good" in the big time, the fatherly Gordon sends Hoot off to San Francisco to become ranch manager for Gordon's friend, Banker Burr McIntosh. After a hostile meeting with the cranky owner, Hoot is immediately fired. But, having met and fallen in love with the man's pretty daughter, Ethel Shannon, but forbidden by McIntosh to ever see her again, Hoot decides to manage the ranch anyway, without McIntosh's knowledge, to prove his worth. Not an action western—there are no badmen in sight—but a thoroughly enjoyable comic western at which Hoot definitely excelled.
Posted 9/22/08




WESTERN COURAGE (1927 Rayart) 43 minutes
Expertly made, action packed Ben Wilson-directed B-western! Leading lady Elsa Benham is romanced by unscrupulous Robert Walker who not only plots to steal her father's cattle but, with the aid of Al Ferguson and Cliff Lyons, schemes to robe the local bank. Enter ranch foreman Dick Hatton, who is in love with Benham, and discovers their traitorous plots and fights the tricky galoots non-stop until Benham and the townsfolk are saved. Action also involves an airplane, at first piloted by government official George Kesterson. Badman Robert Walker (1888-1954) entered films with the Edison company in 1913. As a leading man he starred in non-western features from 1915-1920, making his first westerns with House Peters Sr. and Tom Mix in 1920, then continued to play heavies and character roles on through the late '40s.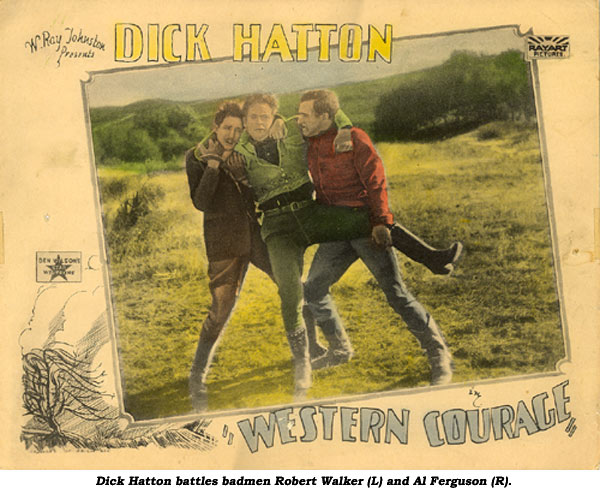 TANGLED TRAILS (1921 Steiner) 55 minutes
In the snowbound North, scurrilous Edward Roseman operates phony mines and floats them through his eastern office where he sells the worthless mining stock. When Roseman murders a miner who has discovered his devious ways, Mountie Neal Hart trails the swindler to New York where a desperate fight in a skyscraper ends with Roseman's escape. Hart tracks his prey back to Canada where he eventually captures the cad. In so doing, Hart saves a tormented girl and reunites an estranged family. Definitely offbeat western drama which is the first produced under Hart's own production company for release by William Steiner Productions.


FRONTIER TRAIL (1926 Pathé) 12 minutes
After seven successful years as a major western star, Harry Carey was ousted from Universal in 1922. The public seemed to now be gravitating toward the more action-crammed, non-realistic range dramas of Buck Jones, Tom Mix, Jack Hoxie and others. In spots of the trend away from the realism offered by Carey and William S. Hart, Carey's westerns after his Universal period, now for PDC (Producers Distributing Company) and Pathé, remained popular and kept him in good stead into 1928. This 12 minute edit is all that survives of Carey's Scott Dunlap-directed feature in which Army scout Carey is falsely accused of treason when a large force of Cavalry is wiped out by the Sioux.

BREAKING LOOSE (1925 Universal) 24 minutes
Western slapstick with Pee Wee Holmes (Magpie) and Ben Corbett (Dirty Shirt Jones)—definitely an acquired taste. Rancher Jack Gavin's daughter Virginia Bradford arrives home from finishing school with her old maid teacher Lollie Fletcher and her pet monkey, Algebra, so named because no one understands him. "Comic" situations ensue as Algebra ends up exposing as frauds all the freaks at Ringworm Brothers Circus.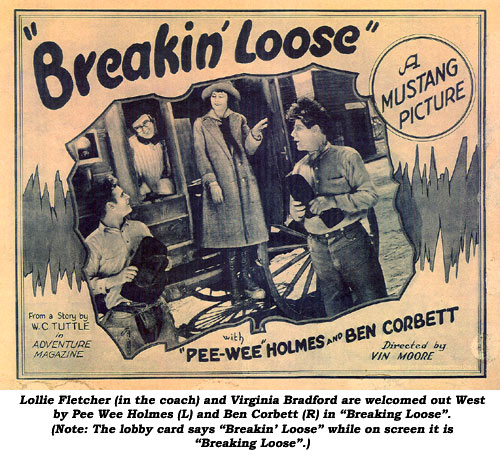 REVENGE ON THE RANGE (1925 ?) 12 minutes
This may or may not be the original title of this Leo Maloney film. Hard to tell from this Castle Films one-reel edit what the origin might be—possibly a Steiner or Clarion feature release. If you have any ideas or thoughts, let us know.
Posted 8/30/08




WHERE THE NORTH HOLDS SWAY (1927 Rayart) 56 minutes
Some of Jack Perrin's best work came in his 1925-1927 series for Rayart which often featured little Billy Lamoreaux (who later found fame as Buzz Barton at FBO). Here, silhouetted against picturesque woodland backgrounds and expertly tailored in a Mountie uniform, Perrin presented a stunning portrait of heroism. As good as many of his silents were, Jack was not a personality with a unique charisma and as a consequence never quite broke into the front ranks of western stardom. Never able to ride his gorgeous white Starlight into the winner's circle, by the mid '30s Jack drifted into character roles and continued working until 1962 (often appearing in Warner Bros. western movies and TV series).
Directed by Ben (Bennett) Cohen (1890-1964), WHERE THE NORTH HOLDS SWAY is atypical of most any B-western you'll ever see—one might even say shocking! Without revealing the entire story, I can say it begins not unusually with Mountie Perrin, and his young Mounted Police orphaned Mascot—Billy Lamoreaux, awaiting the arrival of Jack's brother (Hal Waters), a newly graduated doctor. Broke and villainous Lew Meehan and his wife (Pauline Curley) arrive in town. Meehan makes a deal to have his wife, against her will, dance in a saloon so Meehan may acquire a gambling stake and a room from the saloon owner. Finding Curley distraught, young doctor Waters intervenes and is killed for his kindness by Meehan who then flees town with Curley. Brokenhearted and swearing revenge, Perrin resigns his RCMP position and begins to track his brother's killer. Coincidentally, when Jack is injured in a fall, it's Meehan's cabin at which Starlight seeks help. After Curley nurses Jack back to health, violent retribution eventually occurs in the very saloon/hotel room where Jack's brother met his death.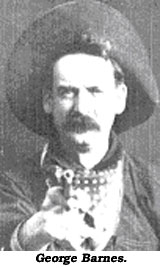 THE GREAT TRAIN ROBBERY (1903 Edison) 7 minutes
The first real "movie" or commercially narrative film that gave birth to the western is Edwin S. Porter's THE GREAT TRAIN ROBBERY. The historic one-reeler has bandits tie up the station attendant and board the train as it stops for water. After robbing the train and its passengers, the bandits escape on the train's engine to where their horses are tied in the woods. A posse is formed and a gun battle ensues. The film ends with a stunning close-up of George Barnes firing directly into the camera. Porter shot the entire film in early November 1903 using the Lackawanna Railroad in New Jersey. A milestone in film-making as it used title cards, a panning shot, cross cut editing and the close-up. Although at the time G. M. Anderson (who soon became famous as Broncho Billy) couldn't ride—and didn't in this film—he does play three different roles: A train robber on foot, a man shot in the back during the robbery, and a tenderfoot in a saloon tap-dancing to gunfire at his feet.


BRONCHO BILLY AND THE BABY (1915 Essanay) 9 minutes
An outlaw on the run (Broncho Billy) rescues little Bernice Sawyer after she falls in the woods. The grateful mother (Evelyn Selbie) thanks Billy by offering him a place to rest, but her husband (Lee Willard), upon seeing a reward poster for Billy, wants to turn him in to the posse. Reconciled, the couple turn the Sheriff away, allowing Billy to escape.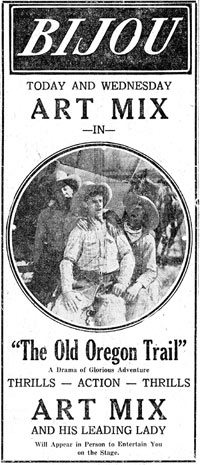 OLD OREGON TRAIL (1928 Art Mix Prod.) 38 minutes
Victor Adamson (aka Denver Dixon) originated the name and was the first to appear on screen as Art Mix, producing and starring in a series of Art Mix westerns in the early '20s. In 1924 Adamson transferred the name to George Kesterson (1896-1972) to use in another series produced by Adamson. As time progressed the pair split and Kesterson kept the name Art Mix as his own. Several court battles resulted but Kesterson continued to use the moniker on into sound and through the mid '40s.
Adamson returned to the role himself in 1928 in this simple little western in which he helps a group of pioneers settle in Oregon as they fight off rebellious ranch hands who want more pay at harvest time. Best thing about this film is Paul Allen's spectacular cinematography of the John Day River Valley in northeastern Oregon, quite grandiose for a little Victor Adamson B-western.


DUDE COWBOY (1926 Independent) 35 minutes
Difficult to truly evaluate Bob Custer's DUDE COWBOY given as how the only version extant is an edited version shown as an episode of "Billy and Butch's Bang Bang Western Movies", a 1962 syndicated series that offered mutilations of silent Bob Custer westerns narrated by two squeaky-voiced boys calling Custer "Broncho Bob". Comedy elements are way too prevalent in DUDE COWBOY which sees Custer as the new owner of a dude ranch who is forced to arrive disguised as the chauffer/valet to rich vacationers Flora Bramley and her bubble-gum company magnate father in order to expose the ranch's crooked foreman Bruce Gordon (no relation to the Bruce Gordon who later played Frank Nitti on "The Untouchables") as a jewel thief preying on the wealthy dude ranch vactioners. Diminutive Billy Bletcher (who later supplied the voice for "The Lone Ranger" in the first Republic serial with the character) is offered far too much screen time as Custer's goofy pal.


BORDER SHERIFF (1926 Universal) 41 minutes
Tough sheriff Jack Hoxie and his pal Pee Wee Holmes are summoned to Washington, D.C., where the Secret Service assigns him the job of cleaning up a smuggling ring run by Buck Moulton's gang of border wolves operating in his territory of Cayuse near the Mexican border. The Secret Service dispatches Jack to San Francisco where they know the ringleader, Al Jennings, is headquartered in Chinatown. On the train to Frisco, Hoxie meets up with wealthy business tycoon Tom Lingham and his daughter Olive Hasbrouck who, coincidentally, are also headed for Frisco to be met by Jennings, unaware he is a smuggler. Following a harrowing episode in Chinatown, all parties arrive back in Cayuse where Lingham just happens to own the ranch on which Moulton, Jennings and crooked lawyer Frank Rice are smuggling their goods from Mexico into Texas. Written and directed by Bob Steele's father, Robert N. Bradbury. Olive Hasbrouck (1907-1976) made nearly 50 pictures between 1924-1929, co-starring mostly in westerns with William Desmond, Pete Morrison, Art Acord, Ed Cobb, Fred Thomson, Buffalo Bill Jr., Buddy Roosevelt, Wally Wales, Hoot Gibson, Ken Maynard and Hoxie. For whatever reason she didn't transfer her promising career into sound.